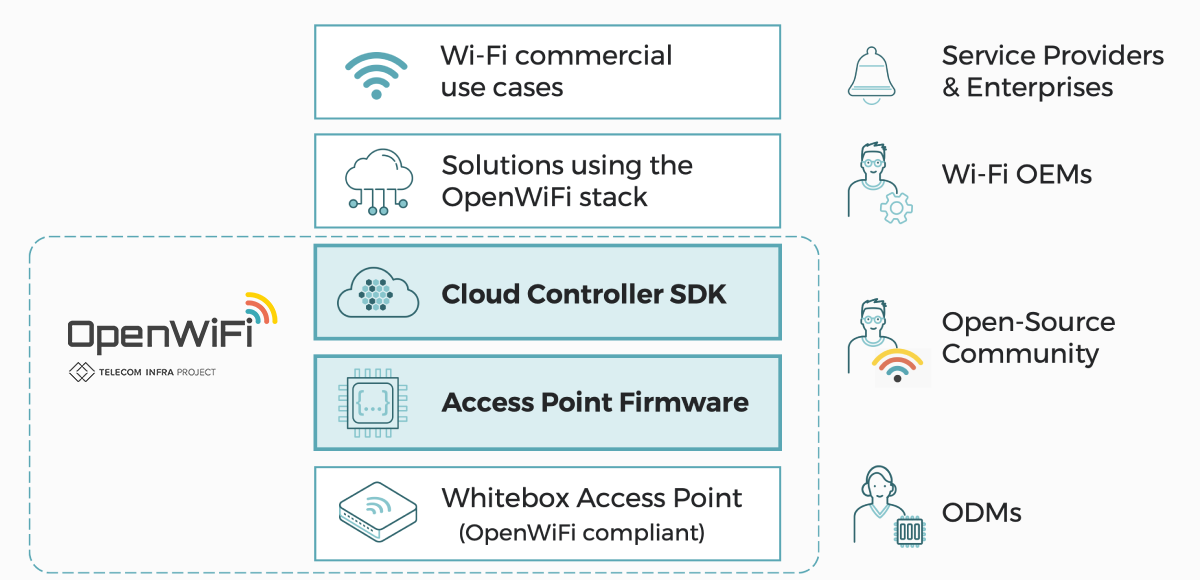 OpenWiFi is an open sourced, community-developed, disaggregated Wi-Fi software system. The system includes a cloud controller SDK and an Enterprise-grade Access Point (AP) firmware, designed and validated to work seamlessly together.
Get Involved
OpenWiFi is managed within TIP's Open Converged Wireless (OCW) project group, which enables industry collaboration to build, test and validate products that deliver the requirements of valuable Service Providers' use cases. The OpenWiFi community currently includes more than 100 participants, including Services Providers, OEM's, ODM's, Software ISV's, System Integrators, Silicon Vendors & Industry Organizations.
There are multiple ways to consume and contribute to OpenWiFi:
Download the open-source software, try it out and contribute to its development
Engage with commercial vendors building solutions based on OpenWiFi
Actively participate in the community and contribute to the progress of the project
Learn more about the OpenWiFi Project
Join the Open Converged Wireless project group here
The Benefits of OpenWiFi
TIP OpenWiFi significantly improves the business case for Wi-Fi through:
Lower R&D cost to develop enterprise-grade Wi-Fi solutions
OpenWiFi's advanced feature set, including Wi-Fi 6, Passpoint and OpenRoaming® capabilities, enable existing and new suppliers to offer Enterprise-grade Wi-Fi products with less development effort
Cloud software OEMs and hardware ODMs are able to reduce R&D expense when by building their solutions on top OpenWiFi's robust, single codebase of common Wi-Fi "plumbing"
Accelerated, open innovation
OpenWiFi's common control, data and management layers allow suppliers and service providers to focus their development and integration efforts on service innovation rather than inventing Wi-Fi "plumbing"
The cloud controller SDK provides open north-bound APIs, so over-the-top Wi-Fi applications can be integrated once and then be used with multiple vendor solutions, saving integration costs and reducing time to market
Favorable economics for Service Providers and Enterprises
OpenWiFi's combination of deployment savings (CAPEX) and automation-driven operational savings (OPEX) brings significant reduction in Total Cost of Ownership (TCO) over current proprietary solutions
OpenWiFi's diverse multi-vendor selection of cloud controllers and access points brings service providers choice and flexibility in enterprise grade Wi-Fi infra

Community Driven Development
All aspects of the OpenWiFi project are community-driven, with customer needs as the primary input for what gets built. The OpenWiFi community empowers all stakeholders to participate and contribute. Everyone can see everything, including source code and nightly test results. This open collaboration model enables rapid development and release of customer-defined features, with no need to wait months or years for new releases from traditional vendors.
Fully Disaggregated Open Tech Stack, with an advanced feature set
The OpenWiFi software tech stack incorporates advanced Enterprise and Carrier-grade features, including open, standardized APIs and data models (AP & Controller); scalable mobility & Wi-Fi meshing; extensible Radio Resource Management (RRM); Passpoint (802.11u) and OpenRoaming; configuration, telemetry & analytics, and much more.
Commercial-Grade Automated Testing
The TIP OpenWiFi project has applied the best practices of web-scale software development and the Wi-Fi OEM industry to deliver commercial-grade quality. E.g. CI/CD software builds for all hardware platforms; DevOps managed release engineering; and community-developed automated testing.
Product Compliance Validation
The community oversees and ensures OpenWiFi based products are compliant with the software tech stack. Compliance testing includes:
Each access point hardware SKU passes software capability testing
Cloud solutions can interwork with any OpenWiFi compliant access point
Software products properly implement the OpenWiFi cloud controller SDK northbound API
Multi-vendor OpenWiFi networks interoperate as expected. (meshing, RRM, etc.)
Globally Secure Zero Touch Provisioning
OpenWiFi includes Zero Touch Provisioning (ZTP) based on Public Key Infrastructure (PKI) over the public internet, a key requirement for deploying disaggregated network systems in a secure way.
The OpenWiFi Community Ecosystem
An ecosystem of 100+ service providers, software OEMs and hardware ODMs has formed to develop, commercialize and deploy OpenWiFi based solutions
Ten+ Service Providers are Trialing OpenWiFi for critical use cases including: Business Wi-Fi, Venue HotSpots, Roaming/Offload, personalized MDUs, etc.
Five+ ODMs have shipped a diverse set of OpenWiFi-compatible Whitebox Access Points for indoor and outdoor uses cases
Eight+ Wi-Fi OEMs are leveraging the OpenWiFi stack to build commercial solutions for WLANaaS, machine learning driven automation, advanced analytics, device security, etc.
TIP OpenWiF launched on May 12th, 2021. The event featured industry visionaries, global operators, MSPs, ODMs, cloud solution vendors, the WBA, tech companies, and the Open-source development community all talking about TIP OpenWiFi and the exciting possibilities it opens up for the industry.
Read more about the launch of TIP OpenWiFi: Unveiling TIP OpenWiFi – Telecom Infra Project