An industry movement for unlocking Wi-Fi infrastructure innovation for the next decade
The Telecom Infra Project (TIP) is pleased to announce the launch of OpenWiFi Release 1.0, a community-developed, fully disaggregated Wi-Fi system, including Access Point (AP) hardware, an open-source AP network operating system (NOS) and an SDK to build Cloud native Wi-Fi Controller software for Service Providers and Enterprises. On the heels of this announcement, our community of Service Providers and industry organizations across the world is kicking off lab and field trials of Wi-Fi connectivity solutions based on TIP OpenWiFi.
TIP OpenWiFi is a collaborative approach to build a disaggregated Wi-Fi software system, that will help the industry to accelerate the delivery of more innovative and efficient solutions for Carrier and Enterprise-grade Wi-Fi, through three key benefits:
Lower barriers to entry to develop Enterprise-grade Wi-Fi solutions
Accelerated innovation, enabling easier adaptation to specific use cases
More choice and better economics for Enterprises and Service Providers
There is already a strong demand signal for OpenWiFi, with both Wi-Fi and Cellular Service Providers moving to test the platform for their specific use cases, and with industry organizations preparing to collaborate in trials.
A large and growing ecosystem of hardware and software suppliers are already building products based on OpenWiFi. 14 Access Point designs are already available for indoor and outdoor use cases, and the number will grow up to 30 during 2021. At the same time, various software providers within the TIP community are building innovative solutions based on TIP's OpenWiFi. Products compliant with the OpenWiFi tech stack and APIs will be identified with the OpenWiFi logo.
OpenWiFi is managed within TIP's Open Converged Wireless (OCW) project group, which enables industry collaboration to build, test and validate products that deliver the requirements of valuable Service Providers' use cases. The OpenWiFi community currently includes more than 100 participants, including Services Providers, OEMs, ODMs, Software ISVs, System Integrators, Silicon Vendors & Industry Organizations.
There are multiple ways to contribute to the progress of OpenWiFi:
Download the open-source software, try it out and contribute to its development
Engage with commercial vendors building solutions based on OpenWiFi
Actively participate in the community and contribute to the progress of the project
A fast growing community:

Find more information here
Why OpenWiFi and why now?
Wi-Fi is now an essential technology for all connectivity stakeholders:
Wi-Fi is a proven and scaled technology with over 16 Billion devices in use. With the allocation in 6 GHz for unlicensed use, including a massive 1,200 MHz, in the US by the FCC, Wi-Fi is poised for further dramatic growth.
Wi-Fi usage is growing dramatically, it continues to carry a majority of the wireless internet traffic and is a strong driver of economic growth. The Wi-Fi Alliance (WFA) is projecting nearly $5 Trillion in annual economic benefits globally from Wi-Fi by 2025.
Wi-Fi and cellular are complementary, and can work together to deliver ubiquitous connectivity: TIP is enabling industry collaboration to drive infrastructure solutions that transform global connectivity, and Wi-Fi is a key technology to make this vision possible. As the mainstream unlicensed counterpart to 5G, Wi-Fi 6 offers Service Providers a great set of tools to deliver high density, high bandwidth always on connectivity.
More favorable economics and a wider choice can help Wi-Fi contribute to solve some critical connectivity challenges. Over the last decade the Enterprise Wi-Fi market has rapidly grown to address a wide range of use cases in offices, retail spaces, public venues, outdoor facilities and municipalities. Service Providers can benefit from additional choice and better economics in Wi-Fi infrastructure solutions, that could open the door to the next era of growth for the industry.
TIP OpenWiFi makes this possible through a collaborative approach, where Enterprises, Service Providers and Technology Suppliers work together to break the barriers and innovate to address advanced Wi-Fi use cases
"OpenWiFi is a natural next step, building on the momentum created by TIP's OpenRAN and OOPT initiatives. OpenWiFi's cost effective communication infrastructure options will help Service Provider's close the business case for ubiquitous connectivity, using both 5G and Wi-Fi," said Attilio Zani, Executive Director, TIP.
"Wi-Fi® is delivering high-quality connectivity that the world so desperately needs, and provides critical telecom infrastructure necessary for daily activities, telework, and other important services in rural and underserved areas," said Susan Silveira, Director of Business Development at Wi-Fi Alliance®. "The vision of Wi-Fi Alliance to connect everyone and everything, everywhere complements the mission of the Telecom Infra Project (TIP), and Wi-Fi Alliance is proud to deliver foundational technologies and programs to ensure Wi-Fi provides an interoperable and secure experience so that initiatives like TIP OpenWiFi can continue to innovate for years to come."
OpenWiFi at a glance
What is OpenWiFi
OpenWiFi is a disaggregated Wi-Fi software system, offered as free open-source software, that includes both a cloud controller SDK and an Enterprise-grade Access Point (AP) firmware, designed and validated to work seamlessly together.
The OpenWiFi platform enables the ecosystem to more quickly and efficiently develop and commercialize connectivity solutions for advanced Enterprise and Service Provider use cases. In the OpenWiFi model:
Multiple ODMs build a diversity of OpenWiFi-compatible Whitebox Access Points, addressing different potential use cases. These devices incorporate OpenWiFi's firmware that integrates seamlessly with the OpenWiFi cloud controllers
Multiple Wi-Fi OEMs build and commercialize solutions using the OpenWiFi stack, running on top of Whitebox Access Points. The open APIs of the OpenWiFi cloud controller make it possible for OEMs to add value added services (e.g. WLANaaS, Security, UX, etc.) to these commercial solutions
Enterprises and Service Providers adopt these competitive Wi-Fi solutions to efficiently target critical use cases, like Wireless Internet, HotSpot, Roaming/Offload, etc.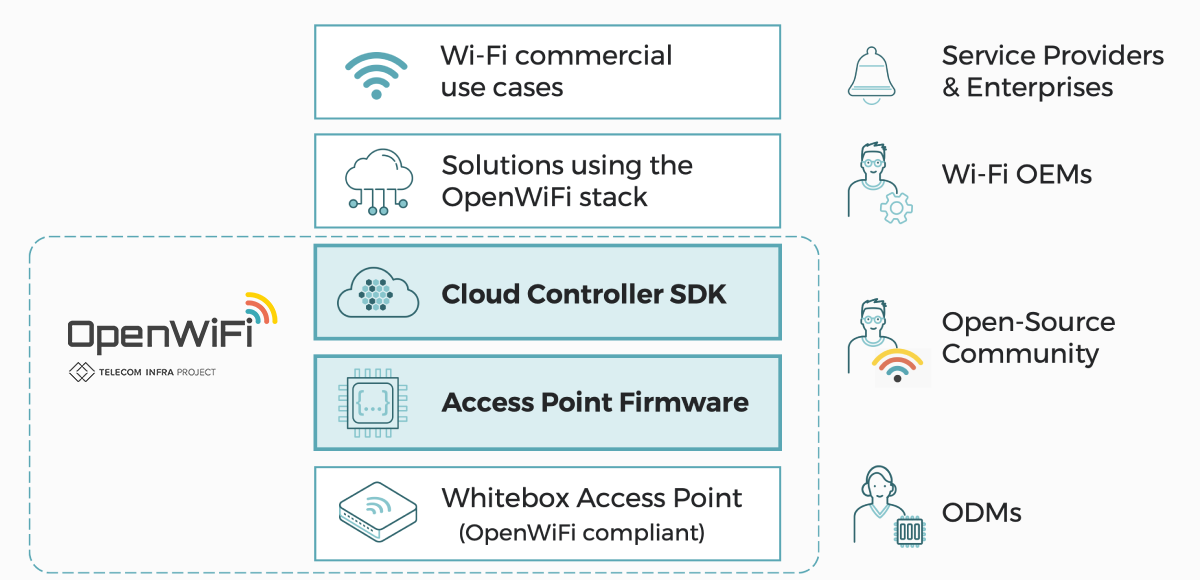 OpenWiFi's unique capabilities include:
I. Community Driven Development
All aspects of TIP's OpenWiFi project are community-driven, with customer needs as the primary input for what gets built. The TIP OpenWiFi community empowers all stakeholders to participate and contribute. Everyone can see everything, including source code and nightly test results. This open collaboration model enables rapid development and release of customer-defined features, with no need to wait months/years for new releases from traditional vendors.
II. Fully Disaggregated Open Tech Stack, with an advanced feature set
The OpenWiFi software tech stack incorporates advanced Enterprise and Carrier-grade features, including open, standardized APIs and data models (AP & Controller); scalable mobility & Wi-Fi meshing; extensible Radio Resource Management (RRM); Passpoint (802.11u)* and OpenRoaming*; configuration, telemetry & analytics, and much more.
"The decision for TIP OpenWiFi to be based on and extend OpenWRT was a great move by the TIP community. The combination of the OpenWiFi cloud with an OpenWRT firmware is win win for open-source, operators and the Enterprise," said Peter Steinhäuser, CEO, EmbeDD GmbH.
III. Commercial-Grade Automated Testing
The TIP OpenWiFi project has applied the best practices of web-scale software development and the Wi-Fi OEM industry to deliver commercial-grade quality. E.g. CI/CD software builds for all hardware platforms; DevOps managed release engineering; and community-developed automated testing.
IV. A Signal of Product Compliance: The OpenWiFi Logo
The OpenWiFi logo is TIP's way of signaling that vendor products are compliant with the OpenWiFi tech stack and APIs, in several different ways:
OpenWiFi-based Access Point hardware passing community-defined software capability testing
OpenWiFi-based software products properly using the OpenWiFi cloud controller SDK northbound API
Multi-vendor OpenWiFi networks interoperating as expected (meshing, RRM, etc.)
Any OpenWiFi-compliant cloud solution interworking with and managing any OpenWiFi compliant Access Point
V. Globally Secure Zero Touch Provisioning
OpenWiFi includes Zero Touch Provisioning (ZTP) based on Public Key Infrastructure (PKI) over the public internet, a key requirement for deploying disaggregated network systems in a secure way.
"OpenWiFi's plug and play architecture creates new opportunities for advanced Wi-Fi functionality with a decrease in overall network costs," said Dr. Derek Peterson, CTO of Boingo Wireless. "At Boingo, we are long time advocates of a converged wireless strategy, unified standards and industry collaboration. We're looking forward to leveraging the TIP OpenWiFi platform to deploy next-generation networks including 5G opportunities that power innovation at airports, stadiums, universities, hospitals and more."
The benefits of OpenWiFi
TIP OpenWiFi significantly expands the business opportunities for Carrier and Enterprise-grade Wi-Fi, with an aspiration to reduce the Total Cost of Ownership (TCO) by 50% vs. current proprietary solutions, through three key benefits:
I. Lower Barriers To Entry
TIP OpenWiFi removes barriers to entry to develop Wi-Fi products, by providing a high performance, stable platform that reduces development costs and accelerates Time to Market for both Cloud software OEMs and hardware ODMs. In particular, through its advanced feature set, including Wi-Fi 6, Passpoint* and OpenRoaming®* capabilities, OpenWiFi also makes it easier and more efficient to implement and offer Enterprise-grade Wi-Fi products.
II. Accelerated innovation
OpenWiFi is an open platform, that empowers Service Providers and Enterprises to develop their own private, cloud-based services. TIP OpenWiFi also helps technology suppliers to focus on their strengths, by providing a robust Wi-Fi network infrastructure that solves ~90% of what is needed. This makes it possible for companies to focus on the very important 10% of R&D that helps them innovate and make a difference. Access to the OpenWiFi cloud controller SDK is based on standardized open north-bound APIs, so over-the-top Wi-Fi applications can be integrated once and then be used with multiple vendor solutions, saving integration costs and reducing time to market.
III. More choice and better economics for Enterprises and Service Providers
TIP OpenWiFi offers Service Providers and Enterprises a wide range of Wi-Fi Cloud Controllers and Access Points, that bring more choice to the market. It also supports a multi-vendor interoperable deployment, making it possible to mix and match hardware, software, and controller providers. As a consequence, the business case for Wi-Fi connectivity is improved. In addition to all that, OpenWiFi creates opportunities for additional efficiencies in network operations, including the potential to leverage Machine Learning algorithms, through the strong automation tools incorporated in its feature set.
"We're excited to continue partnering with TIP as they launch the OpenWiFi platform today to make Wi-Fi deployments easier and more cost effective for service providers. Innovation around open-source disaggregated solutions is key to unlocking new ways to improve and expand global connectivity, and we look forward to seeing how OpenWiFi will advance the maturity of Wi-Fi solutions in the market," said Dan Rabinovitsj, Vice President for Facebook Connectivity.
Strong Service Provider Demand
OpenRoaming* as a key driver
OpenRoaming* has been a key use case driving the initial adoption of OpenWiFi among Service Providers. OpenRoaming* is a valuable feature that facilitates the use of Wi-Fi as a complement to cellular connectivity, with a seamless user experience. During 2020, the TIP OpenWiFi community started multiple OpenRoaming* trials across the world. These include:
In the US, Boingo and NetExperience, in collaboration with the Wireless Broadband Alliance (WBA), are trialing OpenRoaming* using OpenWiFi infrastructure
American Broadband, in collaboration with two Tier-1 US operators, partnered with Edgecore Networks to conduct trials of the WBA's Passpoint* 2.0 and OpenRoaming* standards
The OpenWiFi gear was validated with the Google's Orion OpenRoaming* service
"The WBA worked closely with the TIP OpenWiFi community during the development of the OpenWiFi platform to ensure that Passpoint* and OpenRoaming* were supported out of the box, ensuring standards compliance, ease of deployment and feature performance," said Tiago Rodrigues, CEO, Wireless Broadband Alliance.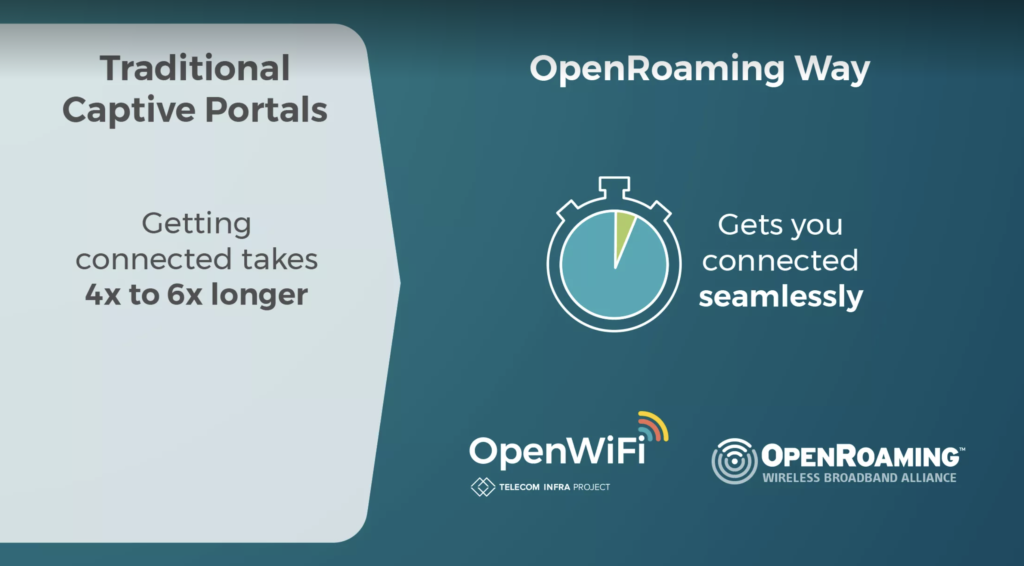 Growing momentum among operators in the TIP community
Building on their early support for the OpenWiFi platform, several operators within the TIP community and a diversity of industry bodies have also announced plans to trial and deploy solutions based on OpenWiFi.
In Europe, Deutsche Telekom (DT), who also co-chair the TIP Wi-Fi solution group and are active in building OpenWiFi and defining the requirements for OpenWiFi, have kicked off trials at their labs in Berlin with plans for field trials in Darmstadt, Germany
"The multi-vendor OpenWiFi network, with its ability to mix and match vendors who are specialists in software services and hardware development, offers us the best of all world options for creating a competitive and cost efficient Wi-Fi network to improve the experience for our residential customers, or in enterprise environments either as a standalone network or complementary to cellular as part of a converged solution," said Daniel Brower, VP Technology Business Operations at Deutsche Telekom. "As co-chairs of the Wi-Fi groups, we are very pleased to see the OpenWiFi movement bring together the best of open-source community development with the rigor of good OEM product development practices."
South Africa's Vodacom are active leaders in defining the front-end scenarios and use cases for TIP's OpenWiFi platform. Vodacom have kicked off multi-vendor OpenWiFi trials to test and demonstrate the value of an interoperable Enterprise-grade, "plug and play" Wi-Fi network.
"Vodacom are evaluating how OpenWiFi can form a cost effective and complimentary backbone for a resilient Wi-Fi network that can serve our businesses segment, while working alongside our 4G and 5G networks, to deliver an optimal always-on customer experience," said Khetan Gajjar, Executive Head, Fixed & Mobile (Technical & Commercial) Lead, Vodacom.
In Africa, MTN are evaluating OpenWiFi as a cost effective platform that can help close the business case for addressing multiple use cases for Enterprise managed services.
"MTN operates in multiple countries with varying business challenges. OpenWiFi's disaggregated architecture opens up opportunities to provide much needed flexibility to our Enterprise clients. Along with 5G, W-Fi is an essential tool in our portfolio, for meeting the needs of Africa's digital future," said Leanne Da Cerca, Senior Manager: Connectivity, MTN Group Enterprise.
CableLabs and TIP, in a demonstration of industry group collaboration, have teamed up to kick off the first-ever interoperability tests at CableLabs' Headquarters in Louisville, CO. CableLabs is a not-for-profit innovation and research and development lab for the cable industry.
"Managed Wi-Fi is the foundation of great customer experience, and TIP OpenWiFi stands to increase the availability and adoption of managed Wi-Fi solutions. In pursuit of this vision, CableLabs is very excited to partner with TIP, in kicking off one of the first ever multi-vendor trials for OpenWiFi," said Josh Redmore, Principal Architect, Wireless R&D, CableLabs
In LatAm, CPqD in Brazil, have partnered with Edgecore Networks, NetExperience, and TP-Link, in their labs, to validate OpenWiFi for the specific use cases and requirements of Brazilian Service Providers.
In Asia, ITRI have announced plans to collaborate on lab trials in Taiwan, based on TIP's end-to-end testing template for OpenWiFi based networks, as well as to create a sandbox for testing multi-vendor Enterprise-grade networks, in the field.
Diverse Multi-vendor Supply
A diverse Access Point portfolio (Indoor and Outdoor)
As of today's launch, three Access Point ODM hardware providers, CIG, Edgecore Networks, and TP-Link, have announced the availability of 14 Access Point designs for indoor and outdoor use cases, and more than 30 designs are expected by the end of 2021 including additional ODMs.

A proliferation of innovative commercial Wi-Fi solutions
Various TIP member software providers, including ADTRAN, Benu Networks, Indio Networks, Kloudspot, NetExperience, Plume, Plumeria Networks, and VVDN Technologies are building innovative solutions based on TIP's OpenWiFi, that will be tested within the TIP community and listed on TIP Exchange with badges reflecting product readiness and validation of end to end interoperability.
"OpenWiFi's innovative multi-vendor Access Point model creates an accelerated path for hardware partners to deploy high performance Wi-Fi technologies," said Nick Kucharewski, vice president and general manager, Wireless Infrastructure and Networking, Qualcomm Technologies, Inc. "As the leading silicon provider for OpenWifi Access Point designs, Qualcomm continues our history as both a strong advocate of open-source Wi-Fi initiatives and as a critical innovation engine for the industry."
OpenWiFi within TIP
TIP's Open Converged Wireless project group
OpenWiFi design, development and validation is managed within TIP's Open Converged Wireless (OCW) project group. As in other project groups, the OCW project group enables industry collaboration to build, test and validate products that deliver the requirements of valuable Service Providers' use cases. This is beneficial for both Service Providers and Technology Suppliers:
Service Providers save time, engineering resources, and cash when they can deploy products that have been validated against the technical requirements of their Wi-Fi use cases, that they contribute to the project group
OpenWiFi technology suppliers benefit from focus on delivering solutions to Service Providers' actual requirements, responding to commercial needs, In addition, they also get a neutral validation of their compliance with these requirements, including their adherence to TIP OpenWiFi and their ability to operate in a multi-vendor ecosystem.
OpenWiFi Timeline – What's next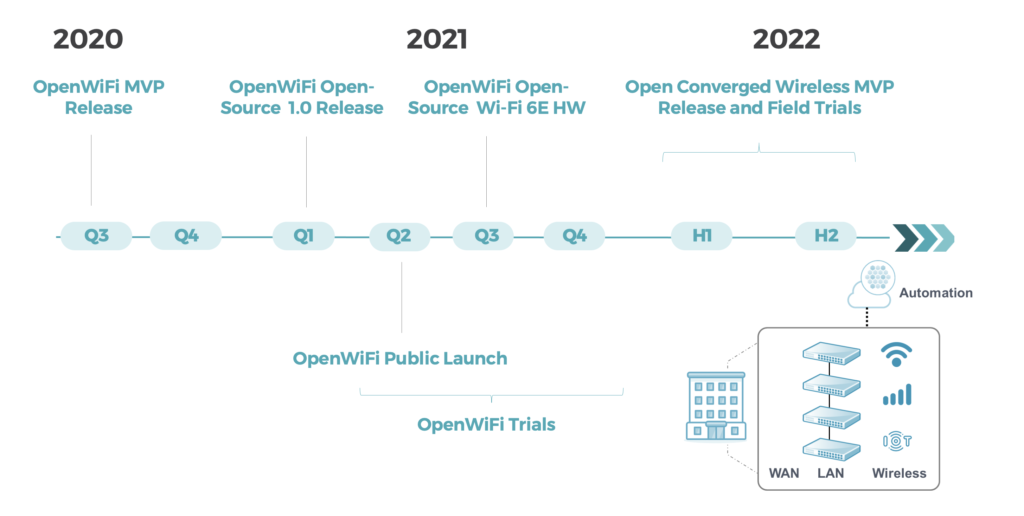 How to get involved
There are multiple ways to consume, deploy and contribute to the progress of OpenWiFi. You can download the open-source software for free, and evaluate it in a lab; you can engage with a commercial vendor building solutions with the platform; and you can also actively participate in the community and contribute to the progress of the project. See Getting Started with OpenWiFi for more details.
How to contribute to TIP OpenWiFi
The TIP community develops OpenWiFi as an open-source product within the Open Converged Wireless project group, which is open to all companies. This project group hosts weekly standup calls and monthly development sprints that are open to all companies that have signed a TIP participation agreement. The Open Converged Wireless group is chartered to expand the OpenWiFi stack to include SmallCells & Switching for a fully converged indoor wireless system. Signup here, join the weekly calls and contribute (no participation fees!). Please contact us at TIP for further information.
How to participate in TIP's Wi-Fi solution group
The TIP Wi-Fi solution group collaborates with the TIP OCW software project group in advancing the vision for open multi-vendor interoperable networks. The Wi-Fi solution group defines implementation-agnostic, business scenarios, and operator use cases for Wi-Fi networks. The community then builds solutions to address these use cases, leveraging the OpenWiFi platform. These solutions are tested and validated against the solution group requirements, and listed on the TIP Exchange marketplace, including Badges reflecting their level of compliance to the requirements. The tests use the TIP OpenWiFi lab test template document produced within the WiFi SG, and include the validation of the interoperability of the different OpenWiFi-based elements that integrate the solution, including products from different vendors across hardware Access Points, Controllers, Captive portals and over the top applications, in a lab environment. Please contact us at TIP, for further information.
Learn more from our community at our OpenWiFi Launch event
Please do join us for our TIP OpenWiFi Launch 2021 event to learn how we are unlocking Wi-Fi infrastructure innovation for the next decade.
(*) Names and brands are the property of their respective owners