Test & Validation
At TIP's core, we are about taking early proofs of concept, products, and solutions into TIP Labs and testing environments to drive their validation and enable their commercial deployment. Through TIP Community Labs, participants collaborate to produce and validate project group solutions, lab test plans, and exit reports.
Our Test & Validation Framework
What We Test
Component products are the individual components of network infrastructure.  They can include disaggregated products such as a radio unit (RU) and software.  Vendors will typically sell component products "as they are," with any internal software or functionality not capable of further disaggregation.  Component products can typically be purchased "off-the-shelf," i.e., have a single SKU number.
Product combinations are functional network elements such as a disaggregated cell site gateway (DCSG), distributed unit (CU), or central unit (CU) that combine two or more component products, usually hardware plus software.  Badges demonstrate validation in a particular use case, e.g., low-density rural wireless deployments, as defined by the relevant TIP project group.  Silver and gold badges will give operators increasing assurance not just that "the software will run," but that the combination works in a particular use case.
Solutions are combinations of several integrated products deployed to form a complete network architecture.  Examples include a complete radio access network (RAN) formed from an RU + CU + DU, a RAN that also integrates intelligent automation (RIA), an Open WiFi solution combining access points with associated network control, or a combination of TIP-aligned products with other leading industry products.  TIP-badged solutions allow operator deployments with much-reduced in-house testing, especially at higher badging levels.  As with product combinations, badges are tied to particular use cases.
Cross-functional solutions demonstrate successful integration of different functionalities.  For example, TIP badging can validate a particular combination of Open RAN and Open WiFi solutions, or a combination of specific RAN technologies, power systems, and even engineering, procurement, and construction (EPC) services.  TIP-badged cross-functional solutions will be particularly useful to smaller operators or others with less in-house technical capacity who are nevertheless seeking to benefit from state-of-the-art disaggregated technologies.
How We Test
TIP's Testing and Validation (T&V) Framework allows operators to confidently choose from a rapidly growing range of open and disaggregated products and solutions that can be seamlessly integrated into their networks, from access to to the core. This leading global framework, built around broad stakeholder input, reduces or even eliminates the need for extensive third-party integration or in-house testing (by operators?), providing a significantly quicker route to market for innovation.
Crucially, the T&V Framework validates prioritized, TIP-defined use cases that reflect operator needs today. As a result use cases are defined and established by TIP project groups who work with stakeholders to establish the requirements and test plans for specific badges.
TIP's badging program is based on the T&V Framework and assures operators that particular products, combinations, or solutions, whether from a single or multiple vendors, are ready for deployment.  Bronze, silver, and gold badges allow vendors to demonstrate increasing levels of product and solution maturity.
Gold badges demonstrate full commercial validation based on TIP-defined test plans, while silver and bronze badges allow vendors to bring TIP-aligned products and solutions to market quickly while reducing the amount of in-house compatibility testing required.  Badged products and solutions are listed on the TIP Exchange, the only platform showcasing TIP-qualified products and solutions from the TIP community.
TIP Badging and Ribbons
TIP's three-tier badging system – bronze, silver, gold – is based on TIP's T&V Framework and demonstrates the increasing maturity and interoperability of individual products, product combinations, or solutions.Bronze badges demonstrate a vendor's self-assessed compliance with TIP requirements, while silver and gold badges involve increasing levels of testing.  The bronze, silver, and gold badge requirements are based on use cases emerging from TIP's various project groups.  For silver and gold badges, the project groups also define relevant test requirements and/or test plans.  Vendors and operators should review the TIP requirements and test plans associated with particular badges.
A bronze or silver badge does not mean that a particular product, combination, or solution is not suitable for deployment.  Rather, operators will typically do more in-house testing before deploying a bronze or silver product, combination, or solution alongside other technologies, or in a particular use case.  For example, some Tier 1 operators may continue relying on their own testing of bronze or silver-badged products, while smaller operators may prefer silver or gold-badged solutions. 
Badges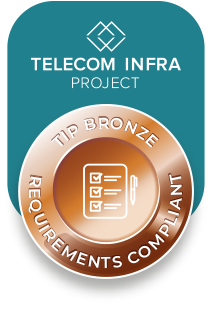 Bronze – Requirements Compliant
Bronze-badged products, combinations, and solutions demonstrate self-assessed compliance with the relevant TIP specifications. Bronze badges reflect a commitment by the vendor (or vendors) to align their product or solution with TIP requirements. TIP's project groups are continuing to define different types of bronze badges as the ecosystem for open and disaggregated infrastructure evolves and new use cases are prioritized.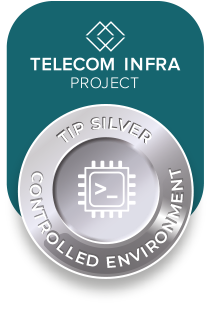 Silver – Controlled Environment
Silver badges demonstrate testing of a product, combination, or solution for alignment with TIP-defined specifications, typically in a controlled environment. The specific tests required for a particular badge are established by TIP's project groups and will comprise a significant subset of all tests required for deployment. Operators deploying silver solutions or combinations of multiple silver products would still undertake some in-house testing and integration, and would engage with vendors on particular compatibility issues.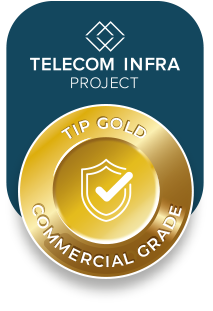 Gold – Commercial Grade
Gold badges indicate that products, combinations, or solutions have been tested and validated comprehensively in accordance with test plans prepared by TIP. TIP's test plans typically require technologies to be used in live environments with real customer traffic for a period of months. Operators can expect gold-badged products and solutions to be commercial-ready and deployable upon purchase and installation, although some operators may still require compatibility testing with their existing infrastructure.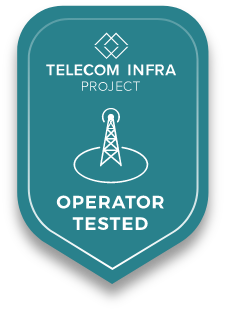 Independent Operator Validation
Some products, combinations, and solutions have already been demonstrated to work successfully, independent of – or in advance of – requirements and test plans established by TIP. TIP's Independent Operator Validation Ribbon recognizes these successful deployments with the goal of promoting rapid uptake across the ecosystem by other operators. Test plans for these products and solutions are usually based on the work of a single operator or OEM, indicating that the solution works successfully according to their test plan.