The mmWave Group will define and advance 60GHz wireless networking solutions to address the growing demand for bandwidth in dense, highly-populated cities by delivering gigabits of capacity more quickly, easily and cost-effectively compared to deploying fiber.
The engineering effort will focus on creating a low-cost hardware design complemented with an innovative suite of software tools and best practices to help service providers and municipalities streamline and maximize mmWave deployments.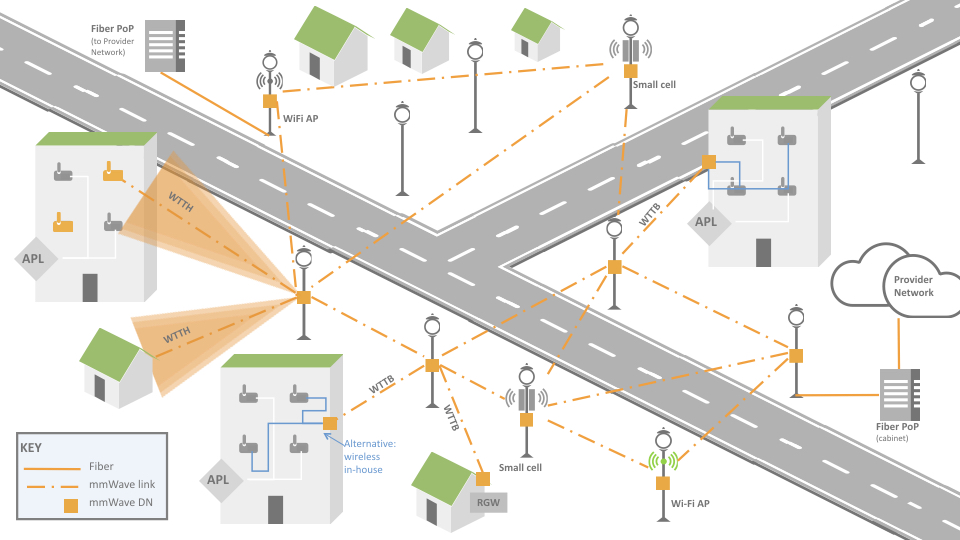 This effort is currently focused on the four following tracks:
Cost economics modeling: the group will create a template that operators can populate with their specific deployment characteristics and goals to determine if the chief benefit of the deployment will be revenue generation or cost savings.
Validation: the group will develop a suite of test and simulation tools to help carriers validate the performance and capabilities of 60GHz networking for metro applications.
Network planning: this collection of tools will be optimized for the specific requirements of 60GHz networking so service providers can accurately model their deployments for optimal coverage while minimizing the amount of equipment to be installed.
Best practices: this set of guidelines and recommendations will help municipalities foster 60GHz deployments. These will include details on obtaining spectrum covering permits and rules for attaching notes to utility poles, street lights, traffic signal poles and other street furniture.
Use Cases
Each of the four tracks will support the following 60GHz uses cases the mmWave Project Group is initially focused on:
Fixed wireless access: delivering gigabit data rates to homes, offices, apartments and other buildings
Mobile backhaul: supporting wide-scale deployments of small cells and Wi-Fi access points for better and more reliable mobile experiences
Smart city applications: enabling blanket wireless coverage to support smart city devices
Deliverables
Terragraph Virtual Fiber for High Speed Fixed Broadband
Deutsche Telekom and its subsidiary Magyar Telekom – the largest Hungarian telecommunications firm – conducted trials in Hungary, using the technology to connect homes that had only copper/DSL for broadband formerly. This paper describes the trial deployments in detail, outcomes to date, and highlights the opportunity to use Terragraph for rapid and cost effective deployment of Gigabit speed broadband connectivity.
TIP mmWave Radio Link Aspects
This document defines a methodology for the validation of the performance of an mmWave radio link, that is part of a mesh network.
TIP mmWave CPE Market Adoption Requirements
This document is intended to provide guidance and information regarding different installation options and challenges for client nodes
Additional Information
PATENT LICENSING: RAND as set forth in Section 5.2.1 of the Telecom Infra Project IPR Policy.