The
vRAN Fronthaul
Project Group focuses on developing virtualized RAN solutions that can be deployed and operated over non-ideal fronthaul between virtualized Baseband Units (vBBU) and Remote Radio Units (RRU).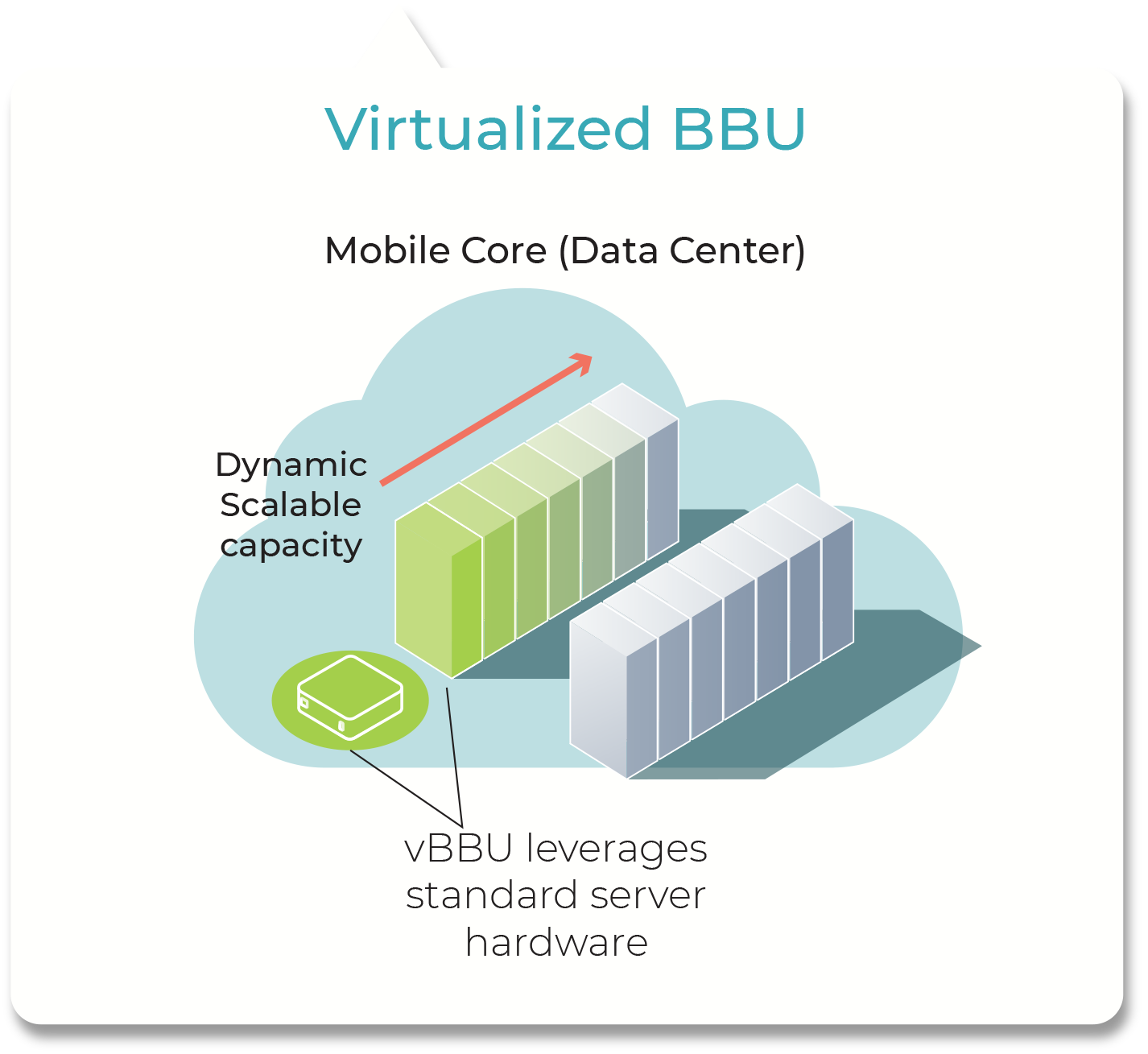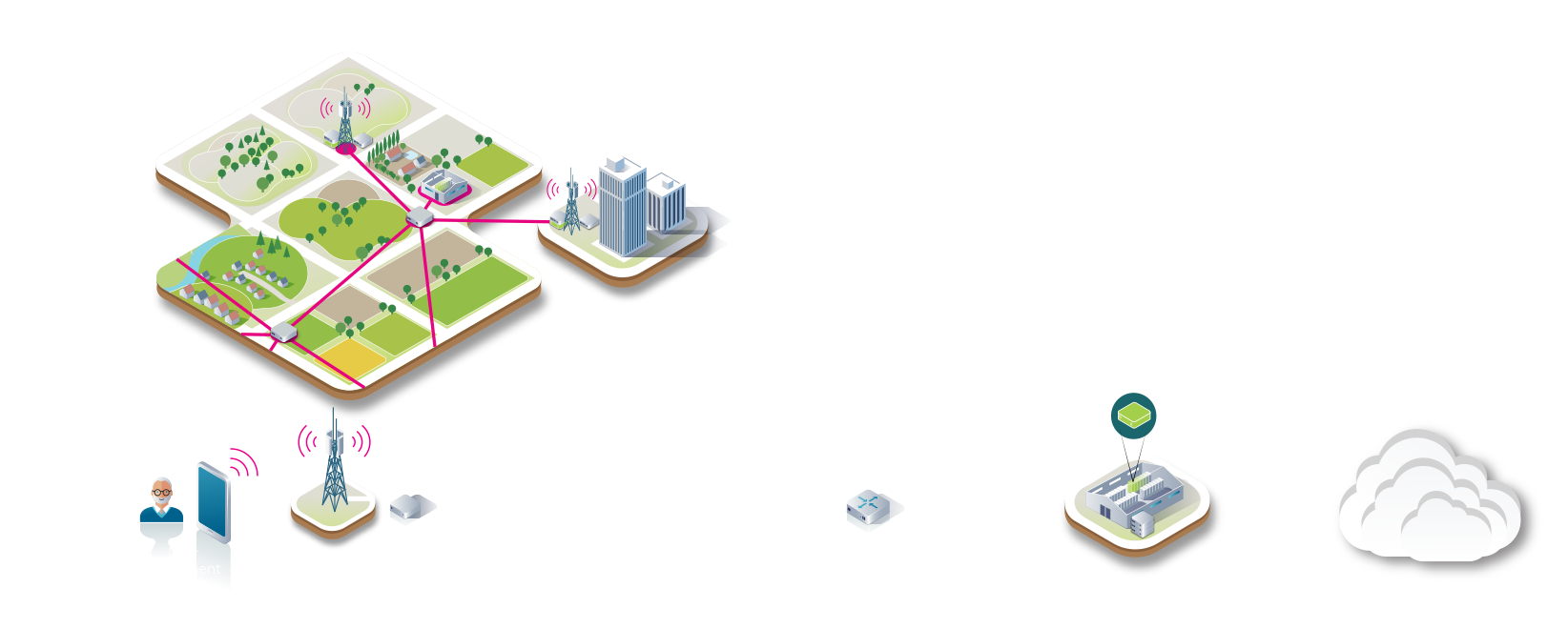 Technologies
A virtualized RAN architecture consists of vBBUs running on general purpose hardware installed by mobile operators in centralized or edge data centers, and RRUs installed at cell sites. The vBBU centralizes processing and allows co-location and pooling of baseband resources for a localized cluster of cell sites, leading to spectral efficiency gains via coordination, and CAPEX/OPEX saving by reducing the number of sites and per site expenses.
Most vRAN solutions today use the Common Public Radio Interface (CPRI) protocol to transport the digitized RF data between vBBU and RRU. CPRI however requires dark fiber transport which in many deployment use cases is not available or not affordable, limiting the opportunities for operators to pursue vRAN deployments at scale.
The vRAN Fronthaul project group is evaluating vRAN solutions that can be deployed and operated over existing transport infrastructure such as microwave, managed Ethernet, G.Fast, GPON, Hybrid Fiber/Coax (HFC), and other options. The project aims to create a diverse and healthy ecosystem of technology and equipment providers that will support a variety of deployment scenarios such as high density indoor deployments, campus deployments, urban/suburban residential small cells, and rural connectivity.
White papers
Creating an Ecosystem for vRANs Supporting Non-Ideal Fronthaul
First, we provide an overview of the vRAN project and its scope. This is followed by a more detailed discussion about the vRAN network architecture, highlighting some of the design considerations of the open fronthaul interface. The vRAN development focuses on operator use cases, with the activities running in TIP Community Labs hosted by the use case sponsors. A summary of the six vRAN use cases driving this TIP Community Lab activity is provided, followed by some early results that demonstrate the viability of the vRAN architecture to work over non-ideal fronthaul. Finally, a project timeline describes how we intend to move from early proof-of-concept, to multi-vendor solutions, to trials and commercial deployment.
Learnings from Virtualized RAN Technology Trials over Non-ideal Fronthaul
The vRAN Fronthaul project group has completed Phase 1 testing in 4 TIP Community Labs. This phase has provided the technical foundation to show that lower layer split vRAN over non-ideal transport network is possible with a multi-vendor solution. The white paper presents key results from these 4 lab projects and highlights the key learnings that should be considered when deploying vRAN over non-ideal transport types.
Experimental Evaluation of Multi-Vendor Virtualized RAN using Non-Ideal Fronthaul
This IEEE research paper presents an evaluation of multi-vendor virtualized RAN (vRAN) using non-ideal fronthaul. All experiments were conducted in the TIP community lab hosted in BT Labs at Adastral Park, UK. A wide range of testing and measurements has been executed to characterize the functional behavior and performance of vRAN based on a low layer functional split with a focus on using G.Fast as the fronthaul link. The performance evaluations reveal that the solution operates well in the presence of transport impairments in excess of typical G.Fast requirements, thus proving that G.Fast can be a suitable transport option for fronthaul.
Community contributions
The items referenced below are official contributions made to TIP from TIP Members.
vRAN Fronthaul: Catalyst of Flexibility
Networks must scale to meet increasing data demand. Virtualized radio access network (vRAN) will help operators make the business case for competing against increasing data traffic and rising consumer demand. vRAN Fronthaul (vRAN FH) differs from traditional network solutions in that operators can utilize existing network infrastructure and move towards more cost-effective transport, such as copper and cable, rather than just fiber.
Telecom Infra Project (TIP) has created an ecosystem that is founded on collectively designing and building new technologies to accelerate innovation. The TIP ecosystem is developing a vRAN FH solution that will decrease the cost of ownership for operators to serve new consumers. Operators that embrace collaboration and a multi-vendor approach will be able to effectively manage costs and enhance customer experience.
TIP Community Lab: Adastral Park, Ipswich, UK
Sponsor: BT
Project Lead: Richard MacKenzie
Completed: Macro – May 2019
Completed: Pico – February 2020
Pico/Macro Street Coverage over G.Fast:
This use case focuses on providing street level coverage. RRUs could be deployed on drop poles and existing copper infrastructure then used as the fronthaul connection to vBBUs, which may be located at local exchanges. In particular G.Fast technology is seen as being a suitable candidate for vRAN fronthaul.
Campus Deployment over Managed Ethernet:
A campus environment that has existing infrastructure (e.g. Managed Ethernet) is a very exciting proposition for deploying a high capacity small cell network. The vRAN solution would use the existing managed Ethernet infrastructure as fronthaul between RRUs and vBBUs. The RRUs may be a mix of indoor and outdoor cells for coverage and capacity purposes.
TIP Community Lab: Louisville, Colorado, USA
Sponsor: CableLabs
Project Lead: Joey Padden

Completed: July 2019
Cable and mobile network operators have extensive hybrid-fiber-coax (HFC) network coverage around the world. This use case focuses on fronthaul compression and latency tolerance to allow vRAN deployment over an existing cable HFC and DOCSIS network footprint. Deployment targets include indoor residential small cells as well as dense small cells in urban areas.
TIP Community Lab: Torino, Italy
Sponsor: TIM
Project Lead: Marco Caretti

Completed: July 2019
This use case targets efficient use of fiber where compression is the first priority to ensure long term exploitation of broadband access technologies used for residential or business users, and existing fiber assets and their evolution (i.e. PON and, looking at the wider bandwidths envisaged for 5G, next generation PON technologies). In addition to compression, latency tolerance will provide additional robustness in scenarios where baseband units are installed as far away as the metro central office and connected to the remote radios and antennas through a shared packet network.
TIP Community Lab: Manesar, India
Sponsor: Airtel
Project Lead: Sawan Gupta

Completed: March 2020
This use case evaluates the feasibility of using centralized vRAN over non-ideal fronthaul to reduce TCO and improve user experience. Due to limited 4G spectrum, this use case will also study the scalability when supporting high subscriber densities. Finally, this use case will focus on compression and latency tolerance to enable vRAN deployments over multi-hop microwave links designed to maximize the reach of the Airtel network.
Want to Learn More?
If you are interested in learning more about the vRAN Fronthaul project group, please fill out the contact form below and we will contact you to discuss next steps.