The OpenRAN Project Group has accelerated its journey to productization, bringing the ecosystem together to take a holistic approach towards building a next generation RAN that offers greater choice, innovation and improved economics to MNOs.
In line with governments' objectives to ensure fast, secure, reliable and ubiquitous connectivity, TIP's solutions play a key role in avoiding industry fragmentation and accelerating commercial deployments.
As we approach the end of 2022, we are excited to share updates from across our TIP OpenRAN community and reflect on what has been a busy year to highlight some of our most important achievements.
Scale up productization
As one of the prime examples of TIP's collaborative model at work, the OpenRAN Project Group has accelerated  its journey to productization, bringing the ecosystem together to take a holistic approach towards building next generation RAN that offers greater choice, innovation and improved economics to MNOs.
We have added 141 new OpenRAN product listings on TIP Exchange, from 53 technology suppliers. This includes products from Comba, Dell, Fujitsu, NEC, STL, Supermicro and many more technology providers.
OpenRAN release roadmap builds a strong cadence with the latest release 2.1. All subgroups have received great responses from vendors with compliance for OpenRAN Release 2.1 features, and we're currently badging the compliant products for listing on TIP Exchange
In addition to the trials and deployments we highlighted in our 2021 blog, this year has seen increased momentum across the globe.
These trial activities provide an opportunity to conduct extensive validation and testing of solutions in the TIP Community Labs, operator labs, live network and partner labs to accelerate productization of OpenRAN against the published common requirements.  The below map shows a strong momentum in Open RAN trials and deployments across the globe.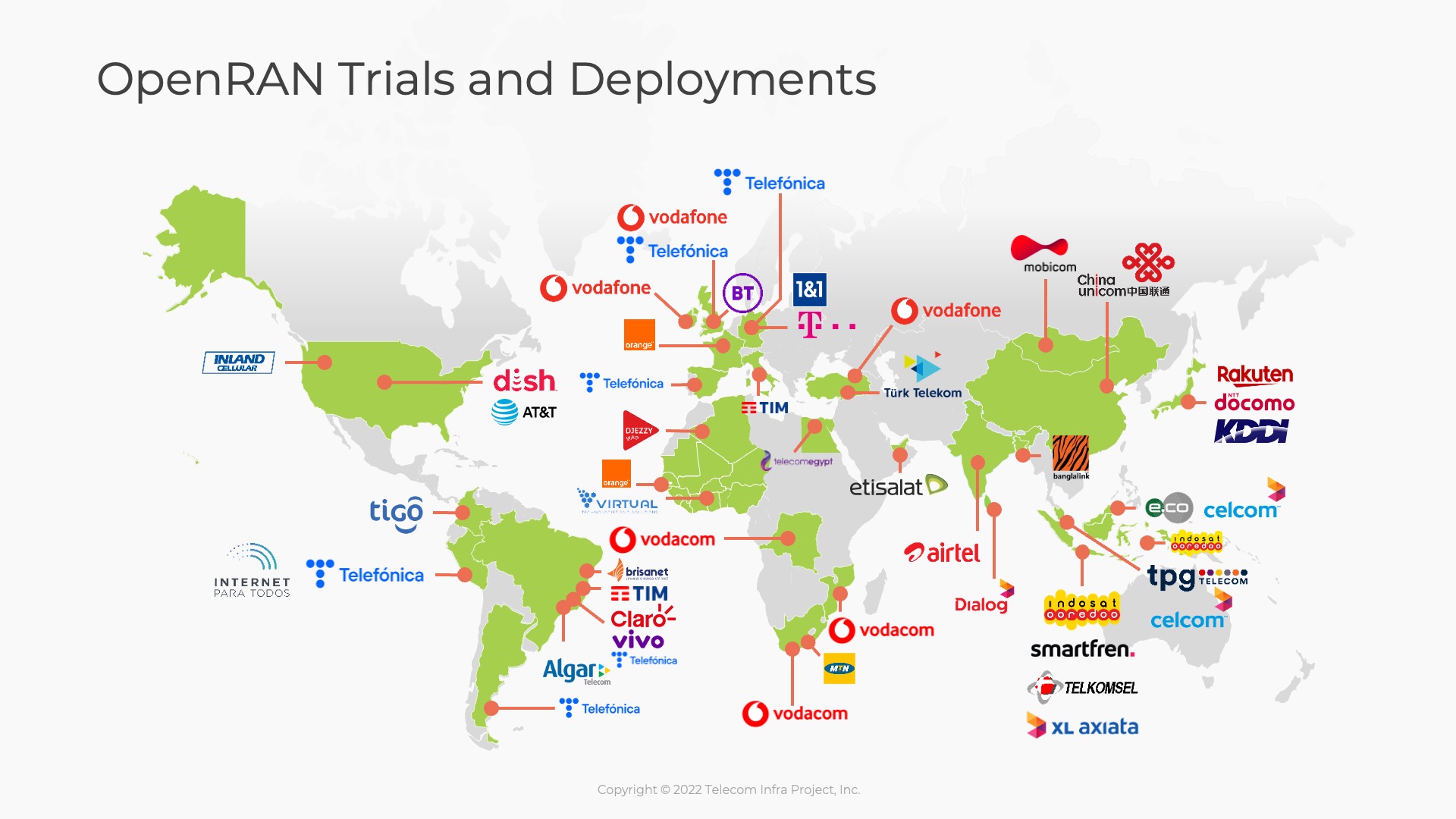 Notably, OpenRAN project group has completed a comprehensive OpenRAN 5G NSA blueprint test validation in collaboration with a leading mobile operator in India. The blueprint is now available to the wider ecosystem of supply and demand players, and will help bring forward the architectures and combinations of RAN elements that are used for one of the largest 5G deployments in the world.
OpenRAN Release Roadmap
The Telecom Infra Project (TIP) OpenRAN Project Group published OpenRAN's Release 2 Roadmap along with detailed technical requirements documents Release 2.0 across all six subgroups – outdoor macro, small cell, RU, DU/CU, ROMA and RIA  after conducting a thorough industry review and incorporating feedback and input received  from MNOs and technology suppliers. In addition to technical requirements, OpenRAN Outdoor Macro sub-group has  published two OpenRAN Blueprint Definition Documents in collaboration with OMG partners, which provide detailed description of distributed and centralized OpenRAN blueprints respectively.
TIP OpenRAN release framework breaks down the consolidated Open RAN requirements into multiple TIP Releases based on MNO's priorities and vendor's readiness. The ten step process is illustrated below. This foundational framework will allow additional MNOs to further add their requirements and for vendor's to adjust their roadmaps based on MNO's priorities.
Shortly after releasing TIP OpenRAN Release 2.0, OpenRAN PG started its Release 2.1 process through the same steps of Release 2.0 in 2H'22.  OpenRAN Project Group is developing detailed technical requirements documents Release 2.1, with further inputs from OMG's technical Priority Release 2.0 and additional MNOs, such as GCC7 and Airtel etc.  All OpenRAN subgroups are on track to publish updated technical Requirements Release 2.1 by the end of 2022, with RU Technical Requirements Release 2.1 already approved and published. The Release includes features for Energy Efficiency, Security and Massive-MIMO.
Also, ROMA Use Cases and Technical Requirements (OpenRAN Release 2.1) was submitted for TIP technical Committee for approval and three new RIA use cases have been added to OpenRAN RIA technical requirement  2.1 to align with OMG Release 2 requirements.
OpenRAN Test & Validation
Multiple test plans have been released to the community to support OpenRAN Test & Validation, including

Outdoor Macro Blueprint Test Plan Release 2.0, supporting validation of various OpenRAN architectures, distributed or centralized, with 4G, 5G NSA and 5G SA
RU Product Test Plan Release 2.0
Indoor Small Cell Field Trial Test Plan Release 1.0
ROMA 2.0 Test Plan Release 1
ROMA Test Plan Development Workgroup led by Viavi will have Test Plan Release 2 ready for review Oct. 21
ROMA kicked off Requirement on Interface between CD/CT and Network function orchestration work group led by Amdocs

The OpenRAN Outdoor Macro and small cell subgroups continues to conduct multiple test and validation efforts following TIP test plans and resulting in a rich set of contributions to the community, including multiple outdoor and small cell blueprints awarded with TIP Silver badges and comprehensive test reports.
The Outdoor subgroup completed OpenRAN 5G NSA Blueprint test validation with Airtel per TIP's outdoor macro blueprint test plan. The validated blueprint was awarded with Silver Badge by TIP TVC and the corresponding test report was published.
The indoor subgroup completed an OpenRAN indoor small cell field trial with China Unicom following TIP's indoor small cell field trial test plan.
Silver badge testing for OpenRAN 2.0 Traffic Steering use case was initiated at the TIP MPK community Lab. Three additional vendor submissions for OpenRAN 2.0 testing have been received.
ARI-5G (sponsored by UK DCMS) was kicked off in London on August 30, 31st with 7 project partners including BT. The project will complete by end of March 2024 and demonstrate four RIA use cases. Lab entry at BT Adastral Park commenced on 1-Oct-2022.
OpenRAN ROMA subgroup has successfully launched OpenRAN orchestration and automation test environment (link for more info)
Middle east operators established the region's first Open RAN centralized test lab in collaboration with TIP and Intel.
Alignment with O-RAN Alliance
TIP and O-RAN Alliance are fully committed to realizing the vision of an open, intelligent, virtualized, and fully interoperable RAN and the activities of both organizations are aligned and complementary while both organizations work together to jointly serve the entire Open RAN ecosystem.
For the past few months, TIP and O-RAN Alliance worked side by side to provide clear guidance to vendors, operators, and the telecom industry in general. Both organizations jointly collaborated to align their testing and validation activities and processes and agreed on a recommended certification and badging path for vendors and suppliers. The collaboration alignment includes the focus of each organization, how test reports can be shared between TIP Community Labs and Open Test and Integration Centers (OTICs) and the complementary nature of the certification and badges that are issued by TIP and O-RAN Alliance. It also emphasizes how acquiring product certificates and badges from both organizations increase operators' confidence in the offered solutions and in turn accelerates the deployment of Open RAN.
TIP and O-RAN Alliance will continue to collaborate and align together to ensure that both organizations are drawing on each other's strengths and serve the open RAN ecosystem towards an open, intelligent, and virtualized vision.
Looking Ahead
The strength of our community lies in the recognition and commitment from all parts of the industry that it is only through collaboration that we can implement the change.
There are over 130 service provider members now in the TIP membership roster. With more than 90 vendors and 140 system integrators participating member organizations, TIP TIP facilitates this ecosystem of vendors, mobile operators, system integrators to develop, test and deploy open and disaggregated solutions.
TIP is committed to accelerating the commercial adoption of secure, high performance & low cost open & disaggregated solutions through system validation.
As a result, TIP enables supply chain diversity, economy of scale for the vendor community and economy of time for service providers with deployment-ready solutions.
We are excited to see significant growth in both the demand and the supply of OpenRAN solutions captured by the number of trials, deployments and listings on TIP Exchange. We invite more ecosystem participants to actively engage in the OpenRAN project groups to further accelerate the innovation of OpenRAN, and capture the commercial opportunities they provide.
We are also looking forward to working with the policymakers and other industry organizations to accelerate commercialization of open and disaggregated solutions
We are looking forward to seeing everyone in person at Fyuz in Madrid!