When TIP was founded in 2016, it was founded on three simple principles. The first was to act as a facilitator for global industry to enable an ecosystem of vendors, mobile operators, system integrators, regulators, etc. to develop, test and deploy open and disaggregated solutions across RAN, transport and core.
The second was to accelerate the commercial adoption of secure, high performance and low cost open & disaggregated solutions for all deployment use cases through test and system validation.
Finally, to enable supply chain diversity, economy of scale for vendor community and economy of time for service providers with deployment-ready solutions for many use cases.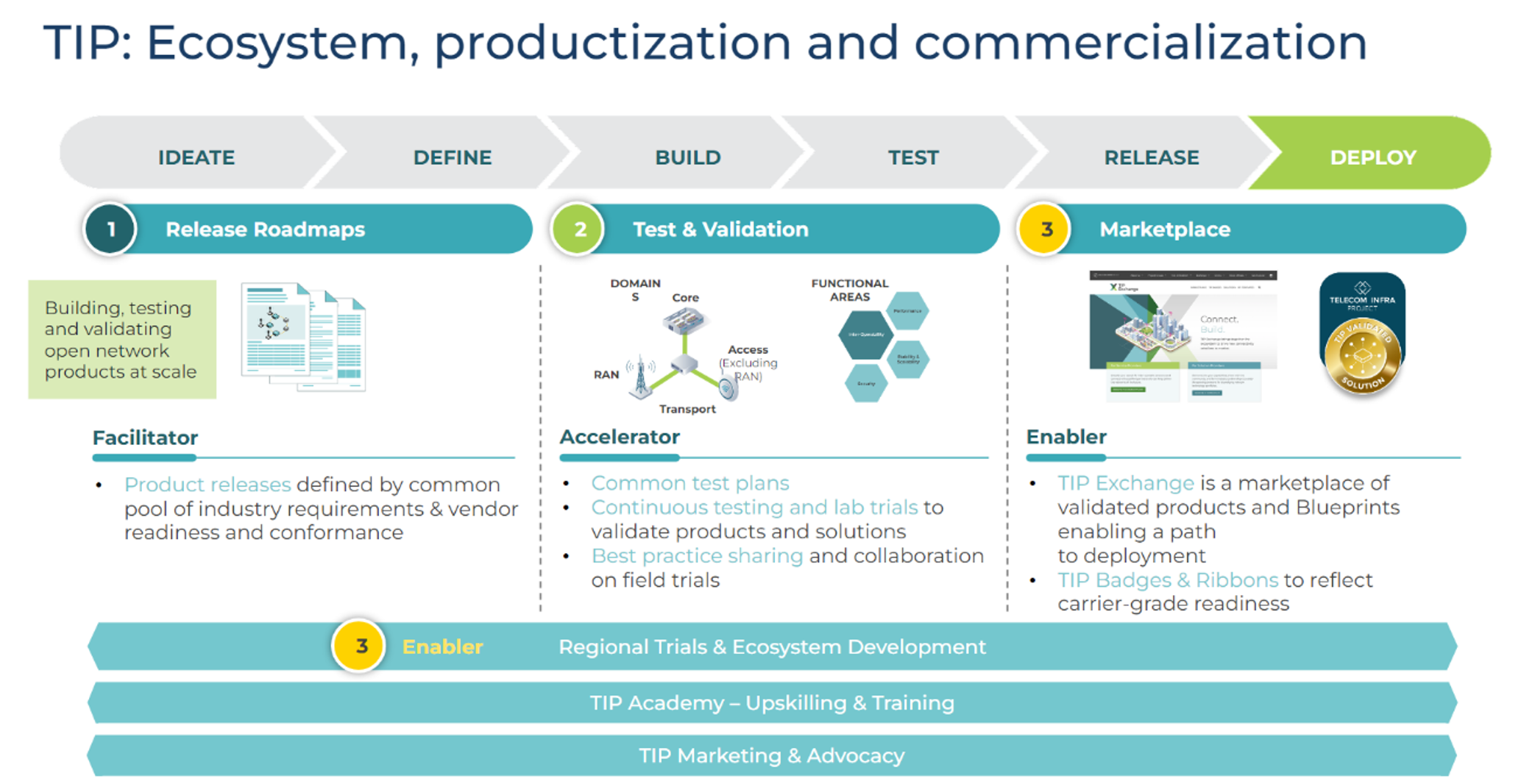 The OpenRAN group was one of the initial groups within TIP that encapsulated these three principles and much more. Key tenets of the group include:
Disaggregation of RAN HW & SW on vendor neutral, GPP-based platforms
Open Interfaces – Implementations using open interface specifications between components (e.g. RU/CU/DU/RIC) with vendor neutral hardware and software.
Multiple Architecture Options, including

An all integrated RAN with disaggregation at SW and HW level
A split RAN with RU, BBU (DU/CU)
A split RAN with RU, DU and CU
A split RAN with integrated RU/DU, CU

Flexibility – Multi vendor solutions enabling a diverse ecosystem for the operators to choose best-of-breed options for their 2G/3G/4G and 5G deployments
Solutions implemented on either Bare Metal or Virtualized or Containerized Platforms
Innovation via Adoption of New Technologies (AI/ML, CI/CD…)
Supply Chain Diversity

TIP has been working actively with the TIP Community in Indonesia since 2020. As a part of the collaboration with the TIP Community Lab at TelkomU in Indonesia, the following activities took place:

Progressing testing and validation activities focusing on OpenRAN and OOPT in Indonesia.
Delivering commercial field trials with various use cases such as OpenRAN 5G, Private Network, FWA, DCSG, and Open FTTH.
Building a suite of awareness programs, including events, webinars, and live showcases for the tech community in Indonesia.
Talent development programs, Including OpenRAN training under the Ministry of ICT Digital Talent Scholarship.
Follow-up on the local manufacturing initiative by collecting requirements from stakeholders including the Ministry of ICT, BAKTI, local operators, ISPs, and OEM partners.
Continuing commercial trials of the OpenRAN Private Network initiative with the Ministry of Maritime and Investment and expanding the collaboration to the other food estate project locations for commercial deployment.
Following up on the USTDA collaboration to accelerate the adoption of Open RAN technology in commercial environments.
Exploring potential opportunities for collaboration with other stakeholders in supporting TIP's mission.

TIP built in India is another such initiative that is being driven by TIP to enable Indian supply chain to deliver and serve commercially ready interoperable solutions, based on open and disaggregated technologies, to the domestic and international market.

With a large number of OpenRAN trials and deployments having taken place since the beginning, a need was felt to introduce a more formalized process to demonstrate a level of compliance and maturity within a product or a solution.

The three-tier badging system was introduced to demonstrate the increasing maturity and interoperability of individual products, product combinations, or solutions. Bronze badges demonstrate a vendor's self-assessed compliance with TIP requirements, while silver and gold badges involve increasing levels of testing.

In addition, Operator Tested Ribbon is awarded to listed products on TIP Exchange that were tested in an operator field trial.

To accelerate this whole cycle of facilitating, accelerating and enabling further Open RAN deployments TIP Academy was launched in May 2022 to guide the individuals to a correct understanding of various organizations, terminology, architecture and the open networks in general.

TIP Academy's Open RAN programme has already commercially launched eight learning programmes, containing 45 courses. This equates to almost 35 hours of learning. The courses take e-learners through the end-to-end fundamentals of financially evaluating, architecting, planning & designing, and, testing & deploying Open RAN systems.

TIP and O-RAN Alliance have been working together and cooperating in the shared focus area of developing interoperable Open RAN solutions since 2020. At Fyuz 2022 conference in October 2022, speakers representing both organizations came together to talk about how they across roadmaps, specifications and verifications to deliver the best Open RAN experience.

Videos from the day 2 breakout session, 'O-RAN ALLIANCE and TIP: serving the Open RAN ecosystem', is embedded below:

For all the latest in Open RAN, check out TIP's OpenRAN Project Group page here.