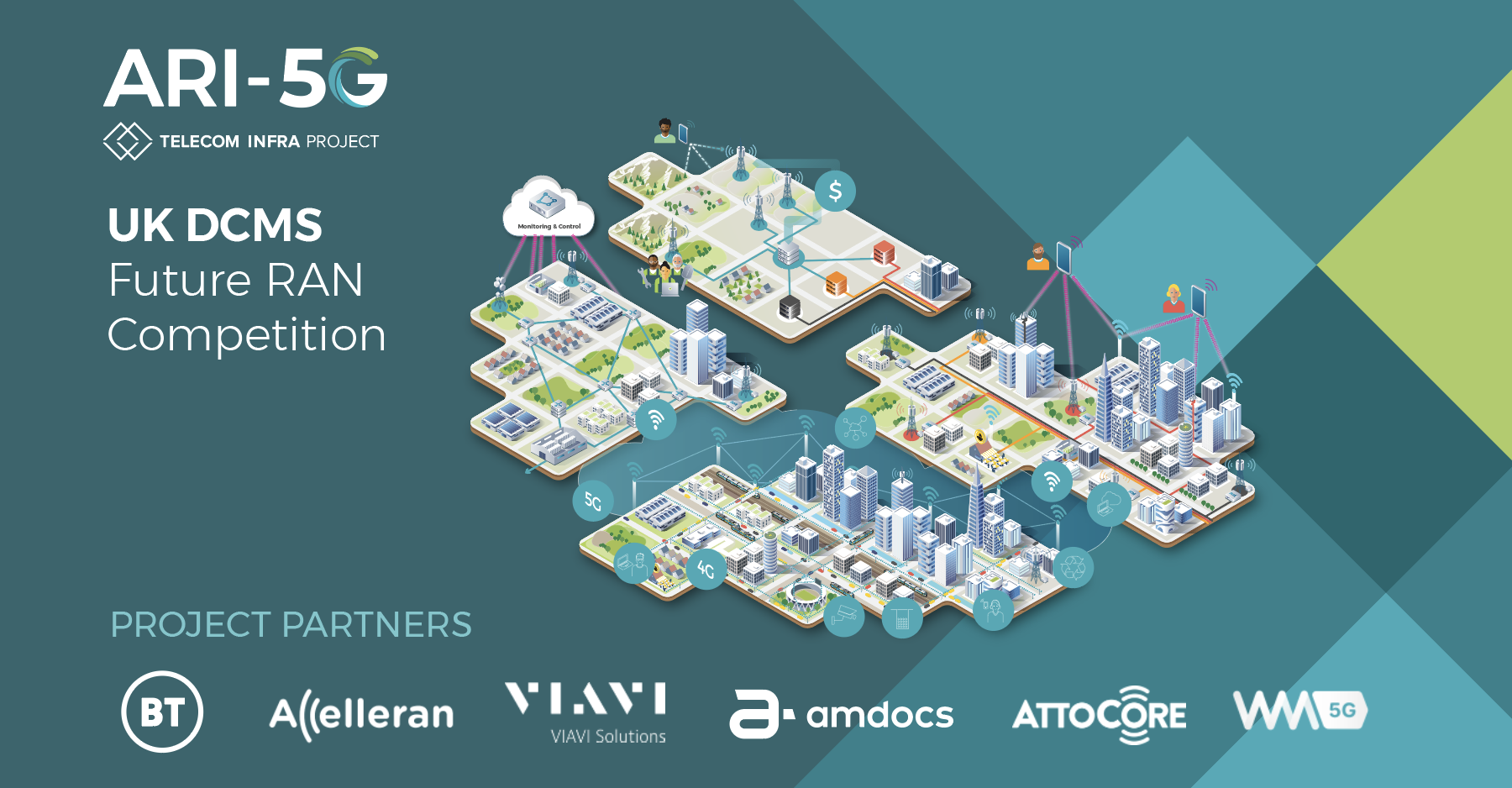 Following the UK's Department for Digital, Culture, Media and Sport (DCMS) update on winning bids for the Future RAN (FRANC) Competition, the Telecom Infra Project (TIP) announced today it will launch a new consortium backed by funding from DCMS to accelerate Open Radio Access Network (Open RAN) deployment in the UK and globally.
TIP will lead the "Accelerating RAN Intelligence in 5G" (ARI-5G) consortium in collaboration with Accelleran, Amdocs, AttoCore, BT, West Midlands 5G, and VIAVI Solutions. It will validate use cases for open and disaggregated solutions with innovations in 5G power consumption, energy efficiency, and spectrum management, including massive MIMO optimization — accelerating successful and scalable commercialization over an initial period of 18 months.
The project will demonstrate the ability to validate open interfaces, with multiple vendors providing solutions traditionally enabled with a single-vendor monolithic approach. The success of this project, supported by DCMS, will show the potential of the TIP model, building together within a collaborative ecosystem where solutions are continually enhanced as technology suppliers and system integrators, both well established and emerging, bring in differentiated capabilities to market.
Julia Lopez MP, Minister for Media, Data and Digital Infrastructure commented, "Our mobile networks play an increasingly crucial part in our lives and businesses, which is why we're investing £36 million in cutting-edge projects to ensure our networks are safe and secure for decades to come.
"I'm pleased to see such an outstanding range of innovators are now on board with FRANC as we push ahead to build a more competitive and resilient telecoms supply chain."
RAN Intelligence in 5G
Mobile Network Operators (MNOs) in their 5G transition face the challenge of providing additional network capacity (i.e. additional investment) to better serve customer needs while searching for new use cases to drive revenue growth. A disaggregated and open RAN enables a broader ecosystem of multi-vendor RAN solutions, contributing to a more sustainable supply chain, accelerating innovation, and improving network economics. According to a recent study by Analysys Mason, Open RAN could bring over USD285 billion in global GDP gains by 2030.
The flexible and scalable architecture enabled by Open RAN cannot be truly realized without revisiting how the RAN is managed and operated. The RAN Intelligent Controller (RIC) will play a crucial role in supporting increased levels of network automation, providing fine grained, use case driven control and management of the RAN resources. The non-realtime and near-realtime variants allow specialized software from different vendors to be deployed for network management, optimization, and innovation.
The RIC's promotion of interoperable solutions is vital to solving complex connectivity problems, creating new capabilities, and accelerating the deployment of AI/ML driven networks of the future. In this project, the ARI-5G consortium will implement, test, and demonstrate a standards-based RIC platform with specific software solutions ('xAPPs and rAPPs'), building on TIP's RAN Intelligence and Automation (RIA) Subgroup activities that have been prioritized by nine leading MNOs.
TIP welcomes the UK's ambitious efforts to accelerate OpenRAN deployments, and congratulates all of the winning FRANC consortia as we share a vision for network innovation and the delivery of high-quality connectivity.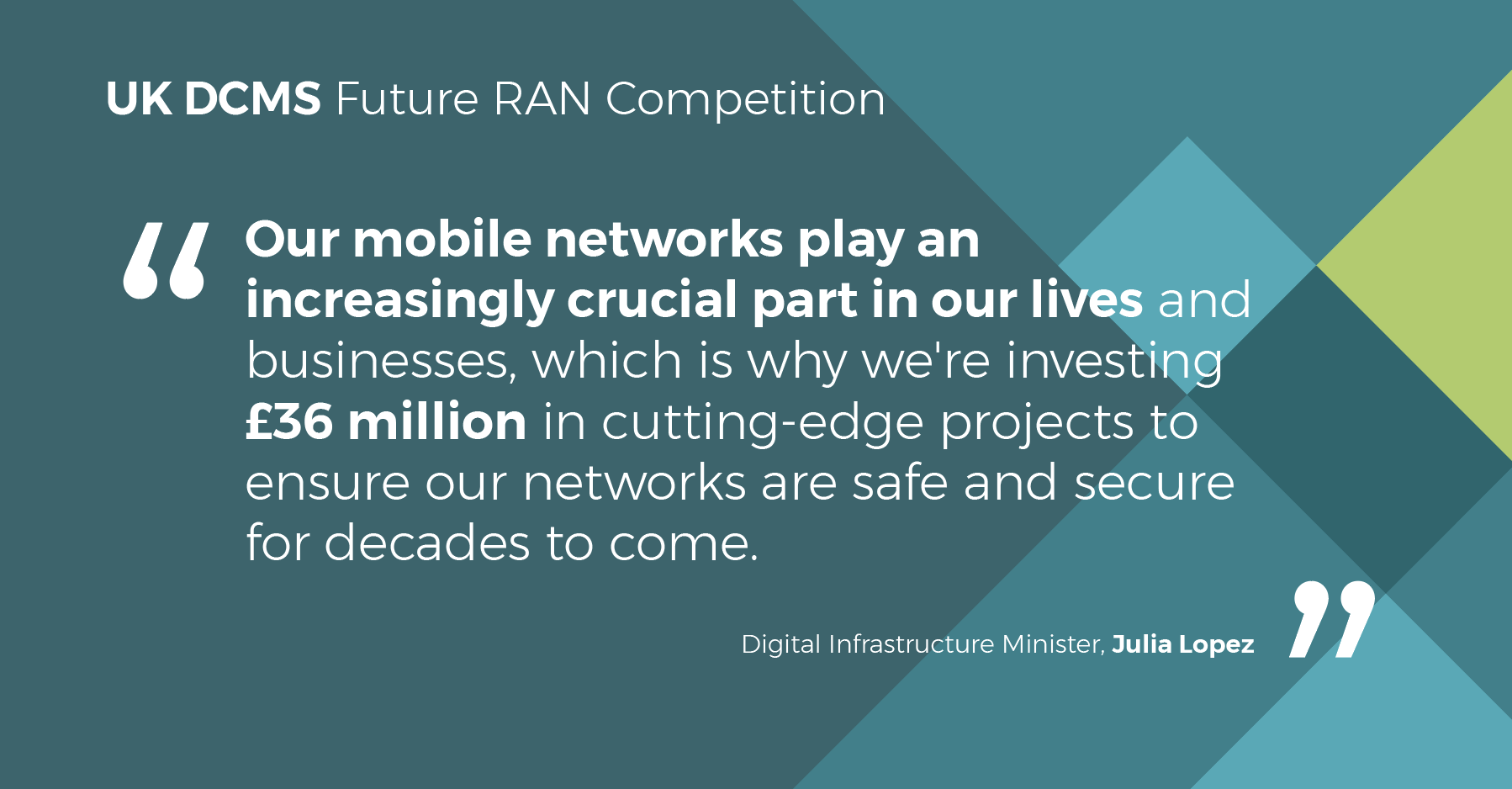 ARI-5G Consortium Roles
Accelleran will leverage design/development of disaggregated RAN Layer-2/Layer-3 call processing software experience to lead the Energy Management workstream.
VIAVI will provide leadership in geo-location technology, service assurance and analytics to lead the interference management workstream,
Amdocs will employ RF planning, optimisation and Self-Organizing Networks (SON) use case development experience to lead the Coverage and Capacity Optimization and massive MIMO optimisation workstreams.
Accelleran, VIAVI, and AttoCore will also support workstreams by providing and integrating the RIC platform, E2 simulator/RIC Test, and 5G core, respectively. BT and West Midlands 5G will provide 5G testbeds at the TIP Community Lab in Adastral Park and Birmingham Knowledge Quarter, respectively.

Commenting on the ARI-5G consortium's success, Vishal Mathur, Global Head of Engagement, Telecom Infra Project said: "We are delighted to solidify this collaboration with the UK Department for Digital, Culture, Media and Sport. The UK's strong software base, richness in assets such as BT's Adastral Park and the West Midlands 5G test bed, and strong support from the government make it a compelling choice to begin this work."
Arnaud Polster, Chief Sales Officer, Accelleran commented: "RAN Intelligence is one of the cornerstones of 5G Open RAN. We're excited to contribute to the ARI 5G consortium with our RAN intelligence Controller platform and Open RAN software solutions. We're thrilled to expand our long-standing collaboration with TIP and other consortium members to demonstrate how this rich and open ecosystem can bring intelligence to the 5G Open RAN".
Anthony Goonetilleke, Group President of Technology and Head of Strategy at Amdocs, said: "Over the next decade Open RAN will transform the economics of mobile networks with real-time automation at its heart. We're looking forward to contributing our RAN automation and systems integration expertise to this exciting project."
Jeff Land, Head of Sales and Development, Attocore said, "AttoCore is delighted to be working together with the ARI-5G consortium members, led by TIP in collaboration with Accelleran, Amdocs, BT, West Midlands 5G, and VIAVI Solutions. AttoCore will be further developing and enhancing its Atto5GC, 5G Core Software to support the program."
Paul Crane, Networks Research Director, BT: "BT is honoured to be part of the ARI-5G project. Delivering innovation through collaboration is TIP's mission. We believe the RIC will become the key component to enable innovation in the RAN. We are excited to be part of a project which will accelerate the readiness for large scale deployment."
Chris Murphy, Regional CTO, EMEA at VIAVI commented, "5G radio access networks will depend on intelligent components to deliver exciting new services. With this comes the need to validate that these components operate effectively in the wide range of conditions they will encounter in an operational network. The ARI-5G consortium brings together a rich ecosystem of vendors and entities to pool existing assets and forge new capabilities to cement the UK as a leader in 5G and Open RAN."
Rhys Enfield, Director of Infrastructure Acceleration, West Midlands 5G, said, "WM5G is proud to be providing the urban testbed for the development of Open RAN solutions in the Birmingham Knowledge Quarter. The Quarter is a high-tech campus in the heart of the city centre, comprising university R&D and tech companies. As such it's an ideal testing ground for the challenges and opportunities of urban deployment of 5G, something WM5G has been working on for the last three years. Through the knowledge and learnings gained via operation of the UK's largest regional 5G testbed, we are exceedingly confident in the delivery of this next crucial phase in the development of advanced networks which will provide the foundation on which we can develop new, innovative and exciting technologies."