Together we build — growing new ecosystems and accelerating deployments
The Telecom Infra Project community is gathering in Amsterdam for our fourth annual TIP Summit, bringing together service providers, technology providers, systems integrators, startups, investors, analysts and a wide variety of other ecosystem partners. Much has changed since our first TIP Summit three years ago. What started as an effort with a handful of members has expanded to an organization with hundreds of active member companies, a diverse collection of project groups that cover the entire telecom network, and active deployments of solutions in many markets globally. Last year, technology prototypes were being lab and field tested with several RFIs issued. Today, solutions are available commercially and being deployed in service provider networks, with rising demand from many service providers around the world.
Our community is designing, building and bringing to market solutions that service providers are telling us they need for all types of use cases and geographies. The scope of this work spans dense urban environments to ultra-rural areas, and some of the most advanced telecom markets through those that have significant unconnected populations.
TIP is also excited to welcome new members to the community, with recent additions including Rakuten Mobile and Dell. Rakuten Mobile will be contributing their 4G and 5G expertise and reference designs for disaggregated solutions to the ecosystem. Rakuten will also initially engage as part of the OpenRAN and OpenRAN 5GNR project groups. Dell will collaborate with TIP's Disaggregated Cell Site Gateway sub-group on an open carrier grade NOS which can run on top of DCSG hardware.
Considering the broad range of connectivity scenarios we are working on, collaboration with other industry organizations such as the Open Compute Project (OCP) and Open Networking Foundation (ONF) is critical for achieving this mission. Our recent engagements have demonstrated that technology driven by OCP and ONF can help accelerate our collective goal of building disaggregated solutions for a wide variety of environments.
Today at TIP Summit, we are announcing a number of updates, including:
New deployments and trials of TIP technologies, including Vodafone's OpenRAN trials in Turkey, Africa and Europe and Telefónica's trials and deployments of OpenRAN in Latin America. There are many other examples of commercial momentum, including deployments of Disaggregated Cell Site Gateway (DCSG) technology with Telefónica in two countries in 2020 and upcoming lab and field trials at TIM Brasil, MTN, and Airtel.
Increasing demand for TIP solutions, based on new RFIs, RFPs and RFQs from companies including Vodafone, Sprint, Telefónica, TIM Brazil, Deutsche Telekom and YTL. These run the entire TIP tech stack from OpenRAN 5GNR, DCSG, mmWave and Wi-Fi.
The TIP Community Lab program is expanding, with 12 labs now live globally. We are also now launching new types of labs focused on testing, validation and integration of end-to-end solutions to allow continuous deployment of new features into the network. The first integration and deployment focused labs will initially be hosted by Telefónica in Madrid and by Facebook in Menlo Park and North Los Angeles, California.
The launch of TIP Exchange, a new marketplace designed to help industry players find products and solutions validated by the TIP community, featuring 45 solutions from 28 TIP member companies.
You can read more about these and additional updates below. We also encourage you to check out the latest from TIP Summit on our Twitter and LinkedIn pages.
Network deployments & trials
We have a number of solutions from our OpenRAN and Open Optical & Packet Transport Project Groups that are being deployed and running live network traffic.
OpenRAN. We are excited to see the momentum building behind OpenRAN. Vodafone successfully deployed OpenRAN in Turkey, and recently announced that they have kicked off similar efforts in Africa and are accelerating OpenRAN in Europe, starting with trials in the UK and, now, Ireland. Telefónica is announcing today that they have launched commercial deployments of OpenRAN as part of Internet para Todos in Peru and previously announced an investment in Altiostar, aimed to accelerate OpenRAN solutions for 4G and 5G. In addition to these OpenRAN deployments, Vodafone has also announced that they are trialing CrowdCell small cell technology to boost indoor coverage in cities.
Open Optical Packet Transport (OOPT). Disaggregated Cell Site Gateway solutions that originated from the OOPT project group are rapidly coming to market. Telefónica is launching deployments of Disaggregated Cell Site Gateway technology in two countries, four new lab trials are being announced with Airtel, MTN, TIM Brasil, and Vodafone, in addition to five new hardware SKUs becoming available from different hardware technology providers. This is in addition to the public release of the DCSG specification. The group has also confirmed twelve new hardware and software providers who are committed to developing DCSG technology since last year's TIP Summit. Finally, after successful field trials in Peru and Japan completed by Telefónica and NTT, respectively, and the first commercial deployment in Japan with Mixi, the group has announced that Cassini will become generally available at the end of November. Cassini is a disaggregated and modular converged packet-optical transponder that can help service providers bring more capacity to their fiber networks. Telefónica del Peru will share their field trial results for Cassini in metro and long-haul DWDM systems and continue to evaluate the solution in 2020 with their existing OLS solutions. You can read more about these trials, new hardware and new technology providers supporting DCSG and other OOPT technologies in this blog post.
Accelerating TIP solutions to market
As our community continues to build TIP solutions, we are working to make it faster and easier to test, validate, procure, and deploy. To accomplish this, we have significantly expanded the scope of the TIP Community Lab initiative by launching end-to-end integration programs, and today we are also announcing TIP Exchange, a new marketplace for TIP solutions.
Increasing demand for TIP solutions. We are seeing increasing demand for new TIP solutions from service providers, based on new RFIs, RFPs, and RFQs. Sprint is releasing an OpenRAN 5GNR RFI, with the results expected in Q1 2020 at MWC. Telefónica has opened a global OpenRAN center in Madrid and marked this milestone with RFQs released across Latin America. Telia Company is evaluating DCSG for their future deployments and TIM Brasil has included DCSG into their recently launched RFPs to upgrade their current IP aggregation networks. Deutsche Telekom has shared the results of their RFI and YTL Communications has released an RFP for mmWave technology. In addition, GigaMonster and Mobilitie will be issuing an RFI for a low-cost end-to-end WiFi solution. CBRE and Facebook are joining in the RFI efforts to explore how these solutions can serve the buildings they manage.
TIP Community Labs. We are announcing the opening of new TIP Community Labs focused on integration and deployment. These labs are state-of-the-art facilities designed to support the diverse ecosystem involved in interoperability testing. Facebook will be opening the first of these integration-focused labs in Menlo Park and North Los Angeles, California. Additionally, Telefónica will launch the first TIP Continuous Integration and Continuous Deployment (CI/CD) software lab in Madrid. Also, Sprint will open a TIP Community Lab focused on OpenRAN 5G NR in Overland Park, Kansas. This brings the total number of TIP Community Labs around the world to 12.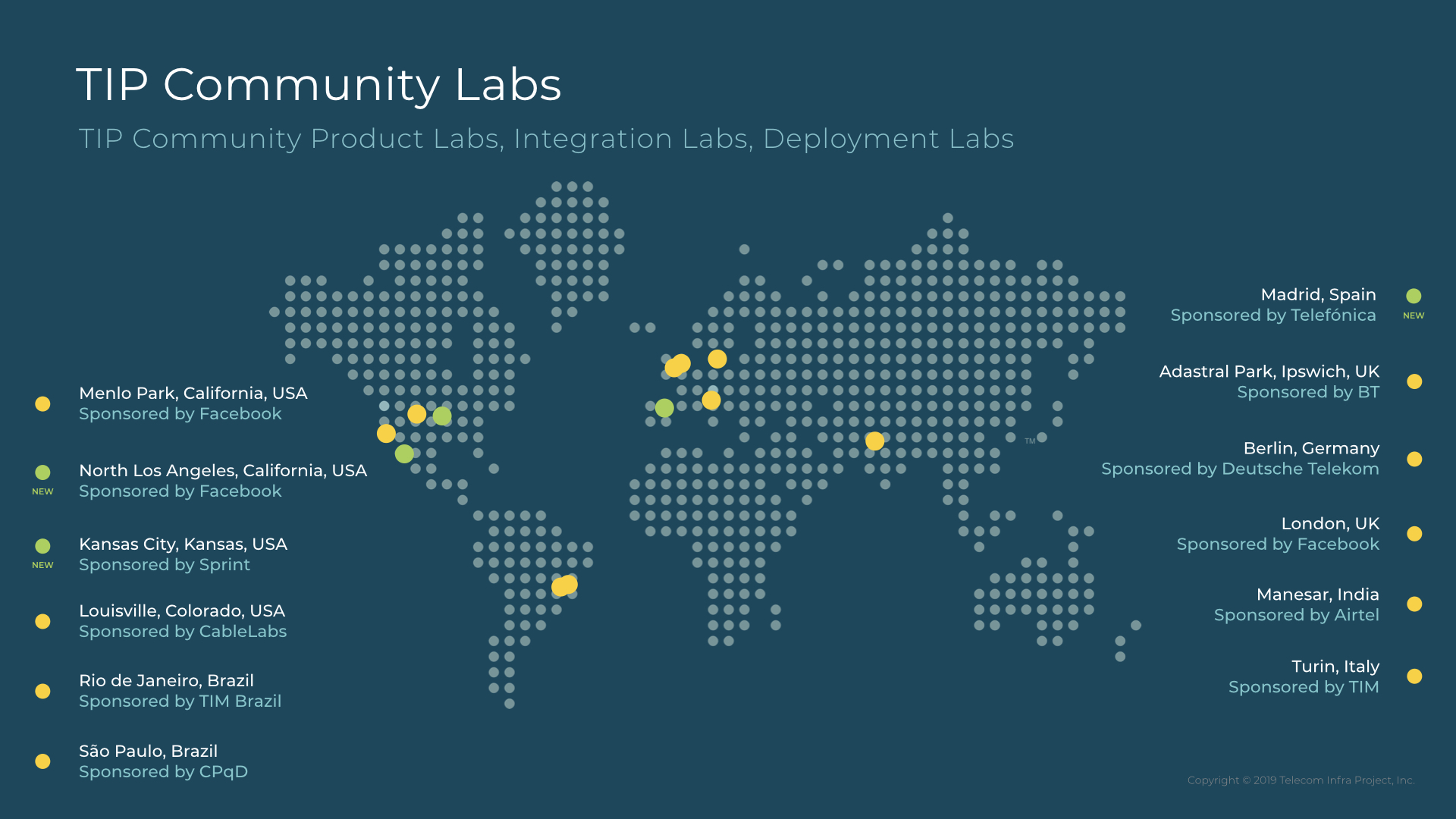 TIP Exchange and PlugFests. To help the community find products and solutions validated by our community, we are excited to announce the launch of TIP Exchange, a marketplace that highlights the work of our community. You can learn more about the 45 solutions from 28 TIP members who have already listed their solutions on TIP Exchange at exchange.telecominfraproject.com. In addition, in order to make it easier and faster for service providers and technology partners to integrate solutions, we are introducing the concept of PlugFests. These are events where our community comes together to test and validate TIP technologies in an end-to-end environment informed by service provider requirements. Participating solutions that are successful in the validation efforts also qualify for listing on TIP Exchange. After a successful inaugural event in June 2019 focused on S1 interoperability, the next PlugFests will focus on Site Solution for the ultra-rural use case and TIP 4G 5G RAN. Both events are planned for completion in the first half of 2020. To sign up for future PlugFest events, visit https://telecominfraproject.com/plugfest/.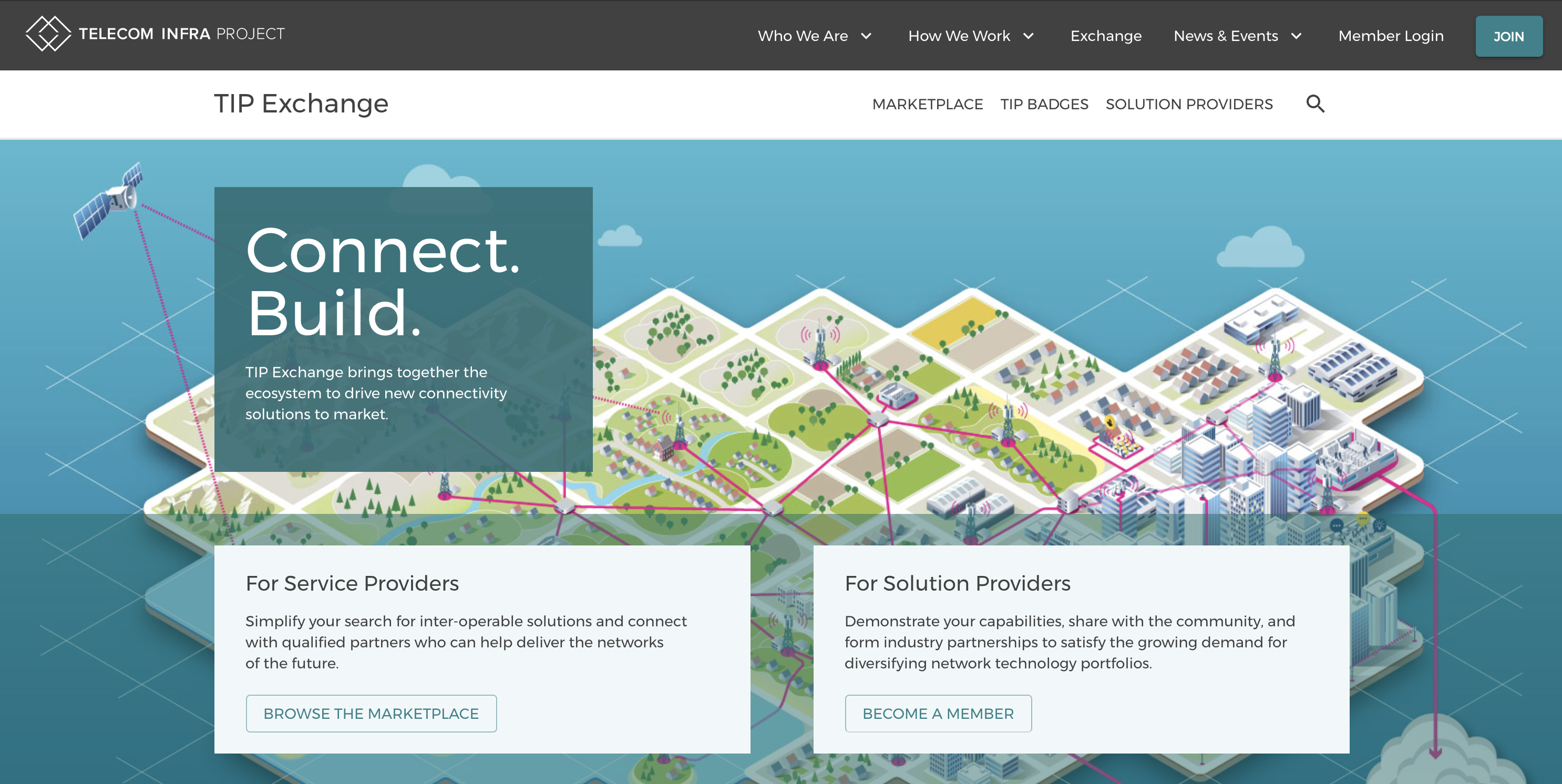 Expanding TIP solutions and ecosystems
Considering the robust set of connectivity opportunities and challenges globally, we continue to invest in additional project groups and are building new ecosystems to drive new solutions in areas including Wi-Fi, OpenCellular, OpenRAN 5GNR, vRAN Fronthaul, OOPT, Open Box Microwave, and Non Terrestrial Connectivity.
Wi-Fi. The TIP Wi-Fi project group is developing a disaggregated end-to-end Wi-Fi solution, consisting of access points (APs) and a cloud-native control/management plane which optionally interfaces to mobile operators' core networks to enable mobile data offload. With design being driven by low total cost of ownership (TCO) and ease of operation, the TIP community's WiFi solution will be attractive to a wide range of service providers. A number of partners, including Cambium Networks, Deutsche Telekom, Facebook, Plume, Sterlite, Shoelace Wireless, and Tanaza are actively driving the project group. These and other partner companies will collaborate to validate the hardware and software components they are contributing and ensure those components are interoperable. It is expected that the AP reference design will be open-sourced within TIP, in addition to some parts of the controller/management/gateway software. This will significantly lower the barrier to entry for new technology providers joining the ecosystem. The group will initially target in-building coverage of Multi Dwelling Units (MDUs).
OpenCellular. We're excited to see the momentum behind OpenCellular (OC), which is now in production across multiple service providers in various African countries and multiple community networks in Latin America and Africa. As of today, Africa Mobile Networks (AMN), as part of MTN and Orange networks, have installed sites covering nearly 200,000 people. The project group has also announced the second wave of recipients of OC Grants, with four applicants nominated from Tanzania, Argentina, Indonesia and Uganda, enabling connectivity in rural communities.
OpenRAN 5G NR. The project group and Sprint have released the draft technical specifications for a sub 6 GHz, n41 spectrum, white box 5G NR base station to define an open and disaggregated RAN platform based on commercial off-the-shelf (COTS) components and disaggregated software. Sprint is exploring the development of 2.5 GHz 5G NR small cells and macro cells.
vRAN Fronthaul. The vRAN Fronthaul project group has published a new white paper highlighting the key learnings from four TIP Community lab trials focusing on operator-sponsored use cases by Airtel, BT, Cablelabs and TIM. The ongoing lab trials and early results indicate technical feasibility of multi-vendor virtualized RAN solutions over non-ideal transport such as DOCSIS networks, Ethernet, G.Fast, GPON, and microwave. 
OOPT. The OOPT project group is also excited to announce that operators including Vodafone, Telia Company, Telefónica and Deutsche Telekom are working together on a specification for Apollo. Apollo is a next-generation 400G capable disaggregated optical transponder that will provide metro, regional and long-haul support for operators. It addresses the bandwidth requirements of 5G while providing operations with a fully programmable and open solution based on standard APIs.
Open Box Microwave. Four Tier-1 operators – Axiata, Deutsche Telekom, Telefónica and MTN have collaborated to define the Open Box Microwave Draft Specification, a modular microwave backhaul solution for 3G/4G and upcoming 5G networks. Aviat Networks and Ceragon are the first OEM partners developing solutions that fulfill the requirements laid out by the participating operators, with the first prototypes coming out in H1 2020.
Non-Terrestrial Connectivity. This new project group, chaired by Vodafone and Telefónica, has the goal of accelerating the time to market of new non-terrestrial connectivity solutions, including, for example, satellites, zeppelins, balloons, and drones. The group will set the minimum requirements to ensure seamless coexistence with traditional terrestrial networks and run trials with an initial focus on providing access and backhaul for unconnected regions and emergency situations.
Next steps
We know that working together and leveraging a diverse range of approaches from across the industry will lead to the greatest success, and we have already seen substantial progress on many of our initiatives. On behalf of TIP, we are excited to collaborate on these efforts in the years ahead, continuing to transform ideas for better telecom tech into commercial solutions. We expect more solutions to be deployed in 2020 and beyond, helping to achieve our shared goal of driving better and broader connectivity globally.
If you're interested in joining the TIP community, you can register to become a member here. Please note that in order to attend project group meetings, you should register to become a member of TIP, and then join the specific project groups that interest you. For more information on TIP's project groups, see this page.