The Telecom Infra Project (TIP) has recently relaunched the Non-Terrestrial Connectivity Solutions (NTCS) Project Group. With a broadened scope, the new NTCS Project Group will develop deployable solutions for network operators with the capabilities to seamlessly include Geostationary (GEO) satellites, Non-Geostationary (NGSO, such as MEO and LEO) constellations, and other types of air and space platforms, like High Altitude Platform Systems (HAPS), that operators might use to provide services.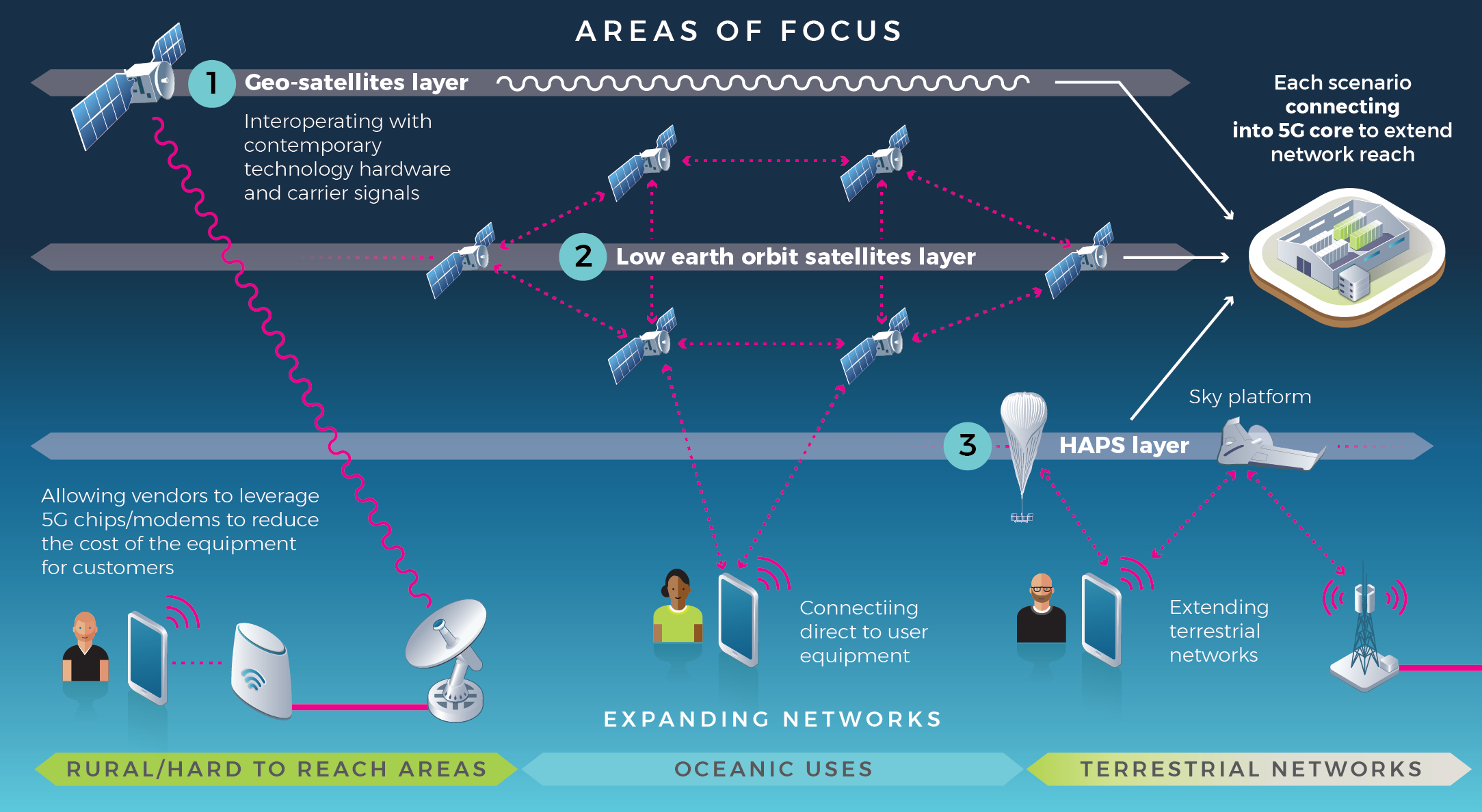 Prior to this relaunch, the NTCS Project Group had been oriented primarily towards the use of HAPS to enable telecommunications coverage for rural communities or emergency response – the HAPS Alliance has been working on the development of HAPS platforms, and will continue to do so. The new Project Group will leverage the relevant 3GPP standards work, including on Non-Terrestrial networks (NTN), considering in particular integration of the 5G Core Network, enabling OpenRAN to allow flexibility and innovation at the level of the link layer, as well as 5G NR air interfaces for NB-IoT and/or NTN, as appropriate.
There are many challenges in advancing the state of NTCS, and several relevant industry organizations approaching the problems from different angles. The TIP NTCS Project Group, co-chaired by SES Networks and Inmarsat, is working together with the HAPS Alliance and the European Space Agency (ESA) in order to advance the work done by each group, maximize the benefits, and avoid conflicts or uncertainties where there is overlap. This collaboration leverages the commonalities between satellite and HAPS scenarios, operating environments, constraints, business models, and regulatory frameworks.
"Support for satellite constellation use of the 5G Core and, optionally, 5G waveforms, is being introduced in 3GPP Release 17. If widely adopted, these new standards could reduce total cost of ownership for network operators, improve network interoperability, and unlock narrow-band satellite communications from cellular handsets. But, this potential can only be realized after an ecosystem of vendor products and open source solutions has emerged for satellite operators to deploy. The NTCS Project Group aspires to develop that ecosystem — around actual operator use cases and requirements," said Vish Mathur, Global Head of Engagement, TIP
By working together, the groups will be able to ultimately accelerate the availability of a multi-vendor and multi-provider ecosystem of products and services for NTCS.
Leading the project group as Co-Chairs are Alexander Geurtz from SES Networks and Jerome Soumagne from Inmarsat.
Alexander Guertz serves as VP of Product Portfolio Strategy at SES Networks. As a large satellite operator with over 70 satellites in two different orbits, SES plays a key role in contributing to the scope of NTCS.
"For next-generation networks to be universally accessible, alignment between mobile and satellite technologies at the architectural level is essential. We are glad to bring our knowledge and ability to innovate the network architecture and satellite-terrestrial integration to further define the relevant open standards. This will help unify the next-generation networks from the operational perspective, and leverage the full potential of the multi-orbit satellite networks for the benefit of businesses and users globally, especially as the next-generation high-throughput satellite capabilities are about to enter the market," said Alexander Geurtz.
Jerome Soumagne serves as Chief Engineer- VP Systems Engineering at Inmarsat. He is leading the group in charge of designing waveforms, ground networks and platforms across our portfolio of satellite and terrestrial networks (L-band, S-band and Ka-band) and integrating all components to deliver end-to-end services.
"Connectivity is the infrastructure around which the future prosperity of our world will rely. Not simply to create new opportunities for growth but as the worldwide 'nervous system' that connects our combined efforts to address the vast challenges we all face in building a world that is sustainable for us and future generations. The goal of a universally available, fully redundant communications infrastructure cannot be achieved without space-based and aerial connectivity. They bring unique capabilities in terms of reach and resilience that are essential to building a better future for us all. And that is why I am delighted to have been appointed as Co-Chair of NTCS and am committed to helping drive this group forward alongside my fellow Co-Chair Alexander Geurtz," said Jerome Soumagne.
European Space Agency (ESA) is supporting development of standards in order to provide support for communications services delivered via satellite and/or HAPS, via the 3GPP's work on the 5G Non-Terrestrial Networking (NTN) standards. ESA also sponsors development and demonstration of prototype hardware, software, and services embodying the 5G NTN technology. The TIP NTCS Project Group is bringing together satellite and/or HAPS service operators, equipment vendors, and other parties in order to define the business cases, solution architectures, and criteria for evaluating conforming products and services.
"We are excited to see the various developments that ESA supports in the field of satellite 5G included in future TIP NTCS use cases and trials. Together with the companies that are supported by ESA and the partners in the NTCS Project Group, we believe one could come quickly to technical demonstrations that will provide all of us valuable feedback," said Frank Zeppenfeldt who is working in the Satellite Communication group of ESA.
ESA has provided technical vision and support for the NTCS work, including important academic research, industrial projects, and standardization activities.
TIP and HAPS Alliance have partnered in an effort to collectively accelerate all aspects of Non-terrestrial connectivity. The TIP NTCS Project Group leverages 3GPP standards, among others, and defines test criteria to foster the development of interoperable components and services from multiple vendors. The HAPS Alliance further accelerates commercial adoption and work on relevant regulatory issues. The HAPS Alliance will be able to leverage the 3GPP standards along with the solutions and conformance criteria from the TIP NTCS Project Group, and further focus on maturation of the specialized hardware and software components for robust operation for relevant HAPS business cases and spectrum policies.
"The HAPS Alliance is focused on building a cooperative HAPS ecosystem and we look to partner with other organizations that share this vision," said HAPS Alliance President Ken Riordan. "We recognize that GEO satellites, LEO constellations, and other types non-terrestrial technologies are an important complement to HAPS, so we're pleased to collaborate with TIP NTCS to support the advancement of NTN standardization initiatives," said Ken Riordan, President, HAPS Alliance.
Interested in participating in the TIP NTCS Project Group? The NTCS participant community has continued to grow since its inception in 2019 and we encourage all interested participants to collaborate. The group intends to focus on accelerating the development and deployment of open, disaggregated, multi-waveform 5G non-terrestrial connectivity solutions through the development of specific deliverables including; use cases, requirements documents and test materials.
For more information on how to join visit https://telecominfraproject.com/ntcs/