Demand for better connectivity continues to grow, and 2020 has demonstrated the vital role it plays across all areas of life. We wanted to take this moment to look back at what we have achieved together this year.
TIP is accelerating the development and deployment of open, interoperable, disaggregated, and standards-based solutions to deliver the high quality connectivity the world needs. These solutions bring three different kinds of benefits for the industry:
A less fragile and more flexible network supply chain, reducing disruption risks for service providers, and creating incentives for investment in connectivity improvements
More innovation in network functionalities, as a growing community of innovators can use open interfaces to create new products that enhance network performance and make it possible to address current challenges for connectivity
An improved business case for connectivity, through reductions in the total cost of ownership or by enabling new revenue streams for service providers, on top of basic connectivity
TIP is a key vehicle for the industry to build these new network solutions. TIP is a diverse community including service providers, technology suppliers, system integrators and other connectivity stakeholders, that collects technical requirements from business-driven use cases, and builds, tests and validates products and solutions, based on open standards, to address those requirements. More specifically, TIP helps the industry:
Define and coordinate industry roadmaps for open, disaggregated technologies, prioritized according to business-driven requirements
Achieve economies of scale in test and validation, through a collaborative approach to lab and field trials
Reduce time to market and minimize risks for commercial deployments, by using TIP Exchange as a marketplace for validated products and solutions, with their level of maturity qualified through TIP badges
This year we've seen how our community has achieved significant momentum on the path to deliver our vision. TIP products and solutions, across different network layers, are already a commercial reality globally, and we have started to expand our scope to include more partners in the ecosystem to build end-to-end solutions.
2020 Events 
In the absence of physical events in 2020 due to COVID-19, TIP brought the community online by hosting and participating in 20+ virtual events. A key highlight includes our very first TIP Insights Series this fall, which featured a Global event followed by 4 regional events covering the LATAM, APAC, and EMEA regions where speakers from across the TIP community discussed recent achievements and plans for future progress. Our overall event program featured participation from 900+ companies, 3,900+ attendees, and 80+ speakers from around the world.
Thank you to the 14 sponsors who took part in our events this year!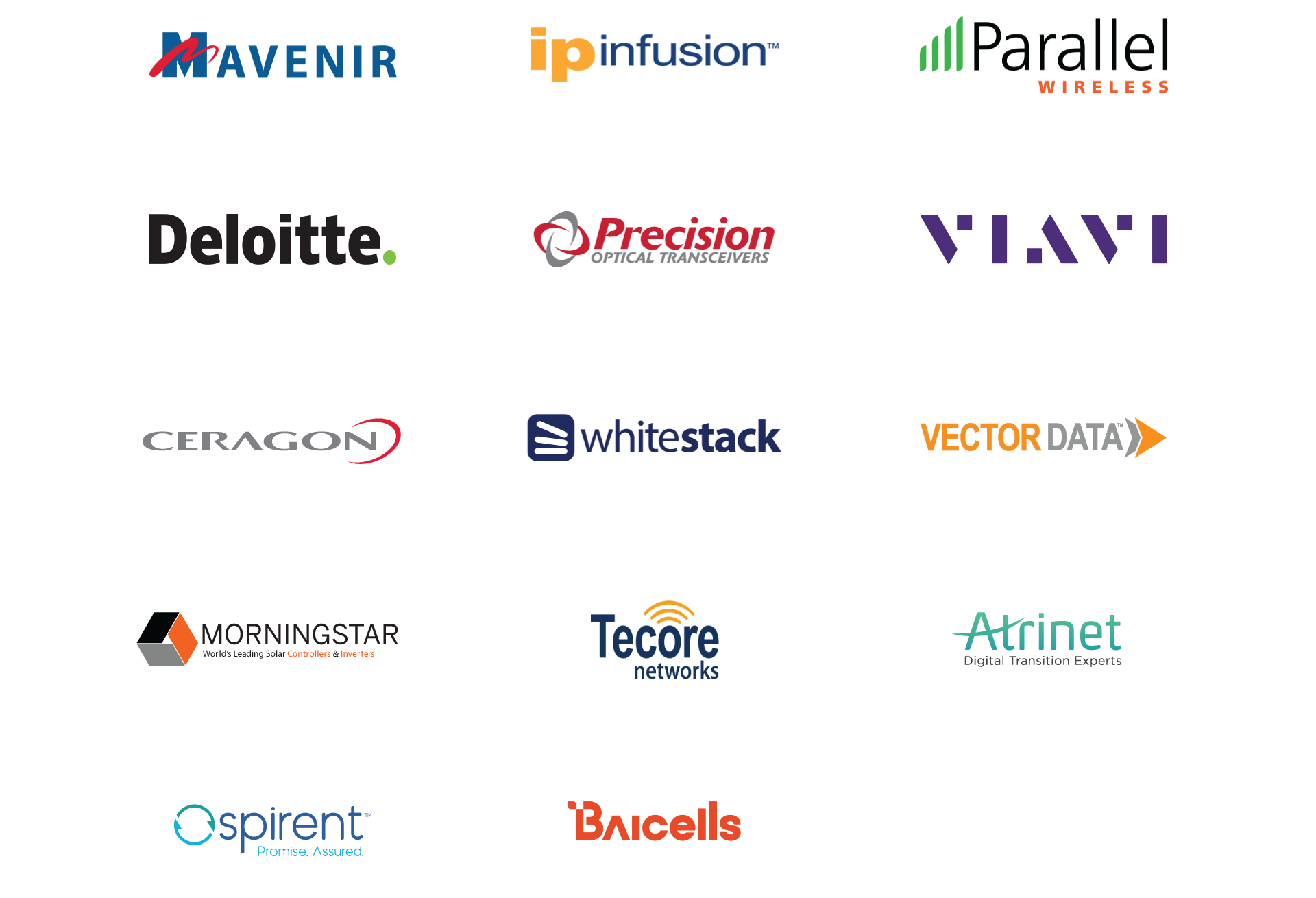 Project Group Updates
Our community works together to expand the supply chain and drive innovation across the entire telecom landscape. We collectively design, build, test and validate open, efficient and interoperable solutions addressing our members' technical requirements for commercial deployments. This year, we made progress across our community in these areas. Read some highlights below.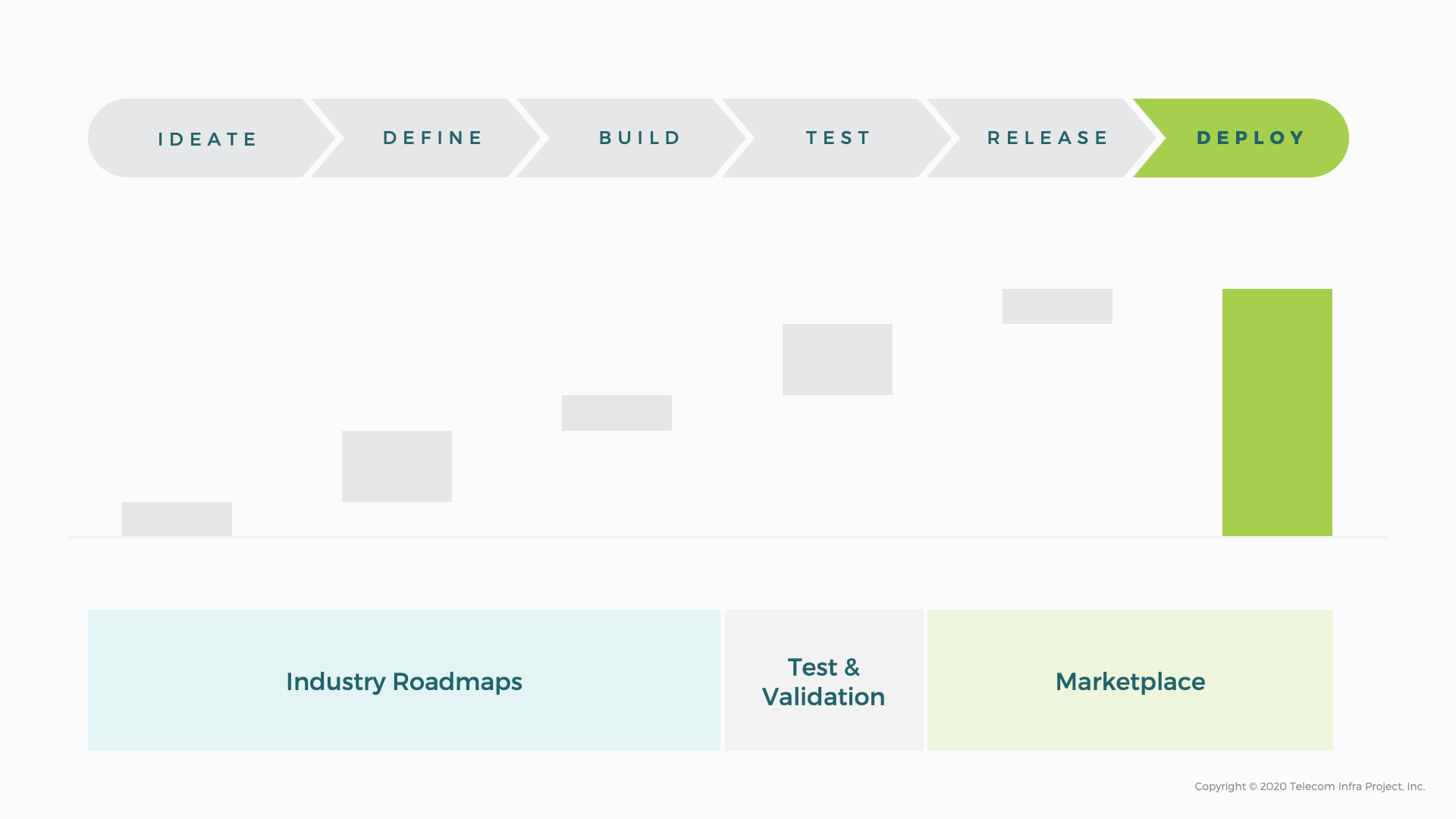 Ideate
This year, we announced the launch of 'Solution Groups'. This new type of Project Group is intended to codify open, disaggregated, interoperable network elements, including TIP-incubated technology across all network layers, into a broad range of end-to-end solutions for specific deployment cases that can be used by operators and other connectivity stakeholders. TIP-incubated technologies have been deployed in commercial environments across the world and Solution Groups will integrate these components into end-to-end solutions. This will enable supplier diversity across the network, increase automation opportunities, and potentially deliver new business models. The first Solution Groups we have launched are Network as a Service (NaaS), Mobile Data Offload, Connected City Infrastructure, Open Automation.
We also announced the streamlining of our OpenRAN, streamlining the OpenRAN and OpenRAN 5G NR Project Groups. To meet the increasing demand across the industry for TIP-incubated RAN technology, the new charter has been developed to accelerate the development and deployment of OpenRAN solutions across 2G, 3G, 4G and 5G NR. This new streamlined group is initially focused on five subgroups, including RAN Intelligence and Automation (RIA) which will enable the OpenRAN ecosystem to leverage Artificial Intelligence (AI), Machine Learning (ML), and data science technologies to better address the RAN market needs and improve network economics.
Define
The TIP OpenBNG Technical Requirements document launched this year, as a result of the collaboration between Telefónica, Deutsche Telekom, BT, and Vodafone, with large scale fibre-to-the-home (FTTH) networks, within TIP. OpenBNG is an initiative within the Open Optical & Packet Transport (OOPT) Project Group's Disaggregated Open Routers (DOR) sub-group.
We also announced, alongside Deutsche Telekom, MTN, Orange, Telefónica, Telia Company and Vodafone, the creation of a new sub-group within the Open Optical & Packet Transport project group, called MUST (Mandatory Use Case Requirements for SDN for Transport). The main objective of MUST is to accelerate and drive the adoption of SDN standards for IP/MPLS, Optical and Microwave transport technologies.
Our new OpenCore Project Group released its technical requirements for network function applications and services of an open core network implementation. They describe the necessary software functions, and the requirements that the implementation needs to meet to be deployed in the networks of the specific operators participating in this specification.
Build
Axiata, Deutsche Telekom, MTN, Telefónica, and TIM Brasil coordinated a joint RFI this year to assess the global technology landscape for building the first-in-the-world service providers-driven Open and Disaggregated wireless backhaul solutions as a part of the Telecom Infra Project's Wireless Backhaul Project Group (WBH PG). The industry's leading hardware and software technology providers were asked to participate in the RFI, share information on their current technical capabilities, and supported features to measure the level of compliance and their plans to build solutions that fulfill the OpenSoftHaul (OSH) technical requirements developed in TIP. Multiple technology providers have answered the RFI, focusing on one or multiple components of the wireless backhaul system and have gone through a detailed technical evaluation with the operators of all RFI answers
Additionally, edotco and TIP have said they are on track to unlock new network efficiencies that will improve connectivity at urban street level and indoor coverage in underserved areas in Southeast Asia and South Asia, starting with Malaysia.
"With new network demand on the rise and the critical need to connect the underserved communities, we must accelerate the adoption of next-generation solutions. These new solutions, based on a vendor-neutral hardware and software-defined technology, will present a technological revolution for seamless connectivity in underserved communities, while providing cost-effective options to network operators," said edotco's interim Chief Executive Officer Datuk Izzaddin Idris.
Test
In October, TIP hosted a 3-day Rural Site Configuration PlugFest Workshop with a discussion of main results on day one (recording accessible in Atlassian to PlugFest Members only) followed by two days of live panels focused on a rural site deployment theme.
In Europe, we hosted a joint TIP and O-RAN PlugFest for OpenRAN solutions at Deutsche Telekom's joint Community Lab & O-RAN Open Test and Integration Center (OTIC) in Berlin, together with Deutsche Telekom, TIM, Telefónica, Orange and BT.
Teams from from Vodafone and Parallel Wireless have contributed a Playbook to the OpenRAN PG that captures the learnings from OpenRAN field trials in Turkey, where brownfield sites were swapped with OpenRAN solutions for 2G/3G/4G, to evaluate the technical and operational KPIs in the process. This will help the OpenRAN community members, RAN solution providers, network operators, and system integrators take an informed approach to the selection of technology and the planning of OpenRAN deployments.
Telefónica and TIP's OpenRAN Project Group also announced that a first version of the OpenRAN Continuous Integration, Continuous Delivery & Deployment (CI/CD) Platform is now available for TIP members to advance development of CI/CD use cases, technology and solutions.
Release & Deploy
TIP Exchange brings together the ecosystem to drive new connectivity solutions to market. There has been tremendous growth in 2020 now with 110 badges earned and 94 technologies listed from 42 providers. TIP Exchange continues to grow with new TIP-qualified offerings allowing TIP members to showcase their products and solutions so that service providers can easily evaluate technology and technology partnerships for flexible and innovative connectivity solutions. Read below for highlights on TIP solutions this year.
Infinera announced that Telefónica Peru will commercially deploy TIP-developed Disaggregated Cell Site Gateways (DCSG) solution using Infinera's DRX-30 hardware and Converged Network Operating System (CNOS). The deployment is part of Telefónica's Fusión Project, an initiative that aims to transform its global transport network by simplifying network operations while increasing capacity for its customers. The deployment of TIP's DCSG solution in Peru is intended to support 4G and 5G mobile connectivity and fixed access services across Telefónica's global footprint.
MTN will use TIP-incubated technologies to support the evolution of their transport infrastructure, which the company sees as a platform for future success. Communication transport capacity based on technologies incubated and tested within the OOPT Project Group will be deployed to support traffic growth over the next three years. In addition, this will also support new services as part of the evolution of 5G and new enterprise services. It will also reduce the time to market through more focused agile service provisioning.
"Through the use of open protocols and interfaces, and the ability to incorporate specific innovations focused on the performance of each network component, TIP's open disaggregated, standard-based transport networks can help MTN move closer to its ideal transport infrastructure," says David Hutton, TIP's Chief Engineer.
Vodafone announced commercial deployment in the UK with 2,600 sites across Wales and the South West of England and 30 across Ireland, after announcing results of its RFI for 4G/5G RU. In Ireland, Vodafone is planning to work with System Integrators and software tools within TIP (e.g. CI/CD framework for OpenRAN) to improve operational automation for the RAN.
Airtel has taken an active role in OpenRAN through participation and leadership in TIP. Earlier this year, building on the OpenRAN disaggregated vision and its associated benefits, Airtel is driving scaled deployments of OpenRAN, including Evenstar Radio Units (RUs) beginning in 2021. Airtel CTO, Randeep Sekhon, shared plans for the company's future in OpenRAN during his keynote at the TIP Insights Series Global event.
Policy Update
The work the TIP community is advancing not only benefits the industry, but also the communities, cities, villages, and enterprises connected with open, interoperable, disaggregated solutions. The COVID-19 pandemic made greater and higher-quality connectivity even more urgent as remote working, online education, and virtual gatherings became the norm. In addition, connectivity continues to enable the most transformational 5G applications and unlock economic value. Policymakers and regulators play a key role in fostering innovation and ensuring high quality connectivity, and this past year TIP actively engaged government leaders with a vision to make a fundamental shift toward open network solutions and a more diverse supply chain of telecom equipment.
In Indonesia, government leadership and support helped drive the Public-Private TIP collaboration launched in July. The partnership has made great strides with multi-operator commitment to OpenRAN field trials and testing in the Telekom University hosted TIP Community Lab. With Indonesia's national objectives around digital transformation and domestic capability, TIP and its initiatives – including integration labs and startup acceleration – have become a natural partner in supporting government goals. Also this past year – during our Insights series – TIP was pleased to feature UK government officials addressing the strategic possibilities of open network architecture and the role policymakers can play in accelerating deployments.
TEAC Updates – Cultivate Innovation in the Telecom Space
At the start of the year in January, senior network and technology experts from BT and TIP selected six startups for their 3rd cohort at their TEAC center. The startups from the Edge Computing and 5G Private Network fields were: ADVA, CloudBackend, Condense Reality, DoubleMe, Ori Industries, and TDCOMM. TEAC UK member DoubleMe later launched TwinWorld, a Microsoft HoloLens application hailed to be the future of social holographic reality. In October,SK Telekom, Deutsche Telekom, and hubraum welcomed 10 new startups into TIP's Ecosystem Accelerator Centers during a joint German and Korea TEAC launch event. Closing out the year, Ori from TEAC UK hosted its inaugural edgehog day in November in partnership with Alteran. The online event saw thought leaders from around the world sharing their views on Edge Computing and 5G.