TIP OpenRAN Project Group is Streamlined to Accelerate Development and Deployments
Today we are excited to announce a significant update to our OpenRAN Project Group portfolio: we are streamlining the OpenRAN and OpenRAN 5G NR Project Groups into an overarching OpenRAN Project Group with a revised charter.
To meet the increasing demand across the industry for TIP-incubated RAN technology, the new charter has been developed to accelerate the development and deployment of OpenRAN solutions across 2G, 3G, 4G and 5G NR.
The new Project Group will be chaired by Vodafone and T-Mobile USA, and different work streams will be co-led by BT, China Unicom, Ooredoo, Smartfren, TPG, Intel and Vodafone Idea.
To support the Project Group activities, several new subgroups have been created based on Mobile Network Operators' (MNO) priorities and market demand. These subgroups are broadly categorized as component subgroups and segment subgroups. Each subgroup will have key deliverables spanning across the full lifecycle – from ideation to commercial deployment.
The subgroups will aggregate MNO demand, develop common requirements, align vendor roadmaps, lower integration cost and risks, deliver easy to consume deployment and operational guidelines and facilitate adoption and proliferation of OpenRAN solutions. The subgroups will also provide a space for the ecosystem to contribute to deliverables for the members that will be key to improve the business cases for commercial deployments and facilitate adoption.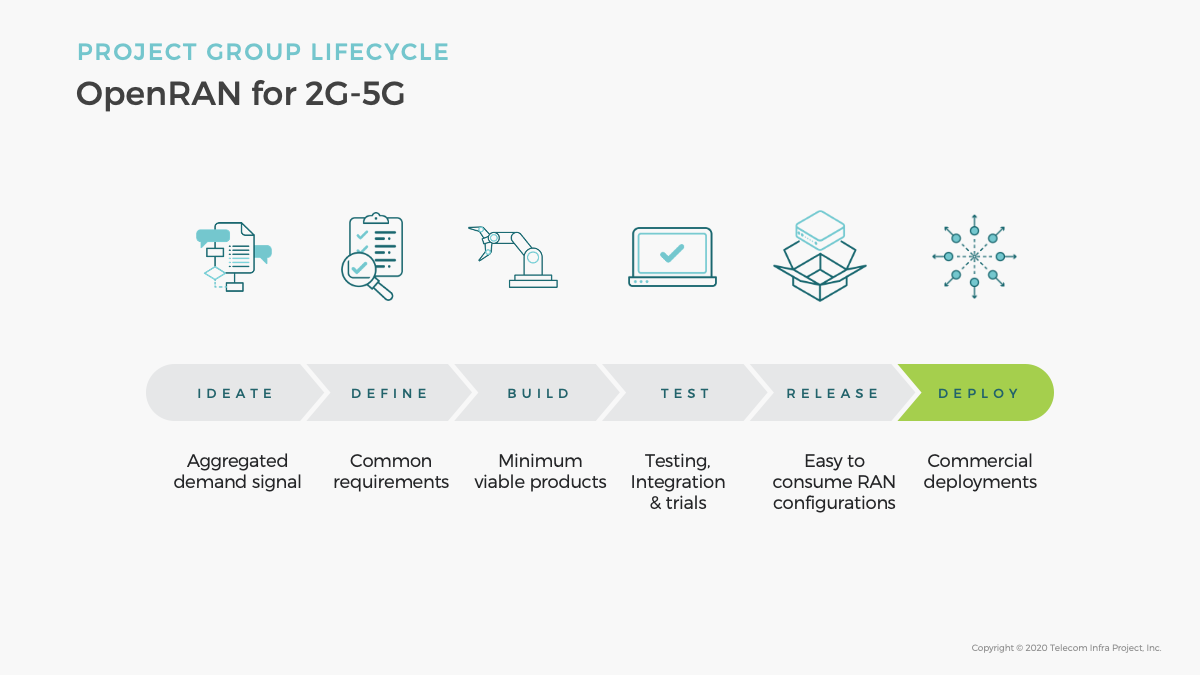 Component subgroups: Focused on improving the performance of individual OpenRAN technology components – software and hardware:
RU: Defining Radio Unit (RU) whitebox hardware (HW) platforms for 4G/5G
DU/CU: Defining Distributed Unit (DU) & Centralized Unit (CU) whitebox HW for 4G/5G
RAN Intelligence & Automation (RIA): Productization of AI/ML Use Cases for Massive MIMO (MaMIMO), e.g., beam optimization, Radio Resource Management (RRM) and Self Organizing Network (SON)
Segment subgroups: Focused on integrated RAN solutions for specific network use cases to improve deployment business cases:
Outdoor: Addressing coverage and capacity requirements, performance and features for outdoor macro base stations
Indoor: Defining requirements, performance and features for indoor 5G NR small cells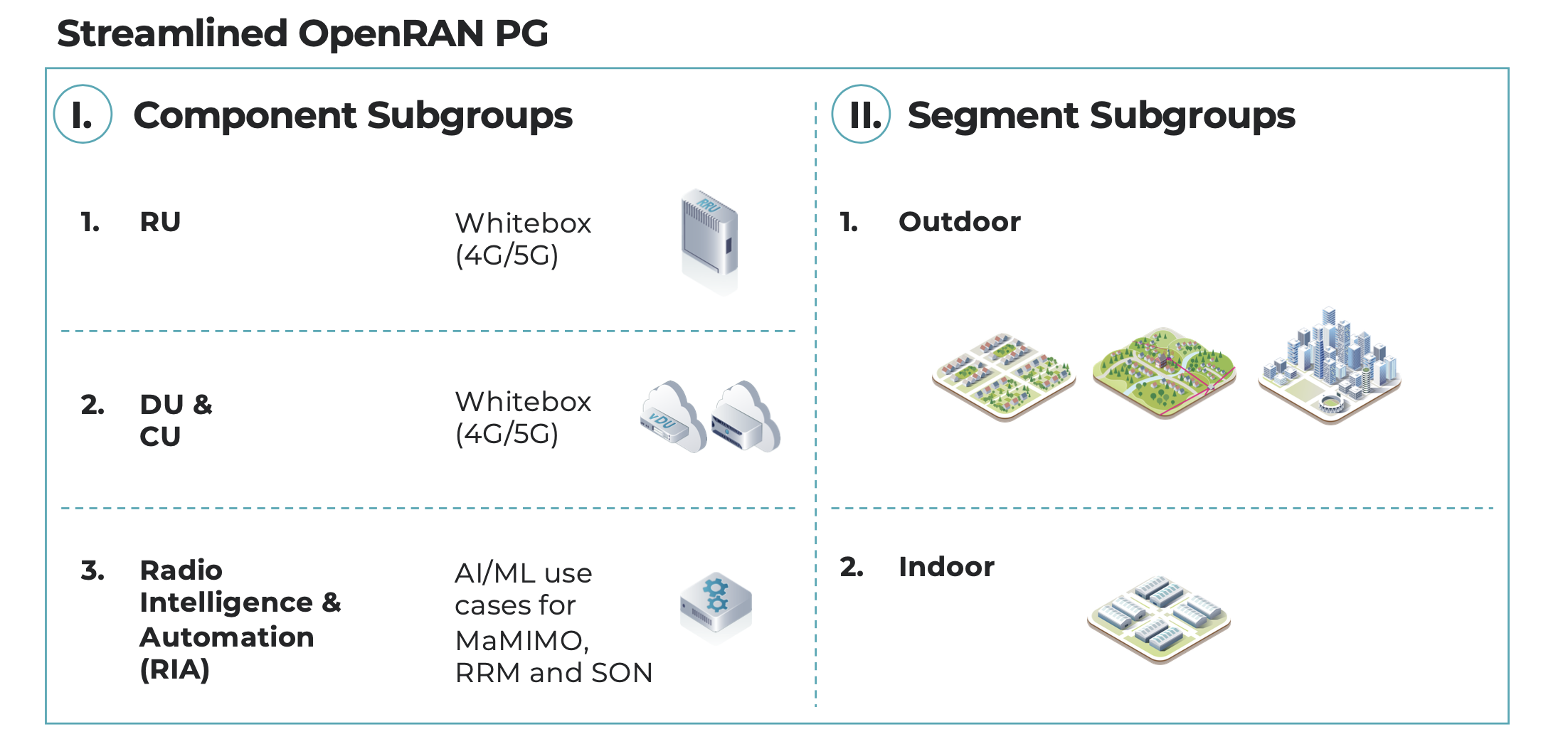 Andy Dunkin, Senior Manager Mobile Access Centre of Excellence at Vodafone Group Networks and TIP Technical Committee delegate, said: "We are excited to lead this transition towards flexible and open RAN with a richer ecosystem. Vodafone has been expanding OpenRAN footprint via ongoing pilot deployments in Europe and Africa. The streamlined OpenRAN structure is a significant opportunity to drive scale and support vendors to more quickly deliver products to the market. We look forward to the Project Group delivering harmonised requirements and proven commercial solutions to support our network deployment objectives."
"The new Project Group structure makes a lot of sense because it allows operators to think about OpenRAN strategies across the air interface technologies in use in their networks", said Gabriel Brown, Principal Analyst at Heavy Reading. "It continues TIP's unique approach to OpenRAN of starting with an idea and the underlying component technologies and then taking development all the way through to field trials and into commercial deployment."
What is OpenRAN, and what are the benefits?
OpenRAN is an initiative to increase ecosystem diversity, innovation and operational automation in Radio Access Networks. OpenRAN is designed to define and build 2G, 3G, 4G and 5G NR RAN solutions based on general purpose processor (GPP) based hardware, software-defined technology and open interfaces based on industry standards.
By decoupling hardware and software, operators have more flexibility in terms of architecture and selecting best-of-breed components as they build and upgrade their networks for various deployment scenarios and geographies. Open interfaces give operators flexibility to source components from different vendors.
Key operator benefits include:
More diverse supply chain
Increased innovation
Better network economics
What progress has been made on OpenRAN adoption and trials?
The adoption of OpenRAN solutions is accelerating, with multiple MNOs launching trials and commercial deployments of OpenRAN in several markets, including Bangladesh, the Democratic Republic of Congo (DRC), India, Indonesia, Ireland, Malaysia, Mozambique, Peru, Russia, South Africa, Turkey, UAE, the UK – and many more!
Further, Vodafone, along with Parallel Wireless, recently authored a TIP Playbook from the first trial deployment in Turkey, and are progressing trials with Parallel Wireless in the Democratic Republic of the Congo and Ireland. Vodafone is also advancing trials with Mavenir in Mozambique and the UK. Parallel Wireless is providing OpenRAN solutions for Inland Cellular's 4G coverage – the first deployment of OpenRAN in the USA.
In Indonesia, Indosat Ooredoo and Smartfren are conducting the first OpenRAN field trials in the APAC region, with Smartfren completing the first OpenRAN lab trial in the region. In Malaysia, Edotco, the tower arm of Axiata Group, is collaborating with Celcom Axiata to conduct lab trials with a path towards field trials. In North America, DISH has also committed to deploying OpenRAN as part of its 5G nationwide network.
MNOs Airtel, Deutsche Telekom and Vodafone along with technology partners AceAxis, Altiostar, Baicells, Facebook, Flex, Mavenir, MTI, Parallel Wireless, and Xilinx with its ZYNQ & RFSOC platforms, are working together on the Evenstar RRU (Remote Radio Unit).
Finally, Vodafone confirms the completion of the lab validation of the first generation of Evenstar RRU product (aka Step-0). This effort was led by Mavenir in partnership with MTI and Facebook. The team is now gearing towards validation in field pilot. The second generation Evenstar RRU (aka Step-1) is on track for availability in Q2 2021.
The primary objective of the Evenstar program is to accelerate the adoption of OpenRAN by creating a healthy, robust and sustainable alternative ecosystem for infrastructure providers. As the program expands further beyond the RRU, the Evenstar team is announcing the start of a Distribution Unit (DU) project for a standard and merchant-silicon-based configurations.
Another exciting development is the Open Field Program, a permanent field verification test bed for RAN software OEMs to validate their software in a neutral environment. This test bed is being set-up in Brazil, in collaboration with Inatel and TIM Brasil. This program will assist OEMs in maturing their software for the new releases in a real network environment and help shorten MNO's homologation process.
Read more here on our blog about the progress TIP has made this year.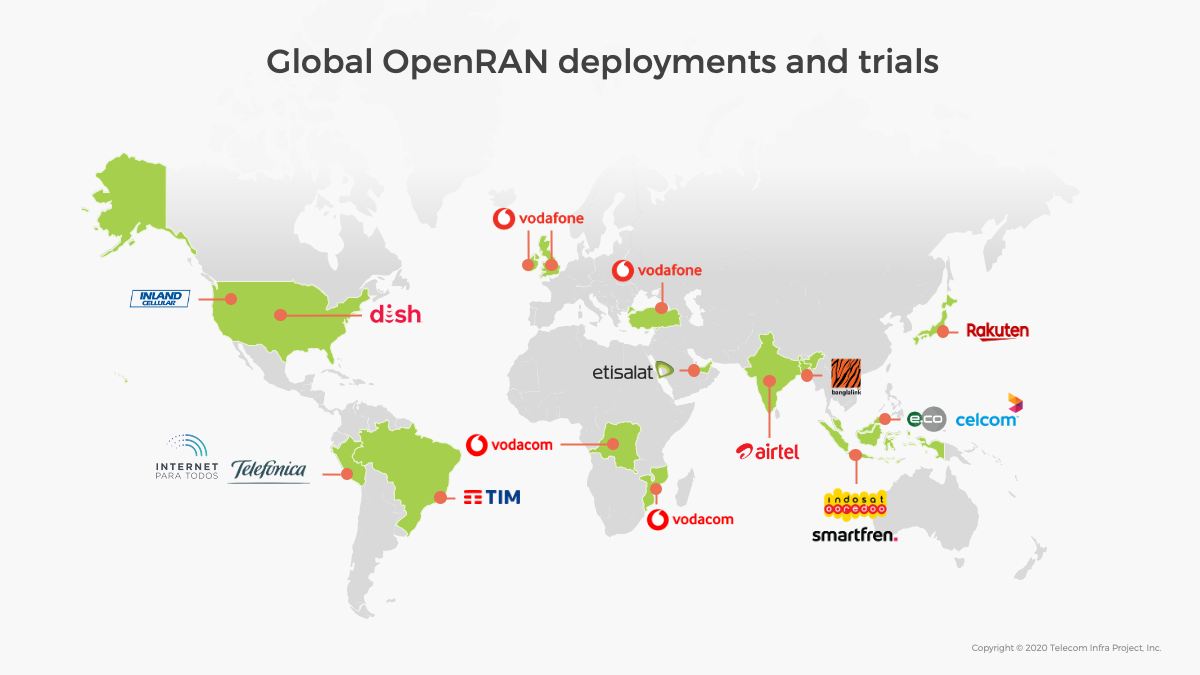 How will this streamlined Project Group help?
The new OpenRAN Project Group will help foster collaboration and drive industry momentum behind OpenRAN innovation and adoption. This streamlined Project Group will enable MNOs to address requirements across 2G, 3G, 4G and 5G NR. The specific goals for this Project Group are to:
Accelerate Disaggregation: Develop various workstreams that are necessary to develop various components of disaggregated RAN including RU, DU, CU whitebox and AI/ML applications (xApps) for various use cases.
Develop Common Requirements and Align Vendor Roadmaps: Develop common requirements that meet the needs of multiple MNOs and align vendor's roadmaps to meet operator requirements.
Develop Easy to Consume RAN configurations. Lower Integration risk and cost: Develop OpenRAN blueprints comprised of multiple vendor's hardware and software products. Lower integration risk and cost of disaggregated RAN through integration, testing and validation in TIP Community Labs and TIP PlugFests against the common requirements.
Facilitate Adoption & Proliferation: Make it easy for MNOs to assess the maturity of OpenRAN components and blueprints through tiered badges on TIP Exchange and adoption of the right OpenRAN solutions based on their needs and skills.
Drive Automation: Enable OpenRAN ecosystem to develop and deploy applications (xApps) that leverage the strength of AI/ML and Data Science technologies to drive RAN automation, improve performance, reduce power consumption and lower TCO. More details about RAN Intelligence and Automation (RIA) workstream are here.
With substantial commitment from both operators and technology partners, TIP OpenRAN is already making progress across various subgroups.
Component subgroups:

DU/CU subgroup: This subgroup is currently aligning Vodafone and DISH's whitebox requirements and the revised requirements will be published shortly. The subgroup is also driving testing and validation of OpenRAN 5G NR solutions in TIP Community Lab. Multiple ecosystem partners including Altiostar, Altran, Dell Technologies, Kontron, Mavenir, MTI, QCT, Radisys, Silicom, Supermicro and Wind River are actively participating in this lab activity
RIA subgroup: BT, DISH, Vodafone and Deutsche Telekom and jointly published details about the first set of prioritized AI/ML use cases that will drive automation, energy efficiency and higher performance in the RAN
RU subgroup: Upcoming subgroup to initiate whitebox requirements for OpenRAN 4G and 5G NR

Segment subgroups:

Outdoor subgroup: Vodafone, Ooredoo, Smartfren and TPG (Singapore) are collaborating on use case definition. Initial requirements for peri-urban segment to be published shortly
Indoor subgroup: China Unicom has developed requirements for disaggregated indoor small cells. Operators are currently engaged in vendor selection to initiate integration and testing in TIP Community Lab
Why now?
The industry is poised for change. As operators increasingly commit to OpenRAN commercial deployments, we anticipate a step change in momentum over the next year. Recent Analysys Mason survey results of 60 MNOs around the world show that a third of Tier-1 MNOs and over half of Tier-2 MNOs expect to start rolling-out OpenRAN commercially by 2023.
As the demand for high-quality connectivity rises, policymakers and regulators are turning to innovative technologies like OpenRAN to lower costs, diversify the supply chain, and build more secure infrastructure. Public-private partnerships are highlighting the role governments can play in accelerating open, interoperable, and standards-based technologies.
How do our efforts fit into the wider picture?
OpenRAN strives for strong partnerships across the industry with organizations that have similar vision and are working to accelerate disaggregation and innovation in RAN. The goal is to bring the ecosystem together to take a holistic approach towards building next generation RAN. TIP OpenRAN will continue to collaborate with other industry organizations including GSMA, ONF and O-RAN ALLIANCE through established liaison agreements.
Leveraging open interface specifications, the OpenRAN workstreams will enable development, testing and integration of multiple OpenRAN vendors' products. OpenRAN segment subgroups will align vendor roadmaps and build end to end RAN configurations addressing operator requirements. These configurations will be validated in TIP Community Lab, operator labs, Plugfests and in field trials, leading to "easy to use" network designs that can be deployed by service providers globally.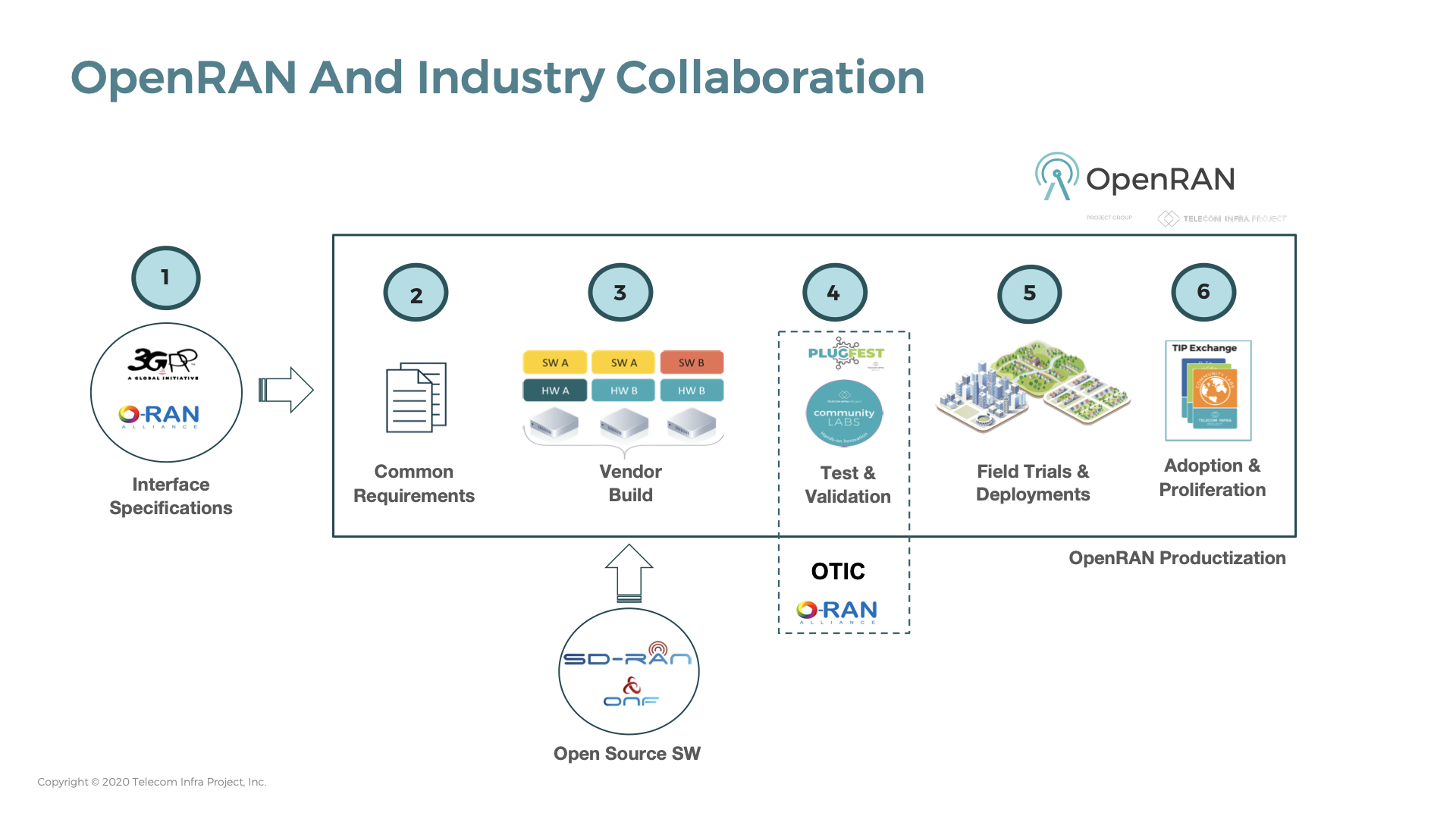 We also look forward to working with the recently announced Open RAN Policy Coalition to promote OpenRAN solutions for advanced wireless networks. The Coalition is focused on advocating policies that will drive open and interoperable network technologies, initially focusing on OpenRAN.
What's next and how to get involved?
The strength of our community is collaboration and the more we work together, the more we can accelerate the pace of innovation in the RAN. We are excited by the demand and momentum behind OpenRAN.
The existing OpenRAN and OpenRAN 5G NR project group members will continue to work under the new streamlined OpenRAN project group with no changes. The updated Charter was sent along with a notice to each participant regarding next steps. We will continue to work with operators to define specific deployment cases and publish their requirements without any interruptions and existing members will not need to take any additional action.
If you share our goal then please join the new streamlined OpenRAN Project Group to collaborate with Operators, Vendors, Infrastructure Providers, Academic Institutions, and Integrators in creating, building, testing, and deploying OpenRAN.
To hear more about the streamlined OpenRAN Project Group, please join us today at TIP Insights Series: Global (Register here).
Other upcoming events in the TIP Insights Series:
TIP Insights Series: Global
October 6th, 2020
Register here
TIP Insights Series: LATAM
October 20th, 2020
Register here
TIP Insights Series APAC at GSMA Thrive Asia Pacific
November 4th, 2020
Learn More
TIP Insights Series: Europe & Middle East
November 10th, 2020
Register here
TIP at AfricaCom
November 11th, 2020
Learn More
Join our mailing list, find out more about how to become a TIP member, and learn more about TIP.