The last couple of years have highlighted the incredible potential for connectivity to transform our daily lives and brought into focus not only our growing dependence on technology, but also the persistent digital divide that still sees almost half of the world's population lacking access to the internet. As we celebrate progress across various TIP initiatives, we know that the benefits of these advances in technology go beyond just the industry – the increased use of open, disaggregated network technologies has clear positive implications for greater society, enterprises, and national economies. This past year, research firm Analysys Mason illustrated this point in their study on the economic impact of open and disaggregated technologies, which concluded that OpenRAN alone could bring over USD285 billion in global GDP gains by 2030.
TIP's unique collaborative model is harnessing the collective power of the entire telecoms ecosystem to drastically change how telecom technologies are created, deployed, and the business models that operate them. Operators, vendors, system integrators and other stakeholders are building, testing and deploying the open and disaggregated infrastructure that will continue to address the world's growing and evolving connectivity needs, as well as innovating the business models that will support these network solutions and ensure that more people and communities around the world can benefit from the digital economy.
Through its end-to-end process, TIP provides an avenue to turn requirements into commercial realities while reducing industry fragmentation, enabling a shorter time to market, and accelerating commercial deployments.
This starts with the alignment of prioritized use cases and requirements from operators, combined with feedback from the broader community, to deliver technical roadmaps – in 2021, there were more than 40 project group deliverables* informing product listings. Technology suppliers can then use these roadmaps to inform their respective product releases. These products progress through TIP's Test & Validation framework, to assess their level of maturity against the technical requirements – with 35 trial activities this year alone. Eligible products and solutions are then awarded TIP Badges & Ribbons and showcased on TIP Exchange – we expect about 60 products listed from over 25 technology suppliers by year-end. The marketplace serves multiple purposes: it facilitates swift procurement processes for operators, strengthens the demand signal, as well as increasing awareness of the solutions listed for technology suppliers. Fundamentally, TIP Exchange reduces time-to-market for open and disaggregated solutions.
With more of our initiatives reaching maturity, the newly formed Test & Validation Committee (TVC) has been tasked with ensuring the consistency of Test & Validation activities across all TIP Project Groups as well as TIP Community Labs (CL), authorized labs, and field trials. This increases the overall efficiency of the TIP end-to-end process, so that products and solutions can be tested and trialed once, then deployed many times. This year, the TIP community has launched five new Community Labs, including in Indonesia (sponsored by Telkom University), Taiwan (sponsored by Industrial Technology Research Institute), Peru (sponsored by Pontifical Catholic University of Peru), Brazil (sponsored by Inatel), and in France (sponsored by Orange).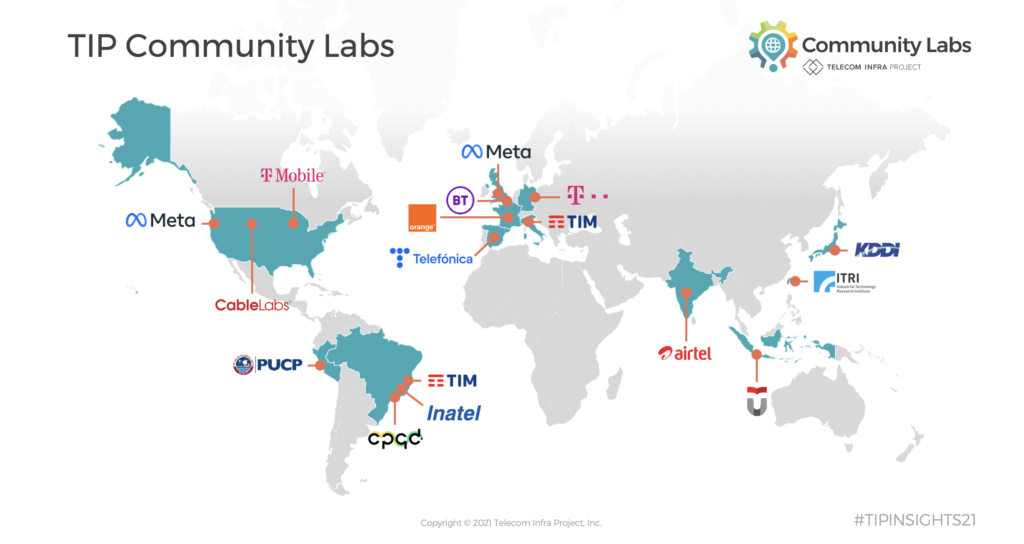 As we approach the end of 2021, we are excited to share updates from across our community and reflect on what has been a busy year to highlight some of our most important achievements:
Scaling up productization of OpenRAN and Transport solutions

OpenRAN
As one of the prime examples of TIP's collaborative model at work, the OpenRAN Project Group has accelerated its pace on its journey to productization, bringing the ecosystem together to take a holistic approach towards building next generation RAN that offers greater choice, innovation and improved economics to MNOs. Since the latest marketplace update in May, the Project Group has made significant contributions to the TIP Exchange, with a current total of 42 listings across the RU, DU/CU, Indoor Small Cell and Outdoor Macro subgroups, with additional products and solutions in different stages of testing and validation. The listings showcase products and solutions from 16 technology suppliers: Altiostar (A Rakuten Symphony Company), Baicells, Comba Network, Dell Technologies, Fujitsu, Mavenir, MTI Mobile, NEC, NTS Technology, Parallel Wireless, QCT, Silicom, Super Micro Computer, Tecore, Wind River, and ZT Systems.
To build on this momentum, we are excited to welcome two new co-chairs from Airtel and Orange to our OpenRAN Project Group, joining existing co-chairs from Vodafone and T-Mobile US. This will strengthen the leadership for the growing OpenRAN community as they develop the industry's next technical roadmap.
TIP published the Open RAN Technical Priorities Document in June, as a result of the work carried out under the MoU on OpenRAN signed by Deutsche Telekom, Orange, Telefónica, TIM, and Vodafone. The document offers a comprehensive list of technical requirements that the signatories of the Open RAN MoU consider priorities for Open RAN architecture to guide and foster a competitive Open RAN ecosystem, promoting openness, flexibility, certainty and clarity.
Based on that initial work, all six OpenRAN subgroups have been developing the Release 2.0 Roadmaps and Requirement Documents, incorporating feedback and input received from service providers and technology suppliers in the Project Group. The requirement documents for RU, DU/CU, RIA and ROMA will be published within their respective subgroups by December.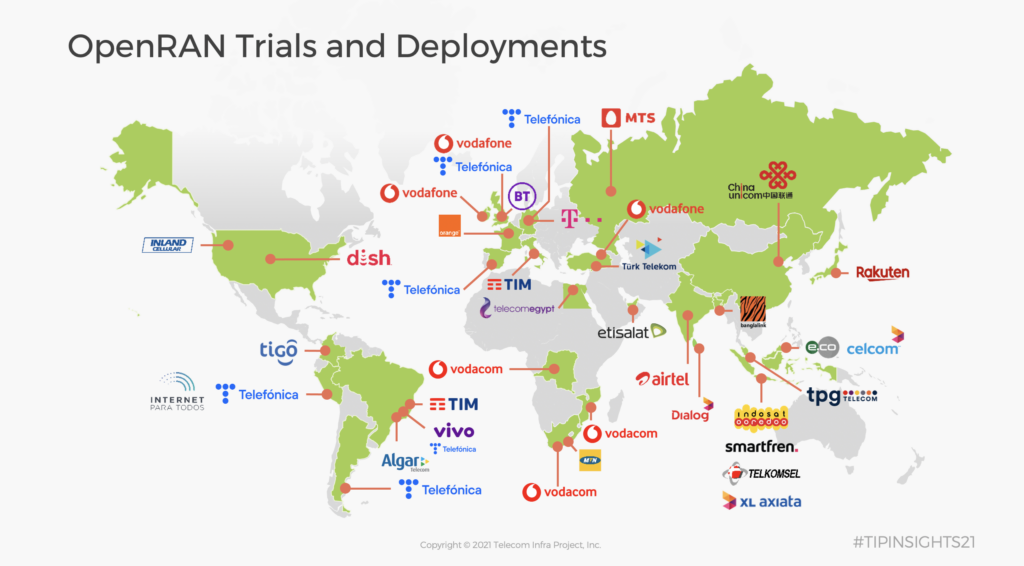 In addition to the trials and deployments we highlighted in June, the past few months have seen increased momentum across the globe including China (China Unicom), Egypt (Telecom Egypt), France (Orange), Indonesia (Telkomsel and XL Axiata), Italy (TIM), Malaysia (Celcom), Russia (MTS), Sri Lanka (Axiata Dialog), Turkey (Turk Telecom), UK (BT). These activities provide an opportunity to conduct extensive validation and testing of solutions in TIP Community Labs, operator labs, live network and partner labs to accelerate productization of OpenRAN against the published common requirements.
In this respect, it is worth highlighting several test-related initiatives and other contributions of the OpenRAN subgroups to the community:
The OpenRAN RU subgroup released a comprehensive test plan for RU*. As part of the Joint O-RAN & TIP PlugFest, participants are encouraged to use this test plan and share results to be considered for TIP´s Supplier Validated Product Bronze Badges.
The OpenRAN RIA subgroup has initiated RIC and xApps lab trials at BT-sponsored TIP Community Lab in Adastral Park with BT, Accelleran and Viavi. The test bed comprises of indoor and outdoor sites and the goal is to develop location assisted smart handover solutions. This trial will be completed by year-end.
The OpenRAN Outdoor Macro subgroup continues to conduct multiple test and validation efforts resulting in a rich set of contributions to the community. These take the form of detailed trial playbooks, test reports and whitepapers from various lab and field trials, such as the latest ones from trials with Indosat, Telkomsel*.
An end-to-end system performance test plan for indoor small cell* was published by the OpenRAN Indoor Small Cell subgroup, defining 50+ detailed test cases to validate the performance of an indoor small cell system against the subgroup technical requirements.
The OpenRAN Indoor Small Cell subgroup has successfully completed a 5G indoor small cell lab trial with Baicells, QCT and Windriver at China Unicom's Lab. The results from the trial have been made available to the community*.
The Open Field Program, a permanent field verification test bed for RAN software and hardware OEMs to validate their products and solutions in a neutral environment. This test bed located in Brazil, in collaboration with Inatel and TIM Brasil, is assisting OEMs in maturing their software for the new releases in a real network environment and shortening the MNO's homologation process.
On the policy front, we are seeing how policymakers and regulators increasingly appreciate the role OpenRAN can play in fostering innovation and ensuring high quality connectivity for their communities. In July 2021, the UK government launched the forward-looking Future RAN Competition – a 30 million GBP funding initiative to advance OpenRAN deployments and foster the ecosystem deploying it. In the EU, policymakers have underscored the importance of new approaches to connectivity, including during TIP's Connectivity Driving Europe's Recovery event, which featured speakers from the European Commission and Portuguese Presidency of the EU Council.
Most recently, following a public-private approach, a consortium under the leadership of Deutsche Telekom has committed to invest approx. 17 million EUR, matched by an additional 17 million EUR funding from the German Federal Ministry for Transport and Digital Infrastructure (BMVI), to create a new open lab "i14y" in order to accelerate network disaggregation and Open RAN. Focused on test, validation and integration of disaggregated networks, the Open RAN Lab intends to be an important foundation for building a European and German ecosystem of vendors and system integrators, and it will work closely with supporting industry organizations and associate partners, such as TIP.
In the U.S, TIP filed an official response to the Federal Communications Commission's (FCC) March 2021 Notice of Inquiry on OpenRAN. TIP will continue to engage policymakers as governments around the world prioritize the national infrastructure that underpins economy growth and social equity.
Open Optical and Packet Transport (OOPT)
Regarding the transport layer, TIP's Open Optical & Packet Transport (OOPT) incubated products and solutions continue their steady march towards large scale commercial deployments. As the initiative expands its global footprint, and to help better support further growth, the leadership team is delighted to welcome Telia as a new co-chair, joining existing co-chairs from Telefónica and Meta.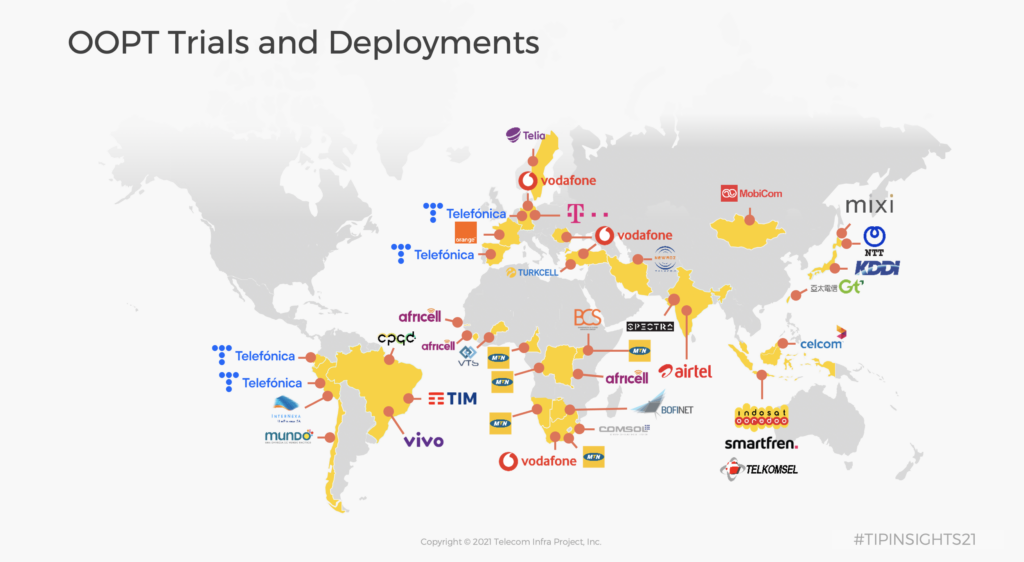 We are also excited to share a number of important updates both in terms of trials, commercial deployments and other key Project Group deliverables. Starting with one of the most active initiatives within OOPT, we are encouraged to see momentum rapidly building behind our Disaggregated Cell Site Gateway (DCSG) solutions with a number of trials and deployments announced across multiple regions from multiple mobile operators and ISPs.
The busiest region by far in this respect has been Africa which has seen a number of operators launching trials and commercial deployments. These stand to help them reap the benefits of open and disaggregated technologies, including lower CAPEX and OPEX costs. Some of the milestones from the region, include:
Building on their previous trials and deployments, Africell are expanding their DCSG rollout in Angola and DRC. In addition Africell have now completed their DCSG ring migration in The Gambia, increasing their network capacity in the process.
BCS – a wholesale telecom infrastructure provider operating across multiple African countries – have started to deploy DCSG in Uganda
In Botswana, BoFiNet, who manage the country's largest fibre network, have started their network modernisation program using DCSG for a new IP Transport layer.
Following successful lab trials earlier in the year, Comsol are scaling up their DCSG deployments in South Africa.
MTN have started their commercial DCSG deployments in Namibia and Uganda.
Vodacom have completed DCSG field trials in South Africa and are exploring commercial deployments in the new year.
Moving into other regions, Vodafone will be launching Turkey's first commercial DCSG deployment following successful lab and field trials and in Germany, Telefónica will be expanding their existing commercial deployment of DCSG with ADVA once again selected as technology supplier.
In other related updates, several new DCSG solutions will shortly be added to TIP Exchange. Capgemini's DCSG Network Operating System (NOS) solution has been awarded a TIP Validated Product Bronze Badge following its validation in the TIP Community Lab in the U.S., sponsored by OOPT co-chair Meta. Ceragon Networks will also see two of their DCSG products listed on TIP Exchange shortly having been awarded TIP Requirements Compliant Ribbons. Finally, the DCSG subgroup also welcomes Ciena to its ranks in a move which also sees their disaggregated software solutions awarded a TIP Requirements Compliant Ribbon and upcoming listings on TIP Exchange.
This will bring the total number of new DCSG listings on TIP Exchange to 12, including the awarding of TIP Requirements Compliant Ribbons to Edgecore Networks and Ufispace for their solutions.
In further deployment news from the OOPT Project Group, the Disaggregated Open Router (DOR) subgroup's Disaggregated Distributed Backbone Router (DDBR) is being deployed by KDDI.
Elsewhere, the Mandatory Use Case Requirements for SDN for Transport (MUST) subgroup, has published two new requirements documents (IP* and Optical*) to help operators from the TIP community in their RFP, RFI and RFQ processes and to ensure that the IP, Optical and Microwave solutions they are buying provide open and standards based interfaces. MUST has also launched its Test and Validation process with the requirements compliance phase under way for open optical transponders and routers.
Finally, OOPT welcomes the addition of NEC to the Phoenix initiative. NEC are currently building a solution using Wistron's hardware products and leveraging OOPT's open sourced network operating system Goldstone.
---
Realizing a democratized Wi-Fi ecosystem
We see Wi-Fi and cellular as complementary solutions – they should work together to deliver high quality, ubiquitous connectivity. With more countries starting to allocate 6 GHz for unlicensed use, including 1,200 MHz in the U.S. by the FCC, Wi-Fi is poised for dramatic growth. By 2025, the Wi-Fi Alliance estimates that the 6 GHz Wi-Fi band will deliver USD 527.5 billion in incremental economic benefits to the global economy.
Since its launch in May 2021, TIP OpenWiFi has been making great strides. In just a short space of time, there have been lab and field trials, as well as deployments of live networks across multiple countries, demonstrating multi-vendor interoperability.
In India, the government's flagship connectivity scheme, PM-WANI, aims to expand internet access across the country by implementing a decentralized system of public access points. In support of it, TIP OpenWiFi ecosystem technology suppliers have deployed live production networks, providing a number of villages with access to the internet for the first time. We were also proud to see the project short-listed by the WBA for its 2021 Industry Awards in the Best WiFi Social Impact category.
Also in India, a major internet service provider – D-Vois, is deploying OpenWiFi from ecosystem participants Indio Networks and HFCL Limited, addressing Public Wi-Fi and SMB Wi-Fi use cases. The network also leverages Express Wi-Fi to demonstrate monetization of Wi-Fi networks.
In Africa, the Kenya Education Network (KENET) is partnering with Atlancis, Africa's first Open OEM, to deploy the continent's first true multi-vendor compatible Enterprise Wi-Fi network based on the TIP OpenWiFi solution. The deployment, delivered through TIP ecosystem participants Actiontec, HFCL Limited and NetExperience, will see WiFi coverage at Kenyatta University's main campus extended to student learning spaces, lecturer halls, and hostels, enhancing the online experience of over sixty thousand students and five thousand staff members.
Taiwan's National Yang Ming Chiao Tung University, in conjunction with TIP participant Edgecore Networks, announced that it has deployed hundreds of TIP OpenWiFi access points to become one of the first deployments of its kind in the world.
In addition to its rich feature set which includes Wi-Fi 6, Passpoint, WBA OpenRoaming® capabilities and multiple commercial controllers in its SDK, TIP OpenWiFi is supported by 24 Access Point SKUs. This has enabled the creation of a new class of SaaS, on premises software-only controller solution companies, and garnered support from a variety of global hardware suppliers, greatly enriching the existing Wi-Fi ecosystem in the process. The TIP OpenWiFi community is working to deliver additional test plans for the MDU and Enterprise Wi-Fi scenarios, as well as OpenWiFi RFX template documents contributed to the community.
Also building on the 6 GHz Wi-Fi momentum, we recently launched our Open AFC Software Group, co-chaired by Broadcom, Cisco and Meta. The three companies, along with a growing number of participants, are working together to develop an open source implementation of the AFC (Automated Frequency Coordination) system which will enable the industry to build a cost effective and scalable AFC system, required for standard power Wi-Fi, both outdoor and increased range indoor in the 6 GHz band.
The latest announcement of the software group is the collaboration with WBA to define how Open AFC will work and how public and guest Wi-Fi based on OpenRoaming™ can benefit from the full capabilities of Wi-Fi 6E – the WBA OpenRoaming™ standard enables users to securely roam from location to location without the need for logins, registrations or passwords.
The Software Group's long term vision is that as Wi-Fi 7 comes along, AFC will represent a great leap forward for the user experience by enabling over 60 times more power for reliable, low latency, and multi-gigabit wireless broadband both indoors and outdoors, providing a consistently great, secure broadband user experience in stadiums, homes, enterprises, schools, hospitals and more.
Expanding our commitment across all network technologies
We have decided to broaden TIP's focus to extend deeper into the fixed access domain by launching the Fixed Broadband (FiBr) Project Group. This new group complements the existing IP/MPLS transport solutions developed by OOPT, pushing beyond the core and backhaul domains to cover the access network, and extending into higher order service gateway functions. Vodafone and Telefónica will chair the new group and will oversee the development of Broadband Network Gateways (BNG) and access technologies for FTTH networks. Each technology will play an integral role in enabling the rollout of new fibre access networks, as well as the evolution of existing fibre assets to accommodate faster speeds, and to enable new use cases such as small cells densification and long-tail deployments into rural and MDU environments.
Elsewhere, the Open Core Network (OCN) Project Group has been driving the development of converged cloud-native open core network products and solutions based on either open-source or closed-source or a hybrid of both. It aims to provide simplicity, agility, and cost-efficiency in the business process, including vendor selection, deployment, and operations and maintenance.
OCN has focused on selected use cases such as fixed wireless access (FWA) and it has published three deliverables for the community:
A new version of its 'Applications and Services Technical Requirements' – Matrixx is the first vendor to have already stated their product compliance against these requirements, secured product Ribbon and is listed on TIP Exchange;
A 'FWA Use Case and Requirement Description'*, that is also available as an RFx template to facilitate FWA vendor selection. This OCN RFx template has already been used by VTS to issue an RFP for their 5G FWA field trial. The OCN Project Group is working on pre-verified FWA solution blueprints, based on ongoing trials;
A 'Private 5G Scenarios' white paper, focused on prioritized deployment scenarios from a service provider point of view, that it will continue to develop further.
As part of expanding our commitment across all network technologies, TIP has relaunched its Non Terrestrial Connectivity Solutions (NTCS) Project Group with increased scope to meet the needs of satellite operators using LEO, MEO, or GEO spacecraft within their access networks. Space-based and aerial connectivity is key for next-generation networks to be universally accessible, with multiple organizations addressing the challenges in advancing the state of NTCS from different angles.
The TIP NTCS Project Group, co-chaired by SES Networks and Inmarsat, is working together with the HAPS (High Altitude Platform Systems) Alliance and the European Space Agency (ESA) in order to advance the work done by each group, and ultimately accelerate the availability of a multi-vendor and multi-provider ecosystem of products and services for NTCS.

Solution Groups: innovating beyond technology
Little over a year ago we expanded our scope beyond the development of open, disaggregated, interoperable network elements and launched Solution Groups, in order to combine them into end-to-end network configurations addressing specific connectivity use cases. These groups look beyond the technology and into the creation of sustainable and innovative business models, maximizing impact on network economics.
We've seen a great deal of progress across all of our Solution Groups over the course of the year, including these highlights:
In September, TIP and the International Finance Corporation (IFC) announced a new partnership within our Networks as a Service (NaaS) Solution Group to support the creation of an avenue for the financial community to invest in NaaS Companies, particularly in emerging markets. We are working closely with IFC to ensure financial, environmental, and social sustainability take a central role in the deployment of digital infrastructure. IFC is also providing its structuring capabilities and experience in investing in such sectors in emerging markets to participants of the NaaS Solutions Group.
Our Connected City Infrastructure Solution Group, which is led by Dublin City Council, has recently completed several new installations across Dublin using novel designs from companies like Big Belly and Ligman Evolve. These represent the first deployments of street assets specifically designed for infrastructure sharing by mobile network operators in Europe.
TIP 5G Private Networks Solution Group is focused on different industry verticals. In healthcare, it is currently undertaking a trial at the largest hospital in Latin America, Hospital das Clínicas in Brazil, of a 5G private network to assess data transmission capacity, response time, and the feasibility of carrying out remote examinations using the increased speed and lower latency of a 5G private network provides. The proof of concept for the project, OpenCare 5G, will initially focus on the viability of conducting remote ultrasound exams using 5G connectivity with on-premise private network infrastructure. The trial is coordinated by Deloitte in collaboration with Itaú Unibanco, NEC, Brazilian Association for Industrial Development (ABDI), Inter-American Development Bank (BID) and the Polytechnic School of the University of São Paulo (Poli-USP). Additionally, Telefónica, the Solution Group Chair, is expecting results of their own lab and field trials as early as the first quarter of 2022, along with the publication of the corresponding blueprint. Low latency edge compute use cases lined up for field trials include computer vision for manufacturing, smart campus and retail industry verticals.
Looking ahead
The strength of our community lies in the recognition and commitment from all parts of the industry that it is only through collaboration that we can implement the change required to sustainably meet the exponential demand for connectivity and bring everyone into the digital economy. The more we work together, the more we can accelerate the pace of innovation. This isn't just limited to companies; we need to be aligned with policymakers and other industry organizations that share our vision and are working to accelerate disaggregation and innovation. Our goal is to bring the ecosystem together and we will continue to collaborate with other industry organizations including GSMA, OCP, ONF, O-RAN ALLIANCE, and WBA, through established liaison agreements.
We are excited to see significant growth in both the demand and the supply of OpenRAN and OOPT solutions captured by the number of trials and listings on TIP Exchange, which will only continue to grow in the coming year. We invite more ecosystem participants to actively engage in the different TIP project groups to further accelerate the disaggregation and innovation of network technologies, and capture the commercial opportunities they provide.
In the spirit of bringing together the global industry, TIP is pleased to launch a new Diversity Committee that will focus on enabling a broad range of voices to drive telecom innovation. The group seeks to highlight the business value of diversity in its many forms – from diverse representation in the workplace, to diversity of supply chain, non-traditional funding options, and more. But more than just shine a light on the issues, we also look forward to utilizing a collaborative approach to accelerate progress across all of these fronts. As we are in the early stages of this effort, we welcome input from the broader community. Together, we can leverage the power of diversity to accelerate TIP's mission to advance global connectivity.
We are looking forward to seeing everyone in person at a major event in the second half of 2022! Stay tuned.
Not a TIP participant? Join TIP here.
* Project Group deliverables are available to TIP participants in Confluence, TIP's collaboration platform. Access to content is determined by Participation Tier and Project Group membership. Log into your TIP Account here to check your organization's Participation Tier and your individual Project Group membership.