by Attilio Zani, Executive Director, TIP
TIP Community Momentum Driven by New Operator Demand, Technology Solutions, and Industry Alliances
It was at MWC four years ago that the Telecom Infra Project (TIP) was launched, bringing together a community dedicated to building better infrastructure for global networks.
Since then, the TIP community has blossomed, developing a robust portfolio of telecom infrastructure solutions, starting with early ideation carried through to production deployments. TIP focuses on developing solutions across all areas of the technology stack, including access, transport, core and services. The TIP community is bringing to market solutions for service providers across a variety of environments, from urban to rural.
The number of participants, focus areas and regions involved have grown continuously, and, as a result, so has the influence the TIP community has had on the industry's evolution. As our community's progress continues, it is meaningful to highlight how we are connecting service providers, technology providers, systems integrators, investors, analysts and policy makers to work together to build better network infrastructure.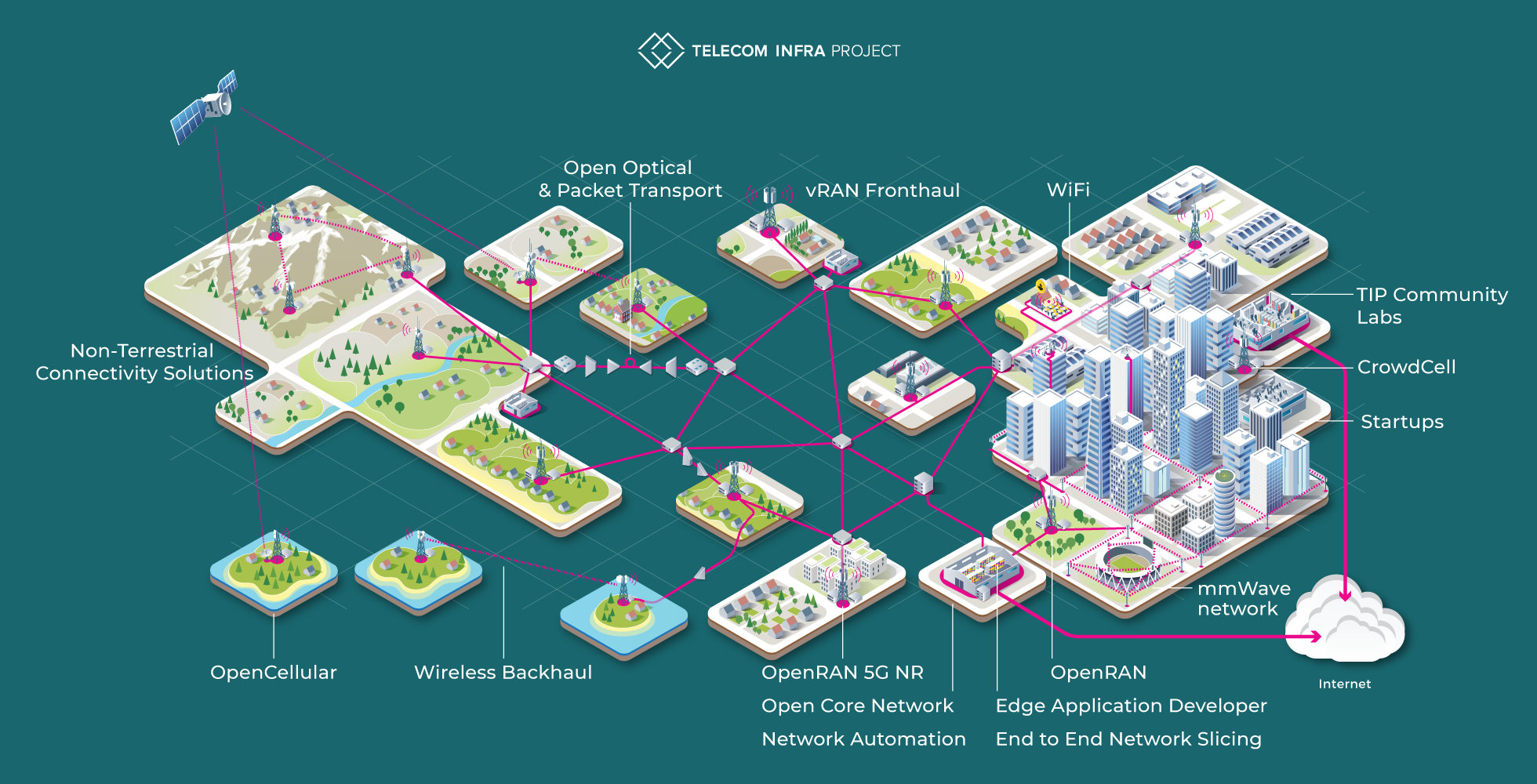 Specifically, since our last update several months ago at TIP Summit in Amsterdam, the TIP community has been focusing on advancing the following fronts:
Expanding Trials and Deployments
Over the past year, leading TIP solutions have seen a rapid increase in demand for advanced OpenRAN trials and deployments. Following on the heels of its TIP Summit announcement, Vodafone has now launched trials in Mozambique and the Democratic Republic of the Congo as anticipated, and is progressing with trials in the UK and Ireland. In Indonesia, Indosat Ooredoo and Smartfren will conduct the first OpenRAN field trials in the APAC region. Smartfren has also conducted and completed the first OpenRAN lab trial in the region.
Meanwhile in Malaysia, Edotco, the tower arm of Axiata group, is collaborating with Celcom Axiata in conducting lab trials with the path to field trials. Following their announcement of OpenRAN deployment in the UAE, Etisalat will now commence trials of OpenRAN solutions in other regions. In North America, Sprint completed its RFI evaluation and will begin trials of OpenRAN 5G NR technologies in its TIP Community Lab.
Having committed to deployments of the DCSG solution from the Open Optical & Packet Transport (OOPT) Project Group late last year, Telefónica keeps advancing on its deployment network plans. Meanwhile, Airtel is completing lab trials and will then move into field trials – signaling commitment for commercial deployments this year. Vodafone's ongoing field trial in South Africa is helping shape its own plans for further deployment of DCSG, and this is not the only activity on the continent of Africa, with MTN preparing to advance DCSG to field trial as well.
Growing the Technology Portfolio
Advancing network infrastructure solutions inherently demands engaging with a wide variety of technologies as one looks at various parts of the network, and the diverse environments in which these networks are deployed. As such, it is imperative that our community continues to expand the portfolio of disaggregated solutions as well as the set of participating members.
Dell EMC continues to work on a configuration with SONiC, an open source network operating system, on DCSG including Zero Touch Provisioning. Alongside DCSG, the expanding OOPT product portfolio landed commitments from Edgecore and Wistron to develop the hardware for Phoenix (formerly known as Apollo), a 400G optical transponder. The Phoenix spec is now fully approved and available.
Also in the OOPT family, IP Infusion is now announcing the general availability of their Cassini Operating System. Whitestack led a trial of the Cassini technology in Telefónica del Perú, and is implementing some of the first projects (combining optics and Layer2/3) in Latin American operators.
Finally, the OOPT Project Group is announcing the launch of a new initiative focused on the development of Disaggregated Open Routers (DOR). The initiative will be led by KDDI and Vodafone. Several OOPT technology providers including ADVA, Delta, Drivenets, Edgecore, Exaware and Ufispace have committed to support the activity. In addition, Orange has used GNPy (an optical planning tool developed as part of the OOPT Project Group) for their RFPs and production network planning, to benchmark equipment performance in their multi-vendor optical networks.
Simultaneously, the OpenRAN Project Group continues to see growth in active member participation with six additional members – Comba Telecom, Gigatera, Kontron, MTI, NEC and Supermicro committed to building disaggregated RAN solutions. In addition to RU (Radio Unit), NEC will be leveraging its Systems Integration (SI) capabilities and Orchestration expertise with Netcracker to accelerate OpenRAN adoption. Regarding wireless transport, the Wireless Backhaul Project Group (formerly Open Box Microwave) completed its specification for Wireless Backhaul v1.0 and was approved for member review. The specification is expected to be publicly available in March of this year. Aviat Networks has produced the first TIP-compliant wireless backhaul multi-band (E-Band + Microwave) solution with open netconf/yang interfaces. Ceragon has produced a set of products which includes a dual carrier microwave product, along with an E-band product and disaggregated wireless router, to meet a variety of network use-cases.
Vodafone, Deutsche Telekom, Mavenir, Parallel Wireless, MTI, AceAxis, Facebook Connectivity and additional partners have unveiled the Evenstar RRU (Remote Radio Units). The Evenstar program will focus on building general-purpose RAN reference designs for 4G/5G networks in the Open RAN ecosystem that are aligned with 3GPP and O-RAN specifications. By decoupling the RRU hardware, DU and CU software, mobile network operators will have the ability to select best-of-breed components and the flexibility to deploy solutions from an increasing number of technology partners. The intention is to contribute the proposed solution into TIP's OpenRAN Project Group to help accelerate adoption.
The Wi-Fi Project Group has expanded TIP's portfolio with two workstreams. The first workstream focuses on developing infrastructure and systems, starting with the core elements of Wi-Fi Access Point (AP) and cloud-native controller infrastructure. The second workstream is enhancing Mobile Data Offload (MDO) quality of experience by accelerating network operators' and neutral host operators' adoption of an open platform for managing and monetizing connectivity.
Within the Wi-Fi Infrastructure and Systems workstream, Plume, ConnectUs Technologies, and Tanaza have demonstrated the compatibility of their respective cloud-based Wi-Fi controller platforms with TIP's open-AP software stack including the open-source framework OpenSync™. These partners, along with other Wi-Fi Project Group members, are announcing their commitment to contribute open-source software and hardware designs to TIP. In integrating consumer, enterprise, and public Wi-Fi feature sets from Plume, ConnectUs Technologies, and Tanaza, TIP is leveraging technologies that are already field proven. TIP's leadership of the open development process will substantially accelerate the enhancement of this technology, meeting the needs of service providers, businesses, and public Wi-Fi providers.
Within the MDO workstream, project group members have added functionality on top of a Carrier Wi-Fi platform, specifically enabling Facebook Connectivity's open sourced Magma solution for direct backend integration to operator Enterprise Payment Solutions (EPS), multi-source data collection and reporting from ThinkSmarter and auto-encryption on untrusted Wi-Fi as well as session persistence enabled by a Smart Client Agent from Shoelace Wireless.
In addition to expanding the technology and activity portfolios of current project groups, we are also announcing one new project group. The Open Core Network Project Group will be focused on developing a cloud-native and converged core, running on standardized software and hardware infrastructure, and supporting 4G, 5G, and Wi-Fi access technologies for deployments in licensed, unlicensed or shared spectrum, and in private networks.
Working Together
The TIP community is committed to accelerating the deployment of efficient telecom infrastructure solutions, leveraging the principles of disaggregation, and enabling operator flexibility in network deployments and evolution. From its early days, our community has focused on working in collaboration, not just with service providers and technology providers, but also with adjacent industry consortia. As such, TIP is deepening the relationships with ONF and OCP that were established last year and is now announcing collaborations with several additional telecom industry organizations.
First, O-RAN Alliance and TIP are announcing a liaison agreement that ensures alignment in the shared focus area of developing interoperable 5G RAN solutions. One of the O-RAN Alliance focus areas is the development of open and intelligent RAN architecture and specifications, intersecting nicely with TIP's mission of deploying end-to-end disaggregated telecom infrastructure in varying environments. By aligning forces, the comprehensive membership of service providers in both organizations will ensure a clear and unified signal to the ecosystem on the optimal solution set for modern networks. The collaboration will accelerate the path to disaggregated and interoperable RAN solutions, lowering integration costs by leveraging the shared resources of the TIP Community Labs and PlugFest Project Group. The liaison agreement enables TIP requirements to reference O-RAN specifications. The TIP OpenRAN 5G NR Project Group will be releasing their OpenRAN 5G NR Base Station Platform requirements document with normative references to the O-RAN specifications.
Next, TIP and the GSMA have signed an understanding that will help drive share service provider requirements from the GSMA into TIP Project Group work streams – ultimately giving operators wider solutions in the areas of operator platforms and open networks.
Finally, TIP has reached agreements with the OpenStack Foundation (OSF), and the OpenAirInterface Alliance (OSA) to jointly explore collaboration areas on the newly formed Open Core Network Project Group and leverage each organization's expertise and resources to accelerate progress towards a converged open core network implementation.
Learning by Doing
Labs have been a foundational layer to enabling the TIP community from the very beginning. As part of the alignment with O-RAN, Deutsche Telekom is expanding its current TIP Community Lab and launching a European Open Test and Integration Center. Deutsche Telekom will transform its current Berlin lab to focus on interop validation of O-RAN compliant RU-DU solutions leading to an upcoming Open FrontHaul (RU-DU) TIP PlugFest, as well as supporting Open Optical Packet Transport (OOPT) technology trials. Multiple operators, most notably Orange, are collaborating across several streams in the lab for integration, testing and also for upcoming Plugfest activities.
As indicated during TIP Summit 2019, Rakuten Mobile is preparing to contribute to the TIP community their OpenRAN architecture, interoperability validation results, and operational experience in automating rollouts of software releases, with the intent of helping accelerate industry adoption of continuous deployment practices and disaggregated RAN.
Meanwhile, KDDI will be opening up the first TIP Community Lab in Japan, supporting DCSG solutions and the OOPT Project Group initially, and expanding to other technologies in the future. China Unicom has announced that it has joined the OpenRAN 5G NR Project Group, and is preparing to launch the first TIP Community Lab in China to support the project.
TIP Community Labs power TIP PlugFests, a forum for unifying and validating interoperability across disaggregated network components, sharing the results with the community, and providing a path for these solutions to appear on TIP Exchange. By creating an open marketplace for the sharing of products, architectures, system solutions and test results, TIP helps accelerate the adoption process of disrupting technologies for both operators and technology providers.
Leveraging the power of TIP Community Labs, PlugFests and TIP Exchange, TIM Brasil is announcing today its intent to be the first incubator for a "Total Site Solution" (TSS) aimed at addressing rural use cases. TIM will work in conjunction with Facebook Connectivity to advance the TSS configuration through TIP Community Labs and onto the TIP Exchange. The first committed participants are TIP partners Baicells for RAN and Gilat Satellite Networks for satellite transport. We encourage our community to sign up for the PlugFest which is scheduled for Q2'20.
Looking Forward
In response to growing demand and engagement to TIP solutions and its community, the Telecom Infra Project will be coming to major events and locations around the world throughout the year. To find out where and when, please visit our events page.
We look forward to the continuous growth of our community, and our strong ecosystem of telecom infrastructure technologies, empowering service providers and providing better connectivity to all.