by Attilio Zani, Executive Director, TIP
TIP Community Achieving Significant Momentum on the Path to Open, Interoperable, Disaggregated and Standards-based Networks
TIP is accelerating the development and deployment of open, interoperable, disaggregated and standards-based solutions to deliver the high quality connectivity the world needs. COVID-19 has highlighted the critical role of connectivity in our communities and economies, but with demand continuing to rise and almost half of the world still not connected to the internet, operators and other connectivity stakeholders urgently need more effective and efficient ways to expand and upgrade networks.
The TIP community is a driving force as network building undergoes a massive transformation. The TIP community leverages and builds on existing standards to create commercial network products and end-to-end network configurations that can be easily deployed by operators across the world. This is enabled by a collaborative approach that creates scale by defining common requirements in our project groups and in R&D efforts in TIP lab trials. These provide the necessary skills and tools for operators to build, procure, deploy and manage open disaggregated networks. With progress and commercialization advancing, policymakers are increasingly looking to open network technologies as a tool to stimulate economic growth through greater and smarter connectivity.
TIP's focused approach – using our project groups, labs, and trials – to building networks is bringing three key benefits for the industry:
Increasing the robustness and flexibility of telecom supply chains by enabling supplier diversification across all network layers, through the definition of common requirements
Accelerating innovation in network technology through open interfaces that make it possible for a growing community of innovators to create new products that improve network performance or cost and help the industry fulfill unmet connectivity use cases. A good example of this is the opportunity to use AI / ML technologies to optimize the management of network resources, currently analyzed within TIP's OpenRAN Project Group
Improving network economics by leveraging implementations that focus on disaggregated hardware and software, as well as their components, to:

reduce total cost of ownership, through increased automation, more competition in the supply chain and increased economies of scale
enable potential new revenue streams through "whitebox" hardware, which can be leveraged to run workloads from different commercial applications
As we gather for the first event of our TIP Insights Series, we are delighted to share news of how our vision is translating into commercial reality for our members, the industry, and our wider communities across the world.
Since our last update in February, the TIP community has been focused on advancing the following fronts:
TIP products and solutions are a commercial reality globally

Commercial deployments of TIP-incubated technology, including Open Optical and Packet Transport (OOPT) and OpenRAN
Evolution of the OpenRAN Project Group to build on the momentum and demand in the industry – with more stakeholders joining the initiative

Working across all network layers

Developments in technologies that support the broader needs for a disaggregated network. E.g. increasing momentum in a targeted Project Group addressing market needs for the Core network

Expanding the scope to include more partners in the ecosystem to build end-to-end solutions

Launch of Solution Groups to develop end-to-end network configurations with disaggregated, interoperable network elements, including TIP-incubated technology, to address specific business opportunities for connectivity
TIP's products and solutions become a commercial reality
Operators are already deploying TIP-incubated technology in commercial networks. TIP OpenRAN and Disaggregated Cell Site Gateways (DCSG) ecosystems are good examples of open, disaggregated solutions enabling service providers the world over to build resilient, efficient and highly capable networks. DCSG is already in commercial deployment (e.g. Telefónica announcements in Germany and Ecuador in November 2019), and commercial deployments of OpenRAN are rolling out.
We are now moving to the next phase, when commercial deployments are expanding for DCSG and other transport technologies, and are a reality for OpenRAN.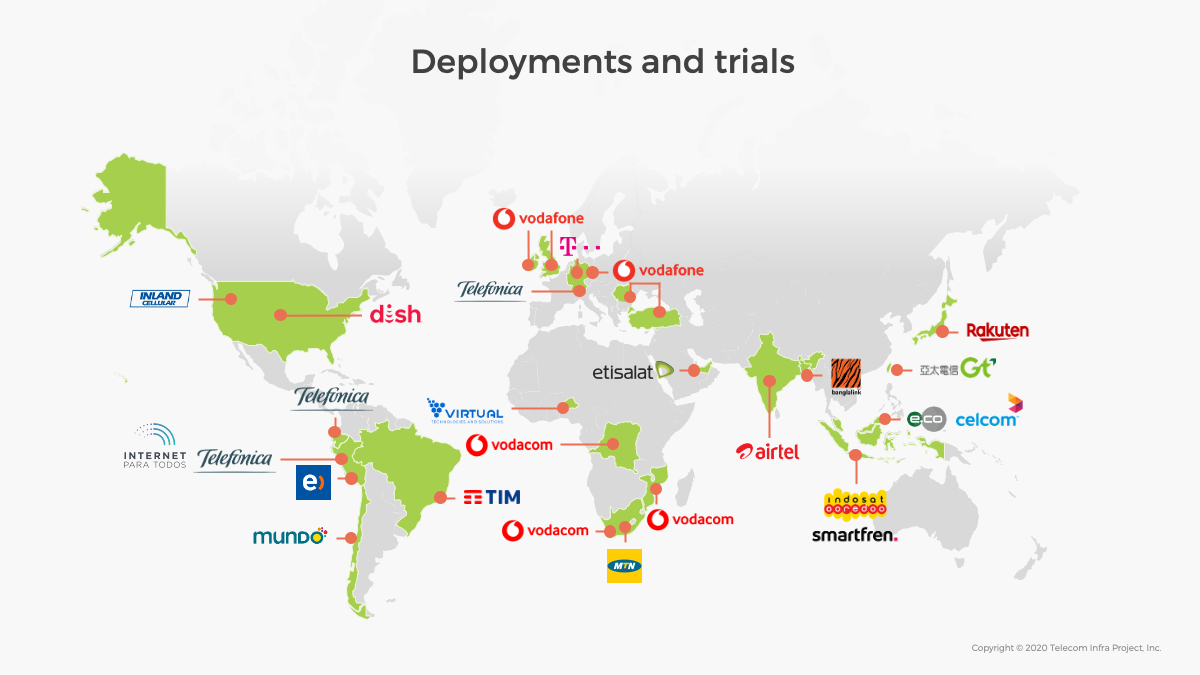 Progress to commercialization across Transport
To keep the pace of exponential growth in network traffic, tools to flexibly and efficiently upgrade transport networks' capacity are essential. Our transport project groups are addressing the scalability, ease of configuration, and extensibility challenges of this network layer. In recent months, momentum has grown as our members have increased scale in the most successful TIP-incubated solutions, accelerating commercial deployments for DCSG and Cassini in Asia, Latin America and Africa, and have started to develop other new Transport products – including disaggregated open routers (DOR) and Phoenix – a high capacity, disaggregated, and open optical transponder.
And new commercial deployments are happening in all regions: VTS (Burkina Faso) – DCSG & Cassini , APT (Taiwan) – DCSG, and Mundo (Chile) – Cassini.
Progressing towards commercial deployments, Vodacom has recently launched a DCSG commercial trial in South Africa. Also in Africa, MTN is currently finalizing plans to execute field trials in South Africa and having conversations in Uganda regarding opportunities for a larger deployment.
In Europe, Vodafone has just finished a lab trial in Romania, and plans to initiate a field trial, and has a lab currently under way in Germany.
In India, Airtel is in phase 2 lab trials of TIP's DCSG as the company prepares its transport network for Massive MIMO LTE deployments and further 5G NR.
In Brazil, the CPqD Community lab supported by Edgecore Networks, IP Infusion, Lumentum, and VIAVI Solutions, has achieved 100Gbps transmission over 2000km (long haul) and 200Gbps over 800Km (extended metro) without regeneration with TIP's Cassini. The final report including best practices and detailed results for different scenarios will be shared with the TIP community after completion.
Looking ahead, we are working to build other open disaggregated transport products. We've recently published the technical requirements for OpenBNG, a solution that overcomes some of the most relevant issues operators presently faced when deploying fixed access networks. These requirements are the result of the collaboration of Telefónica, Deutsche Telekom, BT, Vodafone within TIP's OOPT Project Group.
A new subgroup has launched, focused on SDN for transport acceleration. Co-led by Deutsche Telekom, MTN, Orange, Telefónica, Telia and Vodafone, the Mandatory Use-case requirements for SDN for Transport subgroup (abbreviated to MUST) will define the technical specifications of the selected use cases for: Device Northbound Interface; Domain Controller NorthBound Interface; Hierarchical Controller North Bound Interface. The subgroup will publish specifications in periodical reports and disseminate amongst the industry. MUST will input into standardization which will be performed in a pre-agreed fora, for example Openconfig, ONF and IETF.
The different OOPT partners keep making progress on developing mature DCSG solutions: Volta Networks and Exaware have recently announced the general availability of their DCSG NOS, ADVA has also announced the availability of their solution running in 4 different DCSG hardware versions. The commitment towards open transport solutions keeps growing, and in the last couple of months several technology providers such as Benu Networks, Intel, Metaswitch, UfiSpace have officially announced their participation in the OpenBNG initiative.
In Wireless Backhaul (WBH), results of OpenSoftHaul Multi-Operator RFI by Axiata, Deutsche Telekom, MTN, Telefónica and TIM Brasil will be released in a dedicated webinar on 27th of October. Now with the technical evaluation completed, operators are ready to move onto lab trials.
Accelerating OpenRAN Development and Deployments
With trials making progress across the world, including in Turkey, the UK, Ireland, Mozambique, South Africa, UAE, Indonesia, Malaysia, Bangladesh, India, Russia, Peru, and the Democratic Republic of Congo (DRC), there are clear signs of increasing industry readiness for OpenRAN as operators commit to commercial deployments.
Today, Vodafone is announcing the results of its RFI for 4G/5G RU that was released to evaluate the OpenRAN ecosystem and its readiness for commercial deployments for their Europe market. The current focus is on OpenRAN deployments for its European market starting in early 2021. The RFI invited OpenRAN RRH (Remote Radio Head) and MaMIMO (Massive Multiple-Input Multiple Output) vendors to submit products. As part of Vodafone's commitment to the OpenRAN community, this demonstrates the readiness of the OpenRAN ecosystem to support operator requirements for commercial deployment.
Further, Vodafone, along with Parallel Wireless, recently authored a TIP Playbook from the first trial deployment in Turkey, and are progressing trials with Parallel Wireless in the Democratic Republic of the Congo and Ireland. Vodafone is also advancing trials with Mavenir in Mozambique and the UK.
Finally, Vodafone confirms the completion of the lab validation of the first generation of Evenstar RU product (aka Step-0). This effort was led by Mavenir in partnership with MTI and Facebook. The team is now gearing towards validation in field pilot. The second generation Evenstar RU (aka Step-1) is on track for availability in Q2 2021. The primary objective of the Evenstar program is to accelerate the adoption of OpenRAN by creating a healthy, robust and sustainable alternative ecosystem for infrastructure providers. As the program expands further beyond the RU, the Evenstar team is announcing the start of a Distribution Unit (DU) project for a standard and merchant-silicon-based configurations.
Airtel has taken an active role in OpenRAN through participation and leadership in TIP. Earlier this year, Airtel deployed Altiostar's open virtual radio access network (vRAN) solution. Building on the OpenRAN disaggregated vision and its associated benefits, Airtel is driving scaled deployments of OpenRAN, including Evenstar Radio Units (RUs) beginning in 2021.
More field trials are currently underway, particularly in the APAC and EMEA regions. OpenRAN trials are being conducted across the APAC region, with Indosat Ooredoo and Smartfren in Indonesia, and with Banglalink in Bangladesh. Edotco, the infrastructure subsidiary of Axiata Group, is collaborating with Celcom Axiata in Malaysia to conduct lab trials with a path towards field trials.
In the EMEA region, Ooreedoo Group released an RFI for OpenRAN solutions representing aggregated requirements around hardware, software components & services from all of their OpCos in Asia, Middle East & Africa.
In addition to these, there are new commitments from our operator members:
In Europe, we hosted a joint TIP and O-RAN PlugFest for OpenRAN solutions at Deutsche Telekom's joint Community Lab & O-RAN Open Test and Integration Center (OTIC) in Berlin, together with Deutsche Telekom, TIM, Telefónica, Orange and BT. MTS has joined TIP OpenRAN and has committed to increasing their participation by providing specific technical requirements for development of Indoor 5GNR small cells and the Outdoor macro solutions and collaborating with TIP on Russian specific OpenRAN 5G indoor and macro outdoor use cases, lab testing, and startup incubation.
In LatAm, TIP, Inatel and TIM Brasil are working with several OpenRAN, Open Wi-Fi and DCSG OEMs to launch the Open Field program, which creates a unique environment to further develop, optimize, test and validate Open and Disaggregated solution components in the field. In North America, DISH has committed to deploying OpenRAN as part of its 5G nationwide network. Parallel Wireless is providing OpenRAN solutions for Inland Cellular's 4G coverage – the first deployment of OpenRAN in the USA.
Meanwhile, Telefónica, along with Tech Mahindra, have completed the initial phase of development of a CI/CD automation platform for an OpenRAN use case and will share their results with the OpenRAN community.
Various OpenRAN vendor members – including Altiostar, Altran, Kontron, Mavenir, MTI, QCT, Radisys, Silicom, Supermicro and Wind River – continue to make progress on integration efforts as they participate in the TIP Community Lab for OpenRAN 5G NR testing and validation. We expect those products to be badged and listed on TIP Exchange by 1H 2021.
We are also announcing today that TIP is streamlining to a single OpenRAN Project Group that will define and build 2G, 3G, 4G and 5G NR RAN solutions based on commercial off-the-shelf hardware, software-defined technology and open interfaces. This Project Group will help accelerate the progress we have made to date, building on extensive feedback from trials and will expand deployments of TIP-incubated OpenRAN solutions to other markets. Under this new scope, the OpenRAN Project Group is already making progress across various subgroups. As an example of this, within the RAN Intelligence and Automation (RIA) subgroup BT, Deutsche Telekom, DISH and Vodafone have jointly shared details about the first set of prioritized AI/ML use cases that will drive automation, energy efficiency and higher performance in the RAN. Also, China Unicom has published the requirements for disaggregated indoor small cells, within the Indoor subgroup. In addition, Smartfren, Vodafone and TPG have initiated requirement harmonization for peri-urban deployments within the Outdoor subgroup. Similarly, DISH and Vodafone are harmonizing the requirements for whitebox OpenRAN components within the DU/CU subgroup.
Moving fast across all network layers: Core
Open Core
TIP is transforming a critical element of mobile networks. The core is a strategic element of the network, where subscriber authentication services, charging systems and traffic policy systems are hosted. With the standardization of 5G service based architecture and the migration to cloud native implementations, there is significant opportunity to create value for the industry through open and converged core networks, including: a reduction of operational costs; greater innovation and competition for new technology solutions; a more flexible core that can host different services (e.g. 4G, 5G, Wi-Fi) supporting diverse use cases (e.g. mobile broadband, fixed wireless, private networks); and simplification of core operations through increased automation.
TIP's Open Core Network Project Group is working to make this possible. It has published the first release of Technical Requirements for 5G Fixed Wireless Access (FWA) use cases, which includes core network functions, orchestration, cloud-native infrastructure, and deployment automation. The TIP Community Lab in Menlo Park is launching the first Open Core lab trial with the goal of integrating and demonstrating a 5G "minimum viable core" with commercial 5G radios. Entel Perú is the lead MNO in the trial which is focused on 5G FWA test requirements. Members participating in the project also include ACL Digital and Wavelabs that are contributing software, and FreedomFi implementing the Kubernetes cluster in the lab hosting the microservices.
Building end-to-end network solutions to address market needs
As we announced on September 30, we have launched new Solution Groups, focused on combining contributions from our different project groups (e.g. OpenRAN, OOPT, Wireless Backhaul, Open Core, Open Wi-Fi) to build end-to-end network configurations addressing specific market environments. The first four Solution Groups are:
Network as a Service (NaaS) including Everis, Facebook, IpT, MTN, Orange, Telefónica, Vodacom [see playbook]
Mobile Data Offload including ThinkSmarter, Dublin City Council, Sligo County Council, Facebook, DenseAir, Shoelace Wireless
Connected City Infrastructure including Dublin City Council (Smart Docklands), Connect Research, DenseAir, Facebook, Schreder and local mobile operators
Open Automation including MTN, Vodafone, Telecom Argentina, Entel, Facebook, Atrinet, GigaMonster, Frinx
Improving our portfolio of tools for our community
Providing the necessary skills and tools for TIP members to build, procure, deploy and manage open disaggregated networks is central to our mission, and we are continually evolving the TIP portfolio of tools for our community. We are now working to improve our labs' toolset to better qualify the maturity of the prototypes and the technologies that we test.
As our network of community labs helps project groups to test and validate solutions, the network continues to grow. As the first stage of a comprehensive plan to significantly improve connectivity in Indonesia, we recently opened a Community Lab in Indonesia. We also launched our new North Los Angeles (NoLA) Community Lab, hosted by Facebook, where we will work with technology partners including Tecore and Metaswitch; Systems Integrators including Tech Mahindra, Amdocs, and Altran; and lab tool vendors VIAVI Solutions and Keysight Technologies. The NoLA Community Lab has also hosted the Rural Site Configuration PlugFest from July to September. The results from this PlugFest & rural deployment themes will be discussed at its Workshop on October 20 – 22.
TIP's Ecosystem Acceleration Centers (TEAC)
TEAC is an engineering-led program that accelerates the route to success for startups and scaleups in the telecoms market, globally, matching innovation with need. There are currently three TEACs globally: Germany hosted by Deutsche Telekom, South Korea hosted by SKT, and the UK hosted by BT. TEACs act as the open end of the funnel through which innovative new technologies can flow into the wider TIP community. By doing so they become part of the solution to disaggregating global networks and creating a more sustainable telecoms ecosystem.
TEAC accelerates the testing and procurement processes by creating connections between the ecosystem and the owners of new technologies. Several TEAC alumnae have made rapid progress. Accelleran has secured several partnerships and deployment in the emerging Open and Virtualized RAN market. They are part of OpenRAN 5GNR Project Group, where their platform is part of the RAN Intelligence and Automation track. Pharrowtech from TEAC Germany have raised over 6M Euros in seed investment in 2019. Transcelestial from TEAC Korea recently closed USD 9.6 million in Series A funding. Airhop Communications has achieved large scale commercial deployments with Rakuten Mobile and a large scale operator in India, and plans to pursue a financing round to drive continued growth.
Looking ahead
In summary, we are very excited by the progress made and the momentum within the TIP Community. With TIP products and solutions becoming a commercial reality around the world, project groups working across all network layers, and with the community expanding to include more partners in the ecosystem to build end-to-end solutions, we look forward to keep our partners and the industry abreast of progress and developments in the months ahead.
Please do join us for our regional TIP Insights Series to find out about progress from across the world.
TIP Insights Series: Global
October 6th, 2020
Register here
TIP Insights Series: LATAM
October 20th, 2020
Register here
TIP Insights Series APAC at GSMA Thrive Asia Pacific
November 4th, 2020
Learn More
TIP Insights Series: Europe & Middle East
November 10th, 2020
Register here
TIP at AfricaCom
November 11th, 2020
Learn More
Join our mailing list, find out more about how to become a TIP member, and learn more about TIP.