Hans-Jurgen Schmidtke from Facebook
Hideki Nishizawa from NTT
TIP at OFC 2019: collaboration with ONF, OOPT project group updates
Following a successful Mobile World Congress (MWC) in Barcelona, where Vodafone, Telefónica, and TIM Brazil announced the results of their Requests For Information (RFI) on Disaggregated Cell Site Gateways (DCSG) technology, the OOPT team is excited to attend The Optical Networking and Communication Conference & Exhibition (OFC) in San Diego, California. We hope you are as excited about the DCSG RFI results as we are from MWC. Here is another opportunity to connect with us and learn about the work we have been doing around the optical technologies.
OFC – the largest global conference for telecom and data center optical networking and communication technologies – is the ideal forum for us to showcase various TIP OOPT technologies – both hardware and software, as well as use cases and APIs. Learn more about what we will be sharing at OFC here.
ONF ODTN collaboration
TIP is excited to highlight the Open Networking Foundation's (ONF) Open Disaggregated Transport Network (ODTN) project as an example of a like-minded open technology community that is also working to accelerate innovation, increase the level of openness in the industry, and address the challenges in the Telco infrastructure space. Below you can see the solution architectural diagram of the live demo we are hosting at the TIP booth.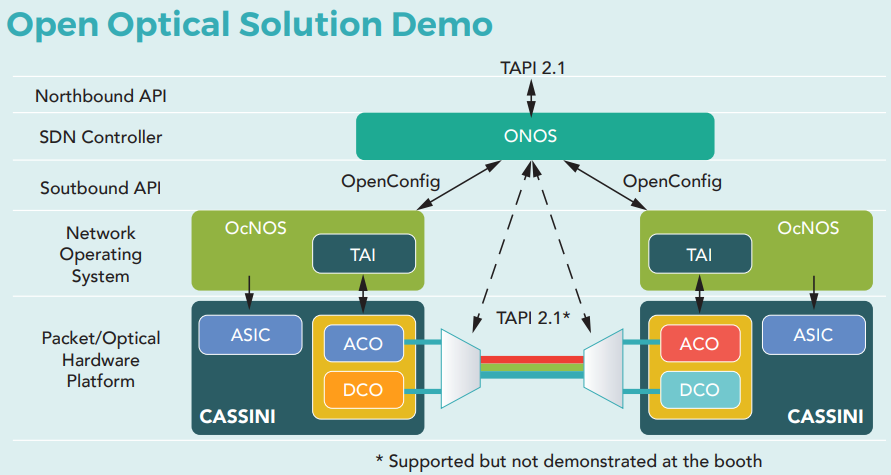 By working together, both groups can reduce duplicative efforts and leverage each other's expertise and resources, achieving more efficient optical disaggregation, API definitions, implementations, testing, and deployments. ODTN enables end-to-end orchestration leveraging the Open Network Operating System (ONOS) SDN controller via TAPI and OpenConfig to provide control, management and provisioning of networks and equipment. The open design of Cassini with TAI and OcNOS™ enables ONOS to tap into not only the client side, but also the optical side of the network elements for dynamic configuration management and telemetry collection. In the near future, we will aim to share knowledge, resources, and development and integration best practices. We will also look to share our technology partner networks, and utilize common test labs to accelerate the pace of production deployments of the complete white-box hardware and open source software in optical networks. We look forward to the road ahead with ONF ODTN.
NTT completes preliminary Cassini field trial
We are pleased to announce that NTT Communications and NTT Labs have completed their first trial of Cassini combined with TAI on their lab and commercial network. The goal of this trial was to evaluate the feasibility of the open packet transponder solution for the Data Center Interconnect (DCI) use case in three areas:
Interoperability with multi-vendor coherent optical modules, and interoperability with Open Line Systems and routers with segment routing capabilities
The link budget performance measured in the commercial network (Field test)
Low latency video transmission over 1,000km (Lab test)
This is a significant milestone in validating the feasibility of the solution for DCI as we move forward to align with ecosystem partners to fulfill and harden the solution. NTT has shared the full test results and recommendations for future TAI and NOS development delivered to the OOPT Project Group in February, and will share the high level test results during OFC. If you are at OFC, we encourage you to visit NTT (meeting room 24A) from 9AM to 12PM on March 7th to learn more.
GNPy v1.2 release
GNPy v1.2 is released to enable the user to quickly simulate Dense Wavelength Division Multiplexing (DWDM) networks in a vendor-neutral manager, which allows for the evaluation of "what-if scenarios" in seconds to optimize service delivery and resource usage. GNPy has been developed in close collaboration between operators, system vendors and academia to ensure broad applicability and best performance. The next step is to extend the simulation covering distributed amplification provided by Raman-amplifiers with minimum computation time. Raman amplifiers can boost a broader spectral window C+L band and allow for larger unamplified spans, GNPy will reduce the computation time required for the simulation of the Raman application while maintaining high accuracy. Vittorio Curri from Politecnico di Torino will be presenting the initial results from these simulations at OFC.
Cassini: general availability and live demos
Recently at MWC, Edgecore Networks announced the general availability of Cassini as a whitebox hardware product. Cassini is supported today by IP Infusion OcNOS™ software. Fujitsu plans to support Cassini with their carrier grade NOS later this year. Check out Edgecore Networks' website for more information. There are several live demos based on Cassini at OFC – the open optical solution at the TIP booth, the ACO/DCO interoperability at the OSA booth, and multi-vendor NOS at NTT's meeting room. Be sure to check them out and let us know what you think.
The OOPT Project Group is energized for the year ahead and looks forward to more continued collaboration with Optical ecosystem partners. For those of you who will be joining us in San Diego at this year's OFC, come visit us at booth #2411. As a collaborative community, we would love to connect with you and welcome your feedback on our work.