by Víctor López Álvarez, OOPT Co-chair, Telefónica
The Open Optical & Packet Transport Project Group Expands Its Scope, Partners, and Solutions in 2020
Since the formation of the Open Optical & Packet Transport (OOPT) project group, some of the world's most important service providers, technology makers, and technologists have collaborated within it to build more open and disaggregated network infrastructure. This has resulted in more flexibility and a wider range of technological choices for operators to build and operate telecom networks. Today, we would like to share an update on the latest OOPT community achievements.
Reimagining the Future of Transport Networks
The OOPT mission is to develop disaggregated transport technologies that are more flexible, efficient, and open. Service and technology providers continue to adopt these solutions; consequently we've seen significant progress in all OOPT subgroups. Here are some of the highlights:
Phoenix – The technical specification for Phoenix—a high capacity, disaggregated, and open optical transponder—has been completed and published. Phoenix is based on an efficient design for metro, core, and data center interconnection (DCI) applications, and is especially well-suited for service providers (MNOs and ISPs) and content providers.

This initiative is being led by five Tier-1 operators (Deutsche Telekom, NTT Communications, Telefónica, Telia Company, and Vodafone). The group will be releasing an RFI to evaluate industry readiness in upcoming months, with the target to have specification-compliant solutions ready for commercial deployments in the first half of 2021.
Disaggregated Open Routers (DOR) – OOPT continuously evaluates areas of the transport network where operators need new solutions that are more open, flexible, and efficient. As a result, we have launched the Disaggregated Open Routers (DOR) subgroup, with its mission being to define, build, and deploy disaggregated IP/MPLS routers.
The technology provider community response has been extremely positive. In addition to the previously announced Ufispace, Exaware, ADVA, Delta and Edgecore Networks, now Infinera and Volta Networks have also expressed their commitment to support the initiative.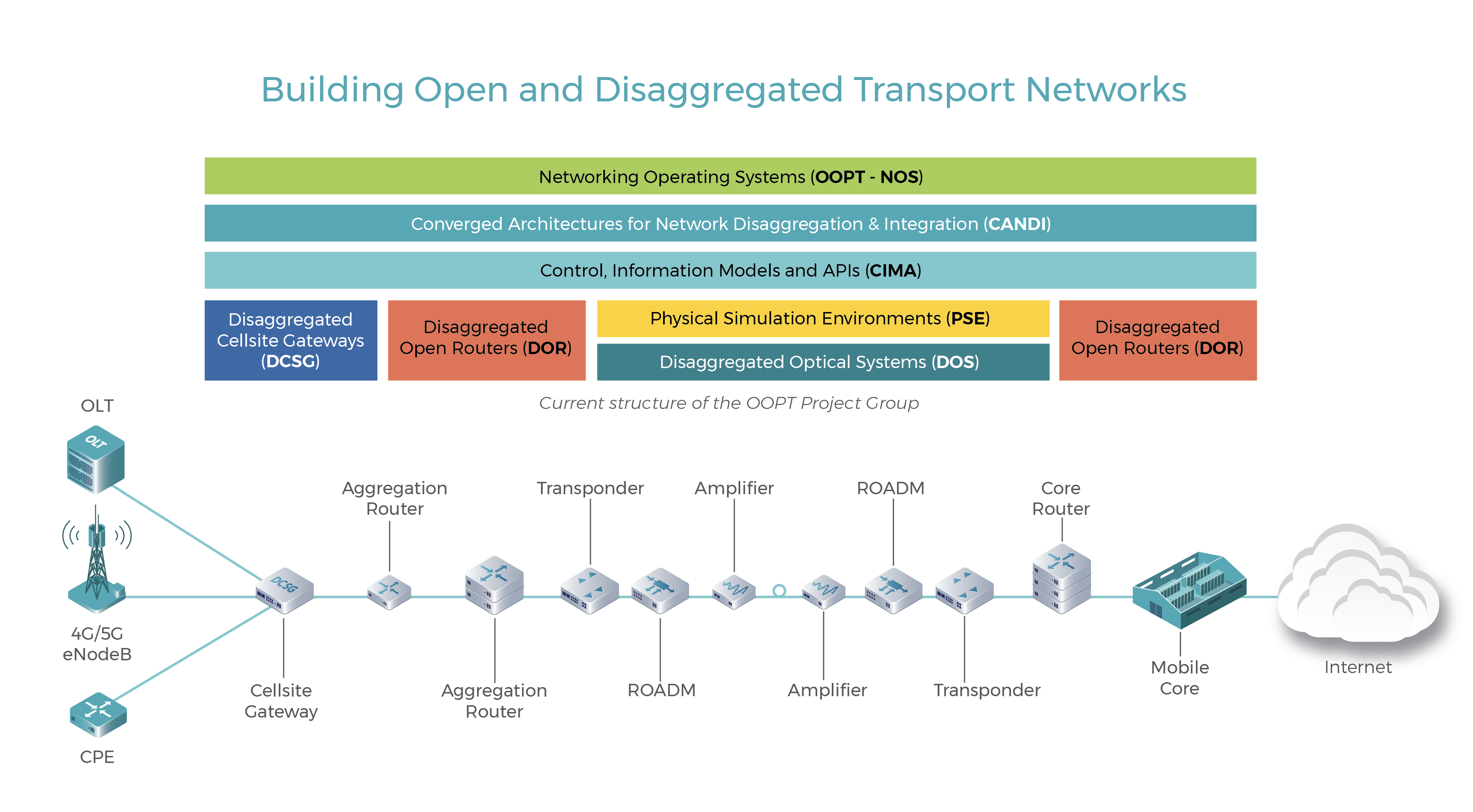 Build, Test, and Deploy
The OOPT community has been busily working these past few months to build, test, and deploy innovative products to drive the telecom industry forward. We continue to accelerate progress toward validation and deployment of open and disaggregated technologies, such as DCSG and Cassini, across the disparate transport architecture layers. In addition, the community of service providers who are testing and deploying technologies produced by the project group continues to grow steadily.
Expanded DCSG Membership, Trials, and Deployments
As more solutions mature, the disaggregated cell site gateways (DCSG) community is expanding its membership, and trials and deployments are happening across the globe.
KDDI has announced the creation of the first TIP Community Lab in Tokyo in the spring. DCSG solutions will be tested there, including various hardware designs and network operating systems (NOS) implementations. Deutsche Telekom is expanding its TIP community lab in Germany in a DCSG trial, along with other OOPT technologies such as Cassini, GNPy, or Phoenix in the future. Vodafone's ongoing South African field trial is helping shape their plans for further deployments. MTN is also preparing to advance DCSG to field trials. Airtel is signaling commitment for commercial deployments this year with the execution of field trials. VTS is taking DCSG into commercial deployment in Burkina Faso to expand the capacity and capabilities of its MPLS aggregation network. Telefónica continues to advance its DCSG deployments.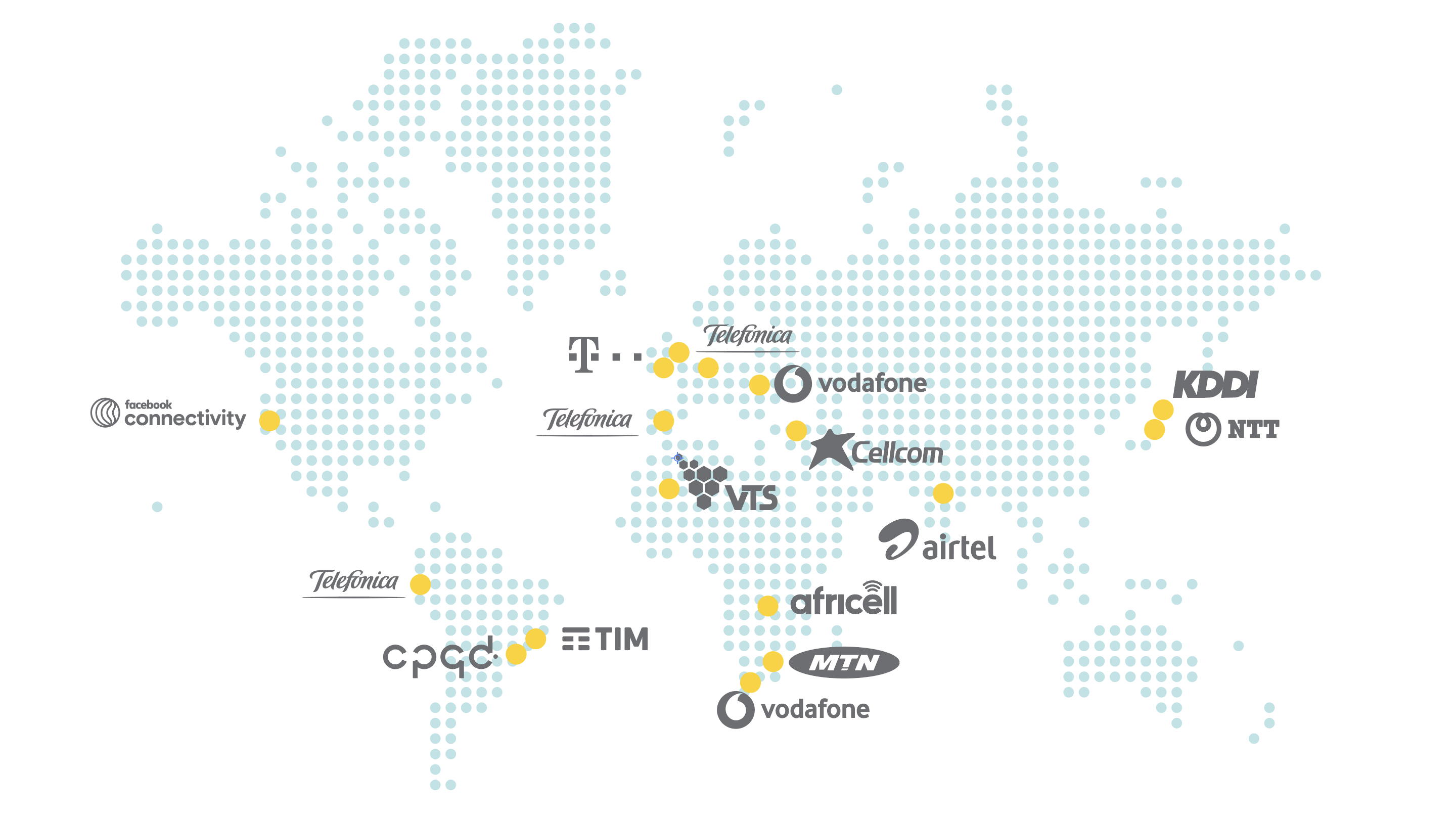 Cassini's Growing Solution and Partner Ecosystem
Cassini, the disaggregated and modular packet/optical transponder, continues getting increased traction, as IP Infusion recently announced the general availability of OcNOS®, its optical transport NOS for the transponder. Additionally, the Open Networking Foundation (ONF) has announced that Stratum™—the first open source switch operating system software for Cassini—is now available. It provides a completely open, SDN-native solution when combined with ONOS from ONF.
Cassini is experiencing an increased demand from the industry as new partners are adopting the technology. VTS is planning a field trial in the next few months.
Additionally, the Open Networking Foundation (ONF) has announced that Stratum™—the first open source switch operating system software for Cassini— is now available. It provides a completely open, SDN-native solution when combined with ONOS from ONF. VTS is also planning a Cassini field trial in the next few months.
PSE Subgroup
OOPT's Physical Simulation Environment (PSE) subgroup has recently made significant progress with the development of GNPy, a planning and optimization tool for multi-vendor optical networks. After the execution of several lab and field trials with partners, Orange has announced that GNPy is being used for network planning along with RFPs as part of its optical network evaluation processes. In addition, the PSE team presented a live demo at OFC in collaboration with ONF and CESNET, called Physical-Layer Awareness: GNPy and ONOS for End-to-End Circuits in Disaggregated Networks.
The CANDI subgroup, which works on the definition of operator use cases and architectures, has completed the first experimental demonstration of one such use case and has released a white paper detailing the results.
As our mission becomes increasingly important, our partners continue to work together to change the way transport networks are deployed. One of our core objectives is to drive and accelerate innovation in IP and optical networks through collaboration so as to extend and improve global connectivity. We are proud of OOPT community progress and its achievements; we look forward to continue working together to accelerate our mission even more.
We invite you to join the OOPT project group for a public webinar on March 25th. You'll hear from a panel of service and technology providers about various activities being developed by project group members, including lab trials, field trials, deployments, and new projects.