By Attilio Zani, Executive Director, TIP
Telecom Infra Project highlights RFIs, demos, and new project groups at MWC 2019
The Telecom Infra Project (TIP) turns three at this year's Mobile World Congress (MWC). With the goal of accelerating and transforming the way that telecom infrastructure is built and deployed, our vision is ambitious and only made possible by our dedicated, forward-looking community.
Over the past three years, we've taken some big steps: launching Project Groups to develop new designs for more flexible network technologies, validating these technologies in our Community Labs, and deploying them in trials around the world. Based on the response from our industry partners, we've seen a growing appetite from operators and technology providers to produce and deploy more flexible, interoperable telecom technologies. This commitment to deploy TIP technologies continues with our existing technologies and we're excited to launch a set of new Project Groups this week — a sign of our growing ecosystem and our continued focus on faster, more affordable, and high-quality internet.
Perhaps most significantly, at this year's MWC we are showcasing how TIP technology solutions fit into an end-to-end mobile network architecture. TIP solutions can, themselves, drive cost-savings, enable faster upgrades, improve manageability, and more, but it is only when viewed in the context of the broader network that their benefits are fully realized.
Industry RFIs pave way for deployments
We're excited to share the important progress we've made moving TIP technologies forward on the pathway to commercialization. The steady pipeline of operator-led Requests For Information (RFIs) has fueled field trial deployments, energized the growing ecosystem of network equipment providers, and continues to signal strong operator interest in flexible options for more agile and efficient networks.
OpenRAN field trials: Vodafone's selection of Turkey as the site for its first OpenRAN trial deployment quickly followed the October 2018 results of Vodafone and Telefonica's OpenRAN RFI identifying Altiostar, Mavenir, and Parallel Wireless as the best fit end-to-end platforms. With the first of 25 planned trial sites in Turkey carrying commercial traffic over a Parallel Wireless 2G+4G Macro Site in the 900Mhz band, this first deployment of its type in a Vodafone market is successfully demonstrating the capability and maturity of macro OpenRAN platforms. This first trial deployment paves the way for continued collaboration as Vodafone selects sites for the next wave of OpenRAN trial deployments in Africa, with the Vodacom Group, Mavenir, and Parallel Wireless. Additionally, the scope of OpenRAN testing is expanding as Vodafone UK brings Mavenir's small base stations indoors, in a move that aims to bring 5G coverage to buildings located in dense, urban settings. Next steps will include a live field trial.
Telefonica is deploying sites in Peru, Colombia, and Argentina for their pilot OpenRAN trials, which include RFI winners Parallel Wireless and Altiostar. This continued progress underscores commitment throughout the ecosystem – from operators to technology providers– to prove the readiness of TIP supported technology and lay the groundwork for commercially deployed interoperable RAN solutions.
DCSG RFI results: Disaggregated Cell Site Gateway (DCSG) is on a similar path to commercial availability. Subsequent to the strong response to Vodafone, Telefonica, and TIM's RFI inviting network solutions based on TIP's DCSG specifications, the three operators conducted a technical review of all respondents and will be announcing finalist companies during MWC. As a next step, Vodafone, Telefonica, and TIM have committed to initial DCSG lab trials that pave the way for field deployments. Only launched last year, the DCSG working group is already making great strides – redesigning the networks of today and laying the foundations for future 5G ready networks.
mmWave RFI & trials: Deutsche Telekom has now concluded its RFI for 60 GHz Fixed Wireless technology, which was first announced at TIP Summit last October. The results will be shared with the TIP community next month, further advancing progress toward gigabit connectivity. In addition, Malaysia-based YTL Communications will take the opportunity at MWC to announce plans to formally explore TIP-supported mmWave technologies as a possible last-mile solution for their network.
Additionally, members of the mmWave project group recently participated in the initiation of a Wi-Fi Alliance program towards the certification of Fixed Wireless equipment, which will allow for greater interoperability between network and customer equipment to broaden the ecosystem of technology providers and applications.
The future of interoperable, disaggregated networks
End-to-End network demo
At MWC, TIP will showcase its first end-to-end network demonstration highlighting the interoperability of TIP technologies – OpenRAN, vRAN Fronthaul, Edge Computing and Applications, DCSG, Cassini, CrowdCell, and OpenCellular – with new solutions from technology providers across Access, Backhaul, and Core & Management.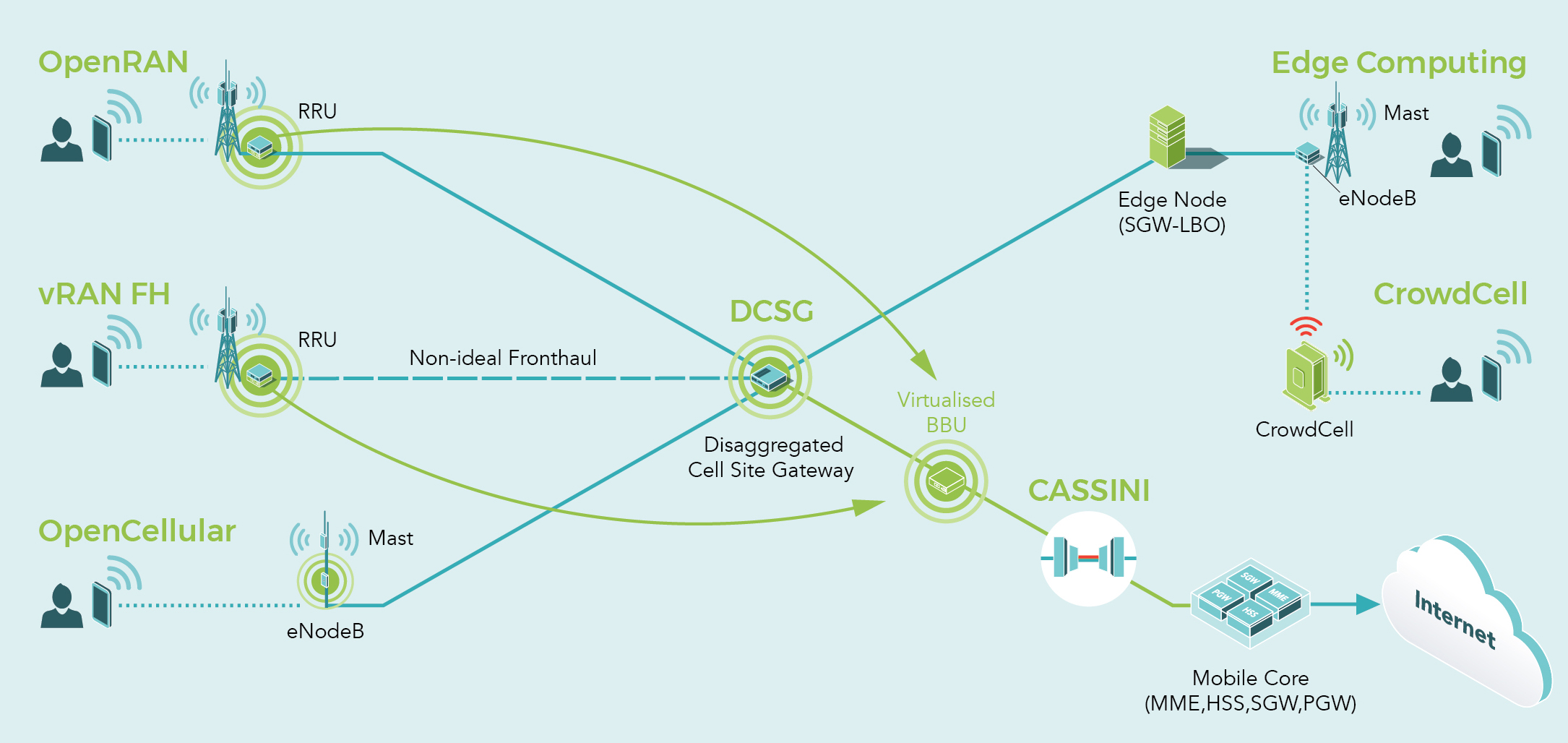 Partners engaged in the demo:

Special thanks to the cutting-edge technology and network equipment providers who have partnered with us on this groundbreaking effort to integrate complementary technologies and bring to life our collective vision for the future of disaggregated networks.
Growing technology provider commitment to TIP technologies
As seen in the list of partners in the end-to-end demo, a growing ecosystem of technology providers are adopting TIP-supported technologies.
DCSG prototypes: Joining ADVA and Edgecore, software companies IP Infusion and Infinera have also expressed their commitment to adopt DCSG specs and build solutions for the market. The first DCSG prototypes designed and manufactured by these inaugural vendors and with different combinations of HW and SW, will debut at MWC in a demo at the Vodafone booth, as well as displays in the ADVA and Infinera booths. The prototypes will also feature in TIP's end-to-end network demo.
New project groups, new startups
New project groups
At MWC, we are excited to announce the launch of two new project groups:
OpenRAN 5G NR: The OpenRAN 5G NR Project Group will be co-chaired by Vodafone and Sprint. Much of the current research into 5G technologies is focused on first improving the radio access mechanism, then ensuring that a compatible architecture extends throughout the network. The Project Group will seek to influence this technology in its early phases to re-affirm the roadmap towards next generation, white-box disaggregated RAN solutions that will set the stage for a more flexible end-to-end network.
WiFi: The WiFi Project Group, co-chaired by Deutsche Telekom and Facebook, aims to foster collaboration, exploration, and standardization among organizations deploying WiFi, infrastructure vendors, and service providers. The project group will work on improving WiFi internet connectivity and pursuing opportunities to deploy innovative technology and explore new monetization methods and business models for WiFi networks. The emphasis will be on bringing solutions to the market in the shortest possible time frame, leveraging the collective leadership, expertise, and influence of project group members.
With the addition of these new groups, the member-driven TIP ecosystem continues to enjoy a healthy pipeline of new initiatives all aimed at the common goal of faster, more affordable, and high-quality internet. For more information on these and other project groups, visit the project groups page.
TIP Ecosystem Acceleration Centers (TEACs): TIP continues to support the standout entrepreneurs of the TEAC startup program as they build the next-generation of innovation in telecom infrastructure. TEAC startups, including the new TEAC Seoul and TEAC UK Wave 2 companies, are featured exhibitors at MWC's 4YFN conference. Also, congratulations to TEAC Seoul Wave 1 companies Kulcloud, Optella, and Transcelestial for meeting the criteria for graduation from the TEAC program based on the positive recommendation from program mentors. Host operator SK Telecom has identified a downstream pathway to commercialization for all three companies based on the achievements from the acceleration program.
The year ahead
We are encouraged by the energy of MWC and the opportunity to see many members of the TIP community. We look forward to the coming year and the collective work of designing and deploying the next generation of telecom infrastructure. Save the date now to join us at our 4th annual TIP Summit: October 8-9, 2019 at ExCeL Centre, London.
We are an open, collaborative community. If you're interested in joining, you can register to become a member here.