by Victor López and Hans-Juergen Schmidtke, OOPT Co-chairs
Prime time for open and disaggregated IP and optical technologies
2019… what an amazing year it has been so far for the Open Optical Packet Transport (OOPT) Project Group! We are truly excited to share all of the results our Project Group has delivered on several key initiatives, bringing its vision of unbundling IP and optical networks. Since the formation of the OOPT Project Group, a number of leading service providers, technology providers, and technologists have collaborated on key initiatives, enabling a more open and disaggregated network infrastructure and providing more flexibility and a wider range of technological choices when building and operating telecom networks.
The concept of disaggregation is no longer something that only applies to a fraction of the infrastructure. It now encompasses something much wider that will likely become the norm in transport networks, much like what we've seen in data centers and cloud computing.
The Project Group has executed some organizational changes to accommodate new projects and technologies that are being contributed by members. The Disaggregated Network Platforms sub-group has been renamed Disaggregated Optical Systems to better align with its scope. Finally, we added a new subgroup: Network Operating Systems, this sub-group will be focused on producing open network operating systems for packet and optical network elements.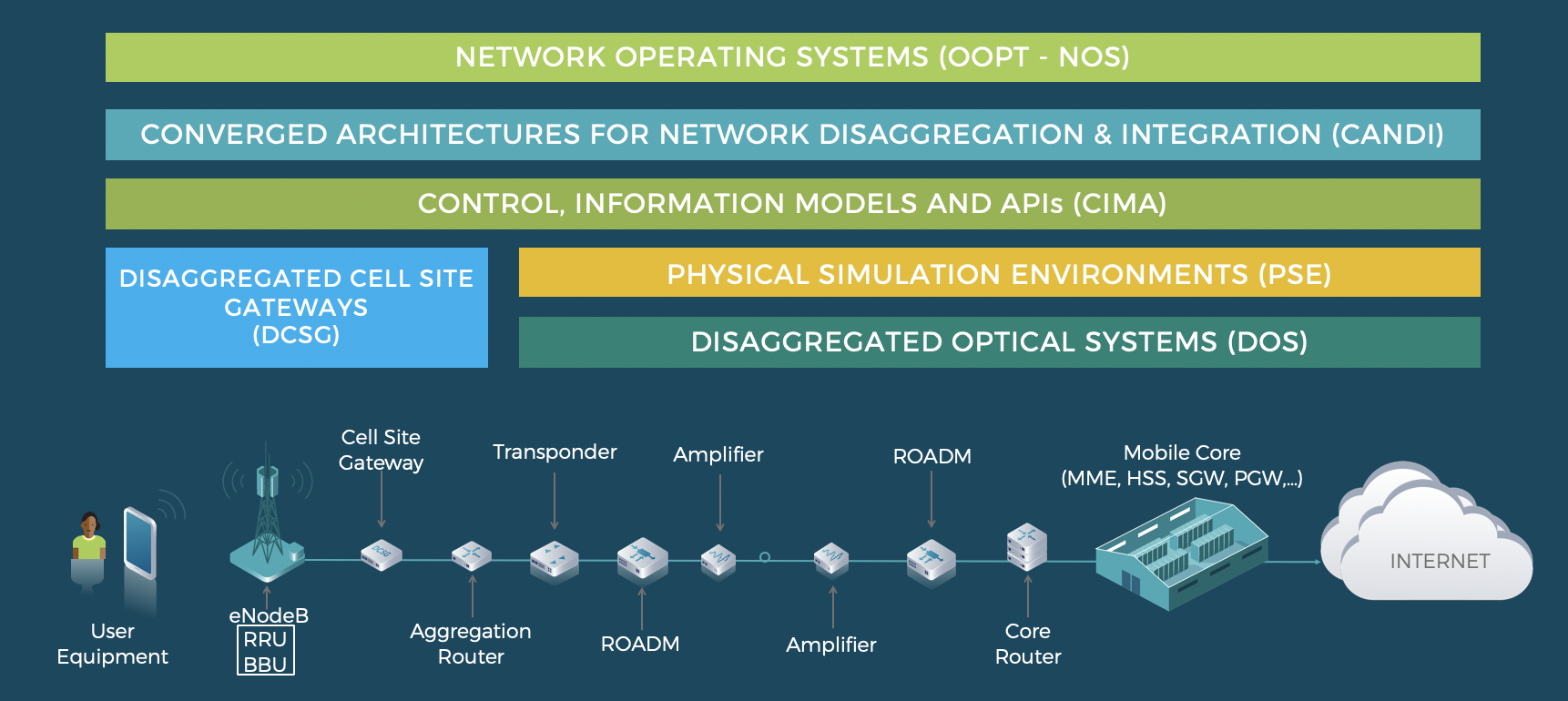 The Project Group has been working on many technologies, from open transponders, to disaggregated cell site gateways, software abstraction interfaces, simulation tools and more. Today, we'd like to share some of this year's remarkable progress and accomplishments.
Disaggregated Cell Site Gateways
DCSG continues to make significant progress. In addition to the 12 new software and hardware vendors committed to develop solutions compliant with the specification, Telefónica has announced the first DCSG commercial deployments. Other operators like Vodafone, TIM Brasil, Airtel and MTN are announcing DCSG lab and field trials. We are also delighted to announce the first GA versions of DCSG from ADVA, Infinera, Edgecore Networks, Delta Electronics and Ufispace only one year after the first vendors committed to develop the solutions. Please see more details in the DCSG blog post.
Cassini
Continued with the GA announcement from Edgecore Networks earlier this year, we have seen adoption on the Network Operating System and SDN Controller front with Sterlite in addition to IP Infusion. IP Infusion's packet optical solution – OcNOS will be general available for customers beginning of December 2019.
In addition, NTT Communications and Telefónica del Perú completed their field trial for Storage-as-a-Service and uncompressed video over IP for Enterprise Business, and Metro and Longhaul in DWDM network, respectively. On the Data Center Interconnect side, Mixi, a communications service company in Japan, started their production deployment of Cassini. Please come join us at TIP Summit for more details about the field trial test results and how Cassini with open source Network Operating System meets Mixi's business and operational requirements.
CANDI
On Oct 16th in Madrid, Telefónica and NTT successfully completed the first Proof of Concept (PoC) of CANDI with the collaboration of the CANDI operators (Orange, Telia Company and Geant), OOPT CIMA subgroup, ONF ODTN, the EU Metro Haul Project and several industrial partners providing hardware and software. (See details here)
After CANDI's establishment last year, the five operators discussed and created practical use-cases and designed a disaggregated architecture with open interfaces for both packet and optical networks. The first Proof of Concept has demonstrated the feasibility of the disaggregated architecture for a set of use cases, including TIP designs such as CASSINI open transponder. After TIP Summit, CANDI will start the work and collaboration with OOPT subgroups towards the second PoC, covering additional set of use cases.
OOPT-NOS – new sub group
We are delighted to announce a new sub group within OOPT – OOPT-NOS that will host an Open Source Network Operating System (NOS), codename Goldstone, to accelerate innovation in the open optical and transport network space. The objective of this activity is to have an open source NOS across the different OOPT hardware platforms and we will start with DOS platforms Cassini and Galileo. Goldstone is based on SONiC and ONL, including our work on the Transport Abstraction Interface (TAI). Goldstone will be contributed by NTT Electronics in the first half of 2020.
GNPy 2.0 release
GNPy, a simulation software for predicting performance and reach of DWDM signals, has gained support for Raman amplification on its release 2.0. It is provided as source code or docker image and it enables the user to simulate DWDM networks in a vendor-neutral manner, quickly allowing evaluation of what-if scenarios in seconds to optimize service delivery and resource usage. GNPy's performance has been recently validated in a large scale test network by Microsoft.
Apollo
We are introducing a new project called Apollo. Apollo is an 400G capable, open, disaggregated optical transponder. Four Tier 1 operators including Vodafone, Telefónica, Deutsche Telekom and Telia Company, have defined the specification which is being contributed to the project group. As next steps, the operators will start to engage with key players in the optical disaggregated industry with the intention to produce solutions that meet the specification.
Galileo – new open packet and optical platform from Wistron
Last but not least, we are pleased to welcome the latest contribution from one of our OOPT members. Wistron has contributed Galileo, a new Packet Optical Transponder hardware platform on a 1-RU form factor with BMC and hot swappable Plug In Unit to enable Data Center at scale type of operations.
We are constantly encouraged by the passion and innovation from our partners and the opportunity to change how IP and optical networks are deployed. We look forward to the coming year with our mission of deploying the next generation of telecom infrastructure.
Learn more about the Open Optical and Packet Transport project group here https://telecominfraproject.com/oopt/