OpenRAN has already started to transform the way wireless connectivity is provided across the world and is now moving towards massive deployment. The disaggregation of the RAN, together with the implementation of open interfaces, is a driver for innovation, supply chain diversity, and economic efficiencies. These benefits are increasing demand for the technology. Leading operators across the world are showing their commitment to deploy OpenRAN, and industry analysts are lifting their forecasts. Recent analysis shows how the adoption of OpenRAN is expected to create a huge amount of value for the global economy. Conscious of these effects, governments are also actively promoting its adoption.
The Telecom Infra Project (TIP) is the best vehicle for the industry to make this transformation possible. With OpenRAN, the telecom industry is moving towards new forms of ecosystem collaboration, that make it possible for operators, OpenRAN suppliers and system integrators to work together and reduce the costs and the time to market required for commercial deployments. TIP is the industry's preferred vehicle for this collaboration.
TIP helps the ecosystem to build, test, and procure OpenRAN equipment in a more efficient way, and this turns it into a catalyst to deliver commercial OpenRAN products that can be deployed in the field. Collaboration through TIP aligns product requirements and reduces the total testing workload for all OpenRAN stakeholders. TIP also makes it possible for each operator to focus on the activities that are more valuable for their particular business needs.
The TIP OpenRAN Project Group has made significant progress. In October last year, we announced an update to the Project Group, including a revised charter, focused on accelerating the development and deployment of OpenRAN solutions across all radio technologies. To support that, we have created four component subgroups (RU, DU/CU, RIA and ROMA) and two segment subgroups (Outdoor and Indoor). This approach is already delivering results, with significant engagements across the ecosystem, and with all subgroups now moving to test and validate products and solutions against the technical requirements that have been contributed.    
Momentum for Open RAN is growing
    
Leading telecom operators are moving fast to accelerate the development and deployment of Open RAN. In Europe, Deutsche Telekom, Telefónica, Orange, and Vodafone have publicly committed to join forces, and work together with TIP and other industry associations to support the rollout of Open RAN as the technology of choice for future European mobile networks. TIM has also joined the group and subscribed to the agreement. In June 2021 TIP has published the group's Technical Priorities Document. Meanwhile, in Asia, Indosat Ooredoo has become the first cellular operator to run OpenRAN Field Trials on a 4G Network with commercial traffic in rural Indonesia.
Open RAN has consolidated as a key trend in the telecom industry, with worldwide sales of Open RAN equipment and solutions now expected to grow at double-digit globally over the next six years, according to Dell'Oro Group. The Open RAN market has multiplied by 5x in just one year (1Q21 vs. 1Q20) and now has significant traction across multiple regions.
Open RAN is also expected to be a driver of economic growth for countries, worldwide. Analysys Mason forecasts that Open RAN deployments could add USD285bn in real GDP globally, over the next ten years. By the end of this period, Open RAN could add USD91bn to global GDP annually. These benefits will be driven by the ability to connect more people (24m more unique mobile subscribers due to OpenRAN in 2030) and by the potential to accelerate growth in mobile data usage (+2.5% increase in data usage per mobile internet connection by 2030). The study also highlights that the work driven by TIP is helping to accelerate the availability of Open RAN solutions and their adoption by operators, with a potential to significantly increase the total economic impact.
Governments are conscious of this and are actively promoting the adoption of Open RAN technologies, to capture the economic benefits from better connectivity, and to build a more robust, secure, and sustainable telecom supply chain, involving innovative local startups. TIP, and TIP's OpenRAN Project Group, are collaborating in this effort and have become a technical authority for policymakers in different regions:
The Indonesian Ministry of Communication and Information Technology, in partnership with TIP, has launched a comprehensive plan to meet ambitious connectivity objectives, utilizing new network approaches like OpenRAN. Featuring a TIP Community Lab where Indonesian operators collaborate, the Public-Private-Partnership will support the development of domestic capabilities and foster opportunities for local manufacturing.
The US Congress has included key provisions to help drive Open RAN development & deployment, including funding mechanisms to support Open RAN and a more diverse vendor market, within the FY21 National Defense Authorization Act (NDAA). The new legislative package explicitly names TIP as a reference on Open RAN, providing strong validation of the TIP community's focus on commercial deployments.
The US Federal Communications Commission launched a Notice of Inquiry on the promotion of the deployment of 5G Open RAN networks. TIP's response highlighted the commercial reality and benefits of OpenRAN, as well as the role of policymakers in creating the right environment to promote adoption.
In Europe, the UK government has released its strategy on 5G Supply Chain Diversity, including references to open interfaces, interoperability, and disaggregated network technologies. Also, the German parliament has discussed national budgetary allocations devoted to Open RAN.
TIP's OpenRAN Project Group is making OpenRAN happen
    
For OpenRAN to succeed, it is key to align the industry's R&D efforts. TIP's OpenRAN Project Group is accelerating deployments of OpenRAN through a multi-vendor ecosystem. While open interface standards are a necessity, they are not sufficient in themselves. The Project Group's focus is to translate common requirements and open standards into commercial products that operators can easily deploy.
TIP's OpenRAN Project Group is driving the industry to productize OpenRAN, by:
Aligning industry requirements and coordinating the OpenRAN roadmap, focused on standards-based solutions delivering technical requirements from operators driven by actual business needs. This avoids fragmentation and enables a sustainable supply of OpenRAN products and designs addressing actual deployment use cases
Providing tools and processes for testing and validating OpenRAN products and solutions in lab and field trials, making it possible for the industry to have a neutral, shared, and transparent assessment of the maturity of the different multi-vendor OpenRAN products. Collaboration through TIP reduces the total testing workload for each company and makes it possible for all of them to focus on the tests that are more specific to their particular business needs. As a result, TIP helps accelerate the development and deployment of these solutions for actual OpenRAN use cases.
Leveraging TIP Exchange, a centralized marketplace where validated technology suppliers and system integrators can be located and assessed by service providers, through badges showing the level of maturity of each OpenRAN solution, according to TIP's Test & Validation processes. For operators, this reduces time to market and simplifies procurement of OpenRAN products. For technology suppliers, it is a powerful way to increase visibility for their solutions, at a global scale
"When you think about turning OpenRAN standards into commercial realities, it is clear that we need to avoid fragmentation. The recently published OpenRAN Technical Priorities Document will enable a diverse set of suppliers to develop products more effectively, thereby increasing resilience and providing operators with what they need to build their networks based on a minimum set of variants that address the same needs in different regions and simplifying significantly the subsequent system integration. TIP has an instrumental role to play in this process," said Yago Tenorio, Vodafone's Head of Group Architecture and Chairman of TIP's Board of Directors.
FIGURE 1: TIP as a vehicle to align industry efforts and accelerate OpenRAN deployments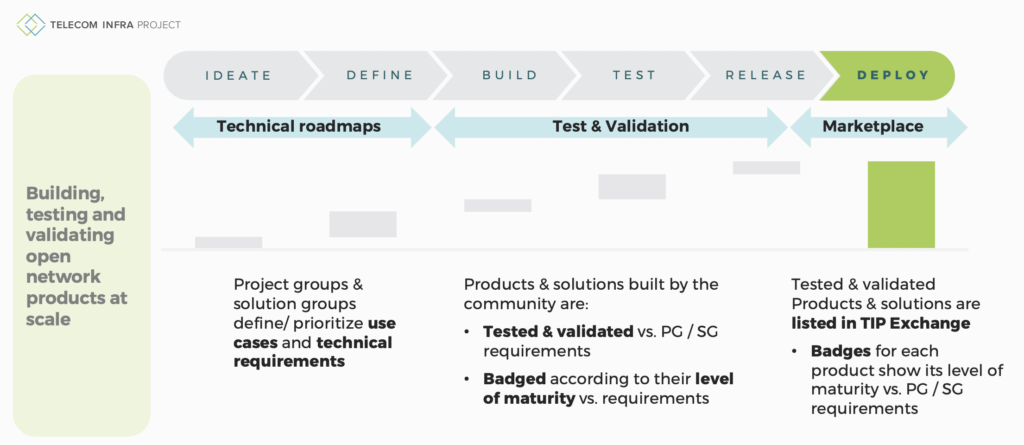 TIP's OpenRAN Project Group is making substantial progress

Momentum keeps growing with new field trials and commercial deployments
Since the last update from TIP OpenRAN PG in October 2020, momentum has kept growing for OpenRAN, and we have new field trials and commercial deployments underway in several markets.
In Europe, Vodafone has announced its first OpenRAN commercial deployments in the UK, targeting at least 2,600 sites in the South West of England, and Ireland, where 4G coverage will be delivered to 30 new locations in a faster and more cost-efficient way, thanks to OpenRAN.
In APAC, Indonesian operators including Ooredoo (Indosat) are moving to initiate field trials of rural outdoor blueprints, in collaboration with Parallel Wireless.
In Africa, Vodacom is also making progress towards the commercial trial of OpenRAN in the Democratic Republic of Congo (DRC)
In LatAm, Telefónica Argentina has launched an OpenRAN proof-of-concept, covering 81,000 inhabitants, in collaboration with IBM. Meanwhile, Vivo has launched two OpenRAN pilots in Brazil. Also in Brazil, Algar Telecom has started testing OpenRAN technology. Finally, Tigo has started to deploy an OpenRAN 4G solution in Colombia, targeting rural areas.
"Algar Telecom, together with IBM, is conducting a series of OpenRAN tests. These tests include implementations of different architectures using different components, and the infrastructure of IBM's labs, assembled in collaboration with TIP. The goal is to develop different OpenRAN implementation modes, develop various business models, and, finally, start commercial launches. Partnerships with IBM and TIP have been essential in this enabling this," said Algar Telecom
FIGURE 2: Global OpenRAN field trials and deployments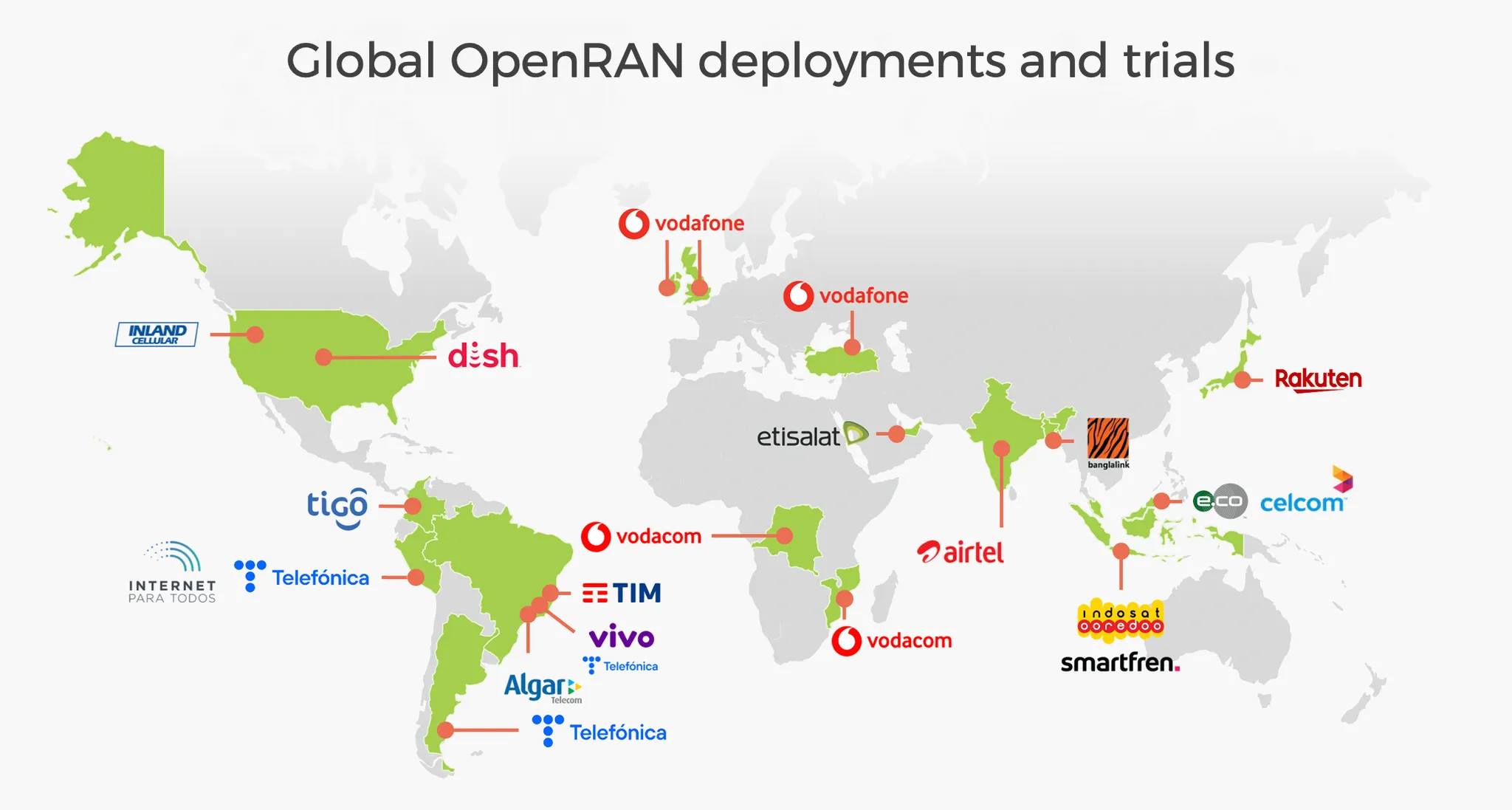 A new OpenRAN subgroup (ROMA) was launched in early March
The OpenRAN Orchestration and Management Automation (ROMA) subgroup is led by Telefónica, T-Mobile USA, and Vodafone. ROMA complements the existing OpenRAN workstreams and focuses the industry collaboration efforts to unleash the value of OpenRAN through increased operational efficiency, flexibility and agility. The ROMA subgroup is aggregating operators' requirements on OpenRAN orchestration and lifecycle management automation. Furthermore, the ROMA subgroup is aligning technology suppliers and system integrators in the ecosystem, to develop products and solutions addressing those requirements.
Several operators from Europe and Asia have already contributed requirements to identify critical use cases and prioritize deployment scenarios within the subgroup. Technical requirements for these use cases are now being defined based on existing standards. As a result, the TIP OpenRAN community is targeting to deliver minimum viable, commercial-grade OpenRAN orchestration and automation products and solutions supporting large scale OpenRAN deployments in 2022.
More than 40 TIP participants have signed up to ROMA. Technology partners including Amdocs, Mavenir, Robin.io and others are committed to accelerate product development to support OpenRAN orchestration and management automation.
"ROMA is addressing the need for the industry to innovate in OpenRAN automation, in order to optimize the processes of integration, testing, deployment, operation and maintenance for OpenRAN networks. We aspire to implement end-to-end service orchestration in an automated way, and also to harness AI/ML technologies to help us learn about how these new network environments behave, identify potential anomalies and automatically apply solutions," said Juan Carlos Garcia, Telefónica's SVP Technology, Innovation and Ecosystem and TIP's Board Director.

Existing subgroups are moving fast towards requirements harmonization, lab trials, and expanding engagements across the ecosystem
The RU subgroup published the first version of its technical requirements, with contributions from DISH, Facebook, T-Mobile USA, and Vodafone focused on single- and multi-band RU for 4G and 5G. After this, several suppliers in the TIP community, including Baicells, Comba, Fujitsu, MTI, and NTS are starting the process of self-certification of their products, which will lead to their listing on TIP Exchange with "Supplier Tested Product" badges. As a next step, the subgroup is working on an end-to-end test plan, in coordination with the Whitebox DU/CU subgroup.
In parallel, the RU subgroup is reviewing the RU requirements. The revised requirements will be published, to align with more operators, including Airtel, MTS, and TIM, and more features, including massive MIMO requirements from DISH, Facebook, and Vodafone.
"Open RU hardware is key for OpenRAN to become a healthy, robust, and sustainable alternative to existing RAN offerings. To develop competitive and future-ready RU products that can be deployed in real-life network environments, operators and suppliers need to work together. The ecosystem coordination and the Test and Validation synergies that TIP provides are critical elements to succeed in this endeavor," said Randeep Sekhon, CTO of Bharti Airtel
The DU/CU subgroup has delivered a first version of its technical requirements, including inputs from DISH, T-Mobile USA, and Vodafone. In parallel, Orange and TIM have recently joined the subgroup, and MTS has committed to contribute its requirements. Several suppliers, including Dell Technologies, Hewlett Packard Enterprise, QCT, Silicom, Supermicro, and ZT Systems have confirmed the compliance of their products to the published DU/CU requirements, that will lead to their listing on TIP Exchange. In addition, DU/CU suppliers are initiating the self-certification of their solutions against the published requirements and, at the same time, an initial test plan focused on Fronthaul split 7.2 compliance and interoperability testing has been published. Dell Technologies, Mavenir and MTI are collaborating in a OpenRAN 5G testbed trial at TIP Community Lab in Menlo Park. TIP Community Labs are targeting to have TIP Exchange listings with "TIP Validated Product" badges in the second half of the year.
"We have shared our DU requirements in TIP for a variety of deployment scenarios. We are seeing the ecosystem respond with a wide range of solutions. When you define what you need, including deployment scenarios, and share that with the community, you derive meaningful value back from a diverse supply chain. We have seen TIP play a key role in this effort," said Marc Rouanne, Chief Network Officer, EVP at DISH Network
In the Outdoor Macro subgroup, co-led by Ooredoo, Smartfren, TPG and Vodafone, the use cases have been defined and a first version of technical requirements has been published for rural, suburban and urban segment scenarios. In parallel, Airtel, Orange, TIM, and Türk Telekom have joined the subgroup. In particular, TIM has committed to use their hosted TIP Community Lab to do OpenRAN integration testing, and Orange is starting to contribute towards the use case expansion efforts and its requirements.
"To deliver commercial-grade OpenRAN Macro Blueprints, operators need to tackle the integration challenge that comes with multi-vendor RAN products. For this, we believe that collaboration is the way to go. Instead of having each operator managing its own integration in isolation, we are doing it in a collaborative way, and TIP is the framework to do so. This creates a lot of value for the whole ecosystem, including operators," said Olivier Simon, Global Director of Radio Innovation, Orange
Several suppliers in the TIP community, including Altiostar, Baicells, Comba, HPE, Parallel Wireless, and QCT have confirmed the compliance of their products to the published outdoor macro requirements, that will lead to their listing on TIP Exchange. In addition to that, the first end-to-end test plan to assess the level of maturity of different OpenRAN Outdoor Macro blueprints has already been finalized, and the subgroup is now working to define the criteria to be used for awarding the different levels of TIP badges.
In the Indoor Small Cells subgroup, China Unicom has started trials of a 5G indoor cell system integrated by OpenRAN products from Baicells, QCT and Wind River. This is a key milestone after the publication of technical requirements in August 2020, and the result of TIP's coordination of the ecosystem of technical suppliers and system integrators, to build solutions addressing these requirements. In parallel, Inno-gence and NTS are collaborating to develop TIP-compliant indoor small solutions and are in the final stage of system integration prior to entering lab trials. After completion, the results of these lab trials will be contributed to the PG in a test report, and the products will be listed on TIP Exchange. China Unicom plans to move into field trials, as the next phase towards commercial deployments.
"Flexible and cost-effective indoor small cell systems create a huge opportunity for operators to unlock new revenue streams through solutions addressing the needs of diverse vertical industries. TIP is a key platform for China Unicom to develop this opportunity, by engaging a wide ecosystem of suppliers to build small cell solutions addressing real-world requirements, and as a vehicle to efficiently test and validate these solutions" said Xiongyan Tang, CTO, China Unicom
The RAN Intelligence and Automation (RIA) subgroup has grown significantly, with membership increasing from the initial co-leaders (BT, T-Mobile USA, and Vodafone) to include more than 39 different operators. The subgroup has already released requirements for 10 operator-defined use cases for both non-RT and near-RT RAN Intelligent Controller (RIC), and 2 more supplier-defined use cases. According to a recent Analysys Mason survey, these use cases are expected to represent a significant business opportunity for service providers, that view the RIC as an essential tool to transform RAN operations.
A large number of application suppliers are now working to build solutions for the identified RIA use cases. Vodafone just completed a trial for one of them, to boost 5G capacity, and two additional RIA trials are already planned for 2021, that will provide critical insights to operators on the viability of the RIC architecture and on how it enables them to harness AI/ML technologies for operational optimization. On top of this, RIA is driving an initiative that will enable near-RT and non-RT RIC platform vendors to adopt a common portability SDK.
"For BT, the ability to use AI/ML techniques to control and optimize our network is a critical capability, that we expect to be differential for 5G. TIP is for us the vehicle to orchestrate a whole ecosystem of technology suppliers and other operators, to prioritize the most critical use cases and work together. We're already working on Radio Resource Management (RRM), Self-Organizing Networks (SON) and Massive MIMO use cases that will bring a huge value for the industry. BT and TIP are working with RIA vendors to demonstrate the power of the RIC and xAPPs for real-time location enhanced handover optimization in a live outdoor trial which will be completed in 2H-2021" said Paul Crane, Director Converged Network Research at BT

What's Next
Our community is continuously growing and accelerating the commercialization of OpenRAN products across the world, with many trials and deployments already in the pipeline in different regions. Meanwhile, all the OpenRAN subgroups will contribute to establishing a feature roadmap for OpenRAN, in collaboration with the whole ecosystem, based on the requirements contributed by an expanding number of service providers. TIP's robust test and validation process will be a key tool for the community to develop hardened product blueprints including the features identified in the roadmap and, after testing activities, these blueprints will receive TIP Exchange badges showing their level of maturity
We encourage operators and service providers sharing our vision to contribute new OpenRAN use cases and technical requirements to the Project Group, and issue RFI/RFPs for OpenRAN products, to keep strengthening the demand signal. Likewise, we encourage technology suppliers and system integrators to work within our community to build products and solutions and validate and badge them through TIP. Together we will accelerate the development and deployment of OpenRAN.