Accelerating Lower Network Building Cost Through Open and Disaggregated Technologies
Mar. 26th 2021: KDDI, KDDI Research, Mobicom, and the Telecom Infra Project (TIP), are pleased to announce the launch of an interoperability trial spanning Japan and Mongolia which aims to evaluate the potential of open and disaggregated approach (*1), enabling multiple combinations of hardware and software makers, to building a 5G network.
Traditionally, hardware and software of conventional telecom equipment is aggregated by each particular maker to meet specific purpose. However, there is a growing demand in the industry for new and innovative open and disaggregated solutions which enables network operators to timely and flexibly meet diversifying requirements of consumers and enterprises, such as private 5G use cases, etc.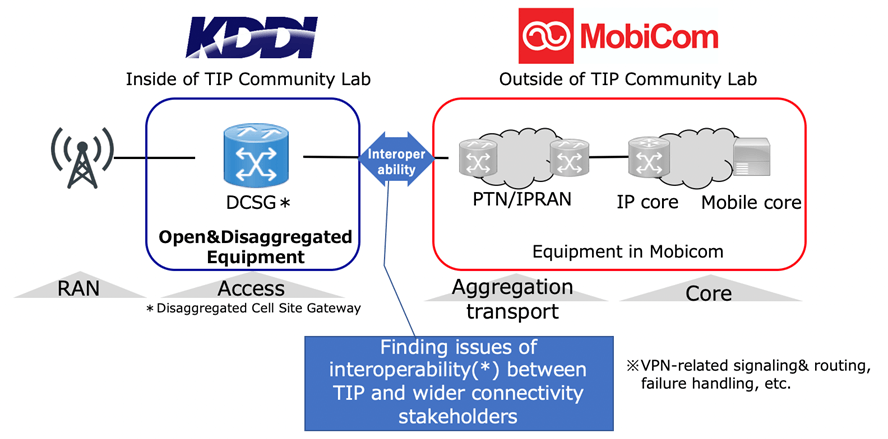 Configuration of the interoperability trial among DCSG, transport, and core networks.
KDDI and KDDI Research are exploring how open and disaggregated RAN, Transport and core equipment can lower network costs and to accelerate the deployment of 5G networks. In the Telecom Infra Project's (TIP *2) Community Lab, KDDI and KDDI Research have conducted fundamental tests of a TIP-incubated Disaggregated Cell Site Gateway (DCSG) product currently listed in TIP Exchange for accommodating base stations and fixed broadband services in access network.
Today, based on the understandings obtained by a fundamental test of VPN functions etc., KDDI, KDDI Research and Mobicom are now launching an interoperability trial of DCSG solution with aggregation transport equipment (i.e., Packet Transport Network and IPRAN) and core equipment (i.e., IP core and mobile core). The scope of the test has been expanded from KDDI and the TIP community to also include wider connectivity stakeholders, like a broader range of network operators. The primary outcome of the trial will be to identify the challenges of moving this technology toward to large scale commercial rollouts.
David Hutton, Chief Engineer at TIP, commented on the trial: "TIP sees the trials of the DCSG and aggregation transport equipment between KDDI, KDDI Research and MobiCom as a significant step towards the introduction of open and disaggregated network solutions. The DCSG and TIP's open optical and packet transport solutions will help to provide the capacity within the transport network required to make 5G a success in satisfying the requirements of consumer, operators and enterprises."
KDDI, KDDI Research, and Mobicom will accelerate innovations of telecom industry by sharing the outcomes of the trial with TIP community, which will ultimately contribute to the practical improvement of open and disaggregated equipment and growth of the open ecosystem.
Roles of each party:
KDDI: Operation of the TIP Community Lab, and conduction of the fundamental test
KDDI Research: Conduction of the fundamental test DCSG, and technical support of the interoperability trial
Mobicom: Conduction of the interoperability trial
(*1) Equipment design methodology enabling open integration of both hardware and software. The approach has been tested at TIP Community Lab @ KDDI launched at Tokyo in February 2020.
(*2) About TIP: The Telecom Infra Project (TIP) is a global community of companies and organizations that are driving infrastructure solutions to advance global connectivity to transform global connectivity. Half of the world's population is still not connected to the internet, and for those who are, connectivity is often insufficient. This limits access to the multitude of consumer and commercial benefits provided by the internet, thereby impacting GDP growth globally. However, a lack of flexibility in the current solutions – exacerbated by a limited choice in technology providers – makes it challenging for operators to efficiently build and upgrade networks. Founded in 2016, TIP is a community of diverse participants that includes hundreds of companies – from service providers and technology partners, to systems integrators and other connectivity stakeholders. We are working together to develop, test and deploy open, disaggregated, and standards-based solutions that deliver the high quality connectivity that the world needs – now and in the decades to come. Find out more: www.telecominfraproject.com