Since the foundation of the Mandatory Use Case Requirements for SDN for Transport (MUST) Subgroup within the Open Optical & Packet Transport (OOPT) Project Group, some of the world's most important service providers have collaborated to define the requirements for an SDN based open and disaggregated transport network architecture.
The Optical workstream in MUST focused on Optical Transport has produced a common and unified set of guidelines that describe a future proof strategy towards the realization of a disaggregated open optical network.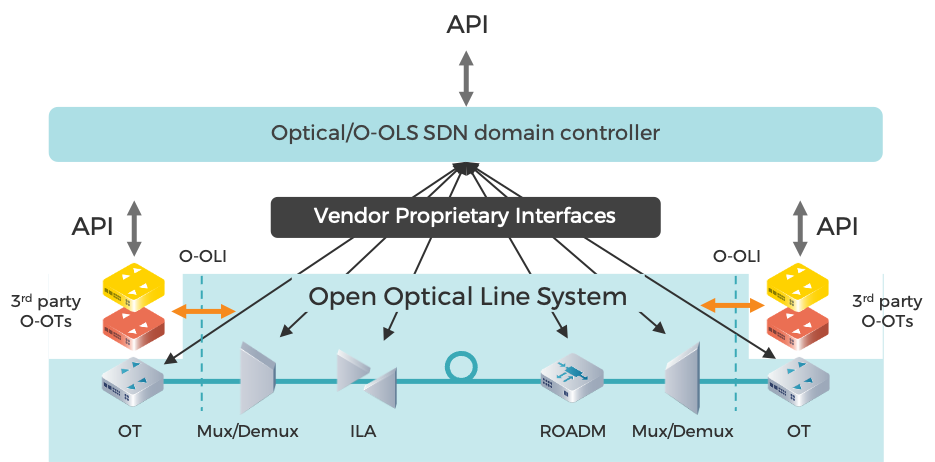 Deutsche Telekom, MTN, Orange, Telefonica, Telia Company, TIM, Turkcell, and Vodafone have published this white paper where they describe the target level of disaggregation to be introduced on the current monolithic transport optical system; the required level of "openness", including the target open and standard Application Programming Interfaces (APIs), to be supported by the different architecture components: the Open Optical Terminals (O-OTs), the Open Optical Line System (O-OLS), the SDN Controllers and the Open-Planning and Impairment Validation (O-PaIV).
Mauro Costa, Head of planning, strategy, and architecture, Network Systems and Delivery from Telia Company, said: "By now it has become very obvious that Prime Time for Open architectures has come. We have seen many examples recently and we will certainly see more and more going forward as a testimony that even strong bastions like Optical, Radio Access Networks and so much more will soon be conquered in the name of Openness. This white paper, on the Target Architecture for Disaggregated Open Optical Networks, produced within OOPT in TIP by many industry leaders, is a clear example of a strong industry tidal wave in this direction. And it is with peace of mind that we can say that this won't stop here".
Eva Rossi, Head of Transport Product from Vodafone, said: "This white paper is clear evidence that service providers are willing to join forces to accelerate the multi-vendor support in the optical transport layer by implementing partial disaggregation leveraging on the Transport SDN architecture. This will open the door to a new ecosystem of vendors able to provide capacity upgrades in WDM line systems already deployed by the operators".
Lloyd Mphahlele, General Manager Transport, from MTN, said: "MTN Group Transport is proud to be associated with the TIP OOPT MUST community, driven by a vision to foster open and inclusive innovation in the technology value chain. This resonates well with our ambition to evolve and improve our networks and fully aligns with our CASSI Transport strategy".
Juan Pedro Fernandez-Palacios, Head of Transport network at Telefonica CTIO. from Telefonica, said: "This paper sends a clear message to the industry, partial optical disaggregation and full automation are feasible if mature standard interfaces as the ones specified in the MUST group are implemented at both the SDN controller and the Open Terminals".
The operators signing this document acknowledge the importance of collaborating towards a common and unified validation process to achieve the open optical networking ambitions expressed here. We encourage other MNOs, suppliers, and the rest of the stakeholders to visit the Open Optical Packet Optical (OOPT) page portal where you will find this white paper along with the rest of MUST technical requirement documents which complete the definition of the agreed architecture. If you are not yet involved in OOPT and MUST, please join (https://telecominfraproject.com/apply-for-membership/), and additional contributions to MUST are always welcome from current TIP OOPT operator participants.