Since the formation of the Open Optical & Packet Transport (OOPT) project group, some of the world's most important service providers, technology suppliers have collaborated within it to build more open and disaggregated network infrastructure. This has resulted in more flexibility and a wider range of technological choices for operators to build and operate telecom networks. Today, we would like to share an update on the latest OOPT community achievement.
Eva Rossi, Head of Transport from Vodafone, said: This new project represents a key milestone in the journey of disaggregating Transport networks by creating opportunities to open and disaggregate peering and IP layers. We are pleased to collaborate within TIP, and with other operators, to drive the development of these new solutions and the wider industry ecosystem.
The OOPT mission is to develop disaggregated transport technologies that are more flexible, efficient, and open. Service and technology providers continue to adopt these solutions; consequently we've seen significant progress. Today, KDDI, Vodafone, MTN and Telefónica are releasing the Disaggregated Distributed Backbone Router Requirements Document. This document lists the HW and SW requirements for building a high capacity, disaggregated, and open IP MPLS Router that operators can use to expand the capacity of their current and future IP Core and Peering networks.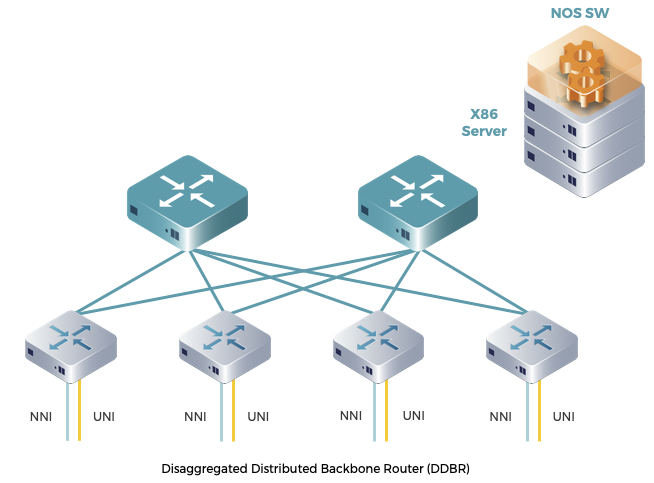 Kenji Kumaki, General Manager and Chief Architect, Technology Strategy & Planning from KDDI, said: I am proud to announce today that the Distributed Disaggregated Backbone Router (DDBR) dramatically increases network capacity, thanks to its capability to massively and simultaneously scale-out and scale-up for supporting ever-growing 5G traffic. Strategic deployment of this architecture coupled with flexible hardware and software will bring economic benefits. I also hope that this architecture will become an industry standard that many, if not all, service providers will adopt.
The Tier-1 operators mentioned above are now moving to an RFI phase where they will try to evaluate industry readiness in upcoming months, with the target to have compliant solutions ready for commercial deployments.
Jesús Folgueira Chavarria, Head of Transport & IP Networks at Global CTIO from Telefónica, said: In Telefonica, we are actively pushing openness in our networks to achieve flexibility, efficiency, and promote a stronger ecosystem in our networks. Being able to share common goals and coordinated actions within TIP and our peer operators, represents an excellent framework to accelerate the development and availability of an open IP Core Transport.
Next steps for the DDBR project, including the RFI are:
Developing a DDBR test plan to validate DDBR compliant HW and SW solutions
Working with partners globally to launch the testing and validation phase to assess the maturity of the different products against the requirements. This phase will be reflected in badges awarded and shown in TIP Exchange listings
Market trials
Ndifor Luc-Fabrice Ngwa, Senior Engineer, Fixed Networks and Technology Management from MTN, said:
The Distributed Disaggregated Backbone router (DDBR) is the way to go in the aggregation and core areas of our IP networks today looking at the great increase in traffic patterns which imposes a constant relook of the network scale and cost involved in building or upgrading these aspects of the network. With the decoupling of the data forwarding, control and management planes of the device, it simplifies the network, ease automation, software upgrades and reduces software assurance expenses. The software license model enables the decoupling of network growth and cost. In all this simplifies the operational model (lowers the OPEX) and lowers the TCO of such networks.