Hans-Juergen Schmidtke, Facebook
Hola! OOPT updates from MWC Barcelona
The Open Optical & Packet Transport group is pleased to share the latest progress it has made since our last update during TIP Summit 2018 in London. You're likely reading this while you're attending one of the industry's largest event of the year – Mobile World Congress – in beautiful Barcelona, Spain. This annual congress has always been contents-rich with exciting technology showcases and the latest industry news, while serving as a place for many companies to come together to learn from each other and share valuable experiences. 2019 promises to be no exception, and we certainly hope that you come find us at the Facebook meeting area and visit many of our OOPT ecosystem partners.
General availability of Edgecore's Cassini
After a year since the project started, the OOPT-initiated open packet optical system "Cassini" is now commercially available through Edgecore Networks, with OcNOS™available from IP Infusion, fully validated and supported on Cassini. Cassini is a 1.5-RU modular open packet optical transponder with 100GE switching with Layer-1 optical transport functions ideal for data center interconnect as well as metro and access backhaul use cases. For more details, please visit Edgecore Network's website.
Showcases & demos at MWC 2019
At the Facebook meeting area, you'll find a comprehensive end-to-end network powered by various TIP-driven technologies from multiple project groups including Mobile Edge Computing, Open RAN, and, of course, Open Optical Packet Transport. Through this demo infrastructure, we will be demonstrating:
Integration of technologies from various TIP project groups in an end-to-end setup, representing how each of TIP technology component would fit in an operator's network.
Integrated network infrastructure working as one single network with interoperability for mobile use-cases.
A foundation for advancement of "disaggregation ready" OEMs and SIs, utilizing "PlugFests" as a means to build operator confidence.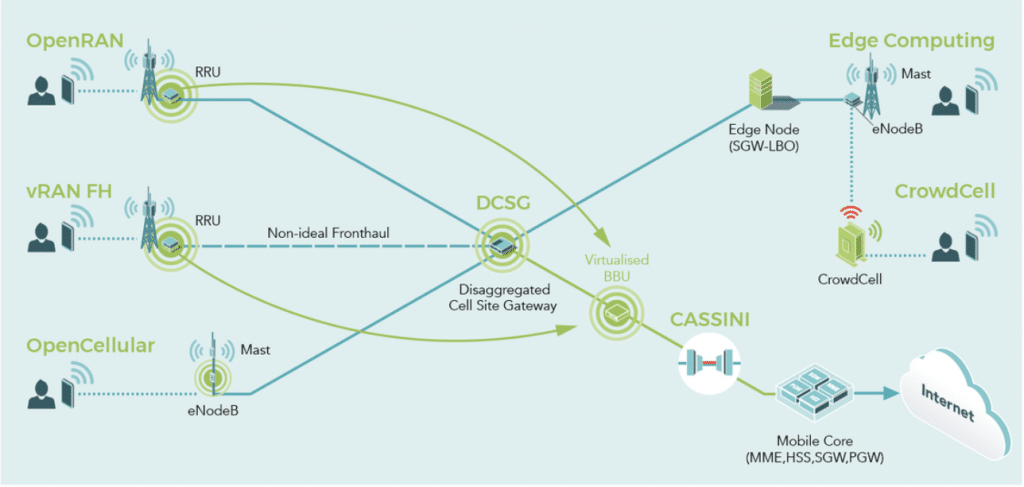 We plan to showcase the flexibilities and choices that various TIP technologies can provide to those mobile network operators who wish for faster deployments and more responsive upgrades.
In the Vodafone booth, you will find multi-vendor Odyssey-DCSG demo with Edgecore Networks, ADVA, and IP Infusion, showing two different cell site gateway solution stacks. Infinera will be showing another stack of Odyssey-DCSG in its booth, bringing the total number of Odyssey-DCSG solution stacks to three made available in only 3-4 months.
At the Edgecore's booth, in addition to open cell site gateway solutions, the team will be showing the "Cassini," an open packet transponder which has been contributed to TIP and is a part of the ONF ODTN reference design, enabling open optical solutions for data center interconnect and service provider applications.
DCSG RFI results
After two months of DCSG RFI technical evaluation conducted by three issuing operators – Vodafone, Telefonica, and TIM Brasil – these same operators will be announcing the results with a list of software and hardware finalists. We will post more information on this within next day or so with a separate blog post with details on the next steps of this fast-moving project.
OOPT CANDI project sub-group
Our most recently formed sub-group – Converged Architectures for Network Disaggregation and Integration (CANDI) – has made a lot of progresses since the announcement at the last TIP Summit in London. The team has identified and is working through details on two operator use-cases which this group will test and validate. The staging is planned to begin soon and we look forward to sharing additional details during the next scheduled OOPT teleconference update.
We look forward to seeing you throughout the week and we hope you will have a great stay in Barcelona!