Attilio Zani, Executive Director
Global gatherings: Telecom Infra Project deepens engagement around the world
Connectivity needs have no borders and TIP technology solutions are designed to meet challenges around the globe. This vision is reflected in our global community, which continues to grow in momentum and depth of engagement. As part of our TIP Regional Summit series, TIP recently hosted multiple gatherings aimed at expanding the growing TIP community in key regions. Regional Summits in São Paulo and Singapore featured a diverse group of members and connected stakeholders from across the industry. We also showcased the latest innovations for OpenRAN, 5G NR, vRAN, mmWave Networks, Open Optical & Packet Transport, WiFi, Edge Computing, Open Cellular, and more. The TIP community also gathered in London for 5G World to highlight our disaggregated approach to next generation connectivity.
TIP Regional Summits
LATAM '19
TIP LatAm '19 – a high-energy two days (June 4-5) in São Paulo – generated new interest and created solid momentum for TIP initiatives in Latin America. Featuring TIP members throughout the region, the gathering gave greater visibility to local innovation and advanced TIP initiatives.
João Gabriel Aleixo highlighted the latest transport technology innovations within TIP, as well as TIM Brasil's cooperation with Vodafone and Telefonica on the Disaggregated Cell Site Gateways (DCSG) specification, RFI, and plans for lab trials at TIM Brasil's TIP Community Lab. Leading a session on gigabit connectivity, William Kamizaki of Claro discussed potential use cases for mmWave solutions, including FWA, mobile backhaul, and smart cities. Gustavo Lima from the TIP Community Lab at CPqD discussed progress toward testing and adoption of TIP tech, starting with its current work on mmWave technologies. Sebastiano Bertani from Tanaza, and Daniel Melo from Cambium presented the latest initiatives to evolve Wi-Fi technology.
A diverse group of voices — Basilio Perez (ABRINT), Ariel Graizer (CABASE), Alejandro Gidi (WISP MX), Gonzalo Veas (Entel), Javier Ger (Telecom Argentina), Agostinho Villela (IBM), Antonio Tostes (Mavenir), Russell Ribeiro (Parallel Wireless), Victor Proscurchin (Edgecore Networks), and Daniel Pigatto (Datacom) — were included in engaging panel discussions on the challenges & opportunities of connectivity in LatAm, as well as the benefits and challenges of open architectures and disaggregation for the telecom industry.
Highlighting innovation in the region, Marcos Chaves (Alef Edge) presented its Mobile Edge Computing platform, and Victor Queiroz (GoCache) and Danilo Castro (MondoDX) presented emerging use cases for Mobile Edge Computing. Luciano Mendes from INATEL discussed the 5G Range proposal to close the connectivity gap in remote areas and Mauricio Rodríguez from PUC Valparaíso shared the most recent achievements on mmWave channel modeling.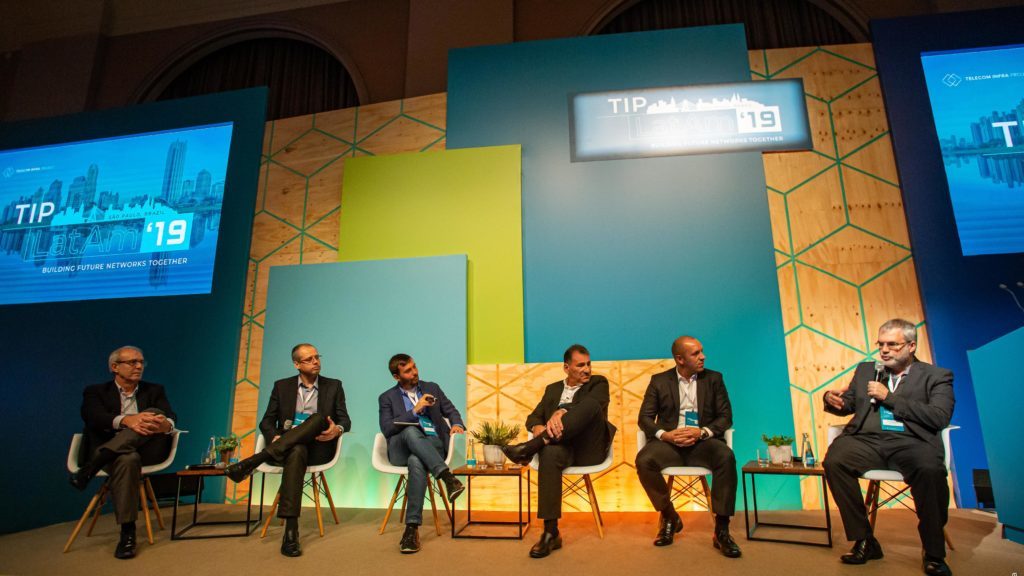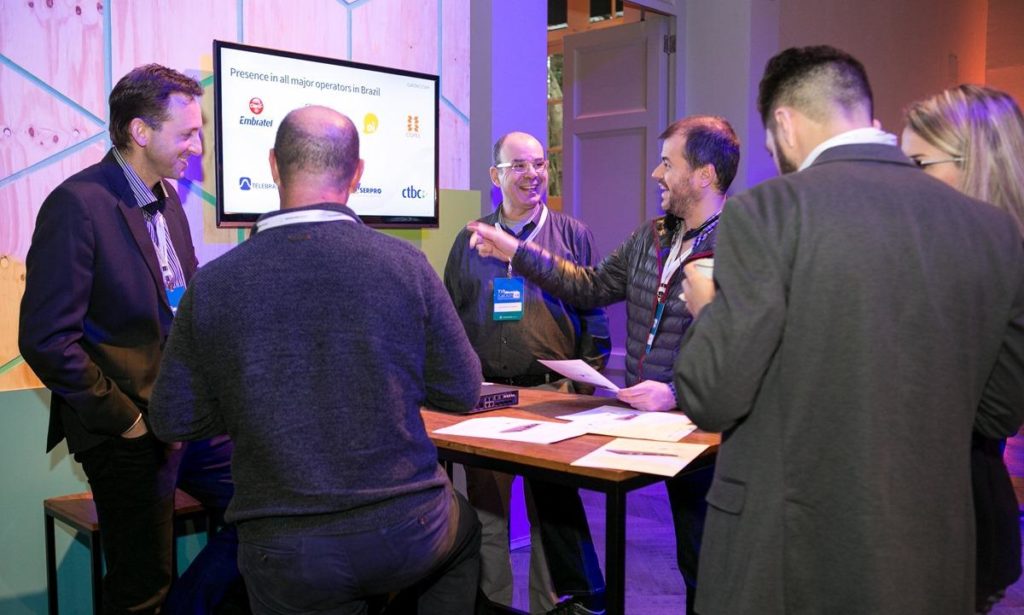 APAC '19
TIP's Regional Summit in Singapore (June 19-20) — TIP APAC '19 — highlighted the progress and potential of TIP technologies to new and existing partners in the Asia Pacific. Co-located with ConnecTechAsia 2019, we engaged partners, existing and new, who can become our next wave of champions driving the adoption of TIP technologies. Presentations and panel discussions demonstrated how TIP solutions are addressing industry pain points, and meetings with the TIP community provided greater insight on APAC regional strategy moving forward. Ayush Sharma of Sterlite Technologies highlighted the benefits of participation in the OOPT Project Group, including access to cutting edge innovations with optical solutions such as transponders, open line systems, and disaggregated network solutions. Norman Yeoh shared Axiata Group's motivation for utilizing Microwave technology.
Discussing the future transport network ecosystem, APAC Summit panelists — Axiata Group, Edgecore, Vayu Group, NTT, and Facebook — discussed the benefits of using disaggregated solutions to address network pain points. RAN discussions — featuring TGP Telecom, Banglalink, Mavenir, Facebook, and Altran — circled around connectivity challenges unique to APAC, as well as the role OpenRAN can play in addressing these issues. The Summit also included startup players like Transcelestial, an alum of the TIP Ecosystem Acceleration Center (TEAC) currently honing its free space optics technology for better backhaul. The Onno Center also delivered a strong message on the importance of connecting the unconnected, including in the rural areas of Indonesia.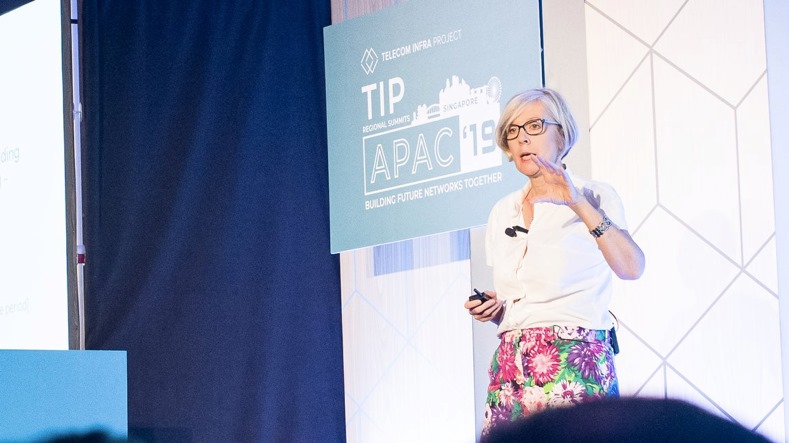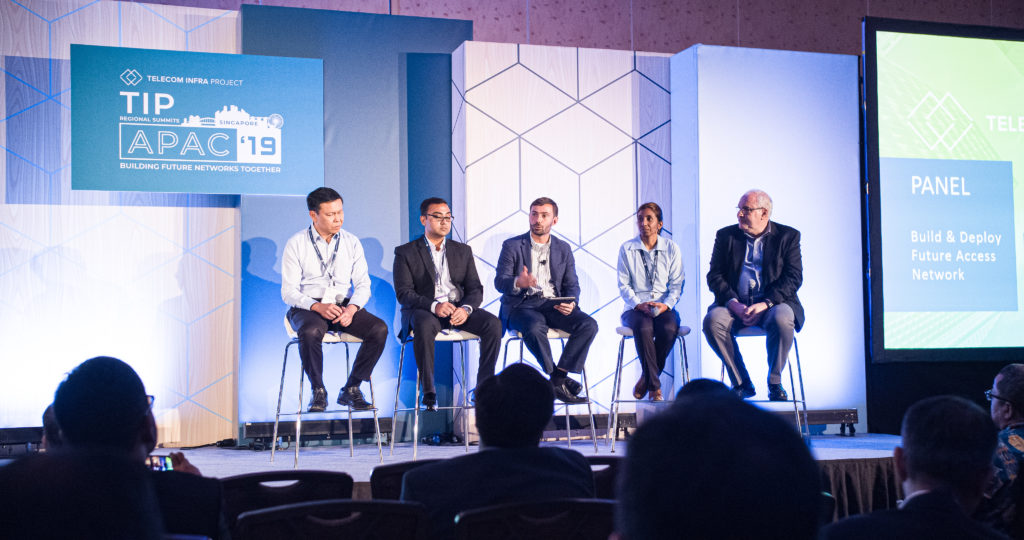 RFI results confirm gigabit potential of mmWAVE technologies
Taking the APAC Summit stage as co-chair of the mmWave Project Group, Deutsche Telekom shared findings from its Request For Information (RFI) for 60 GHz Fixed Wireless technology issued by Buyin, a procurement partner. The goal of the RFI was for Deutsche Telekom — as a leading TIP member — to communicate its interest in the 60GHz FWA application for Gigabit speed services to relevant players in the industry. It also sought to fully understand the potential of 60GHz technologies to address last-mile Gigabit connectivity, as well as to scan the vendor landscape and leverage the ecosystem for further development support. After an analysis of vendor responses, high-level findings included:
Confirmation that the 60GHz FWA technologies can technically satisfy the goal of providing Gigabit speed services to households (B2C) and businesses (B2B) – depending on use case and environment
Initial General Availability releases are scheduled for delivery within 2019
Aggregate throughput of min. 3.4 Gbps on a single channel @ distances of min. 100 meter (accounting for rain attenuation)
Total distance from a few meters up to 300 meters, higher distances can be achieved with higher CN antenna gain or using upper part of V-band spectrum
E2E network integration, security features, and increased O&M automation will be further explored
Launch of Open Box Microwave project group
TIP's pipeline of innovation is active and we also used this opportunity to announce the launch of a new TIP Project Group — Open Box Microwave. Co-chaired by Axiata Group and Facebook, Open Box Microwave will address the challenges network operators face when replacing or upgrading microwave backhaul infrastructure. These hardware updates can trigger structural analysis, zoning permits, and increases in rent that can cause delays and increase in OPEX & CAPEX every time adjustments on the tower are required. During both Regional Summits, Open Box Microwave leads described their solution to overcome traditional delays in deployments with a wireless backhaul ecosystem, which ultimately leverages Software Defined Networks (SDN) principles and drives disaggregation of the microwave hardware and software. Learn more about this new Project Group here.
5G World
5G innovators in London
In addition to our Regional Summits, TIP expanded engagement with the telecom community at the recent 5G World Event in London. A key event tracking industry progress across the 5G landscape, session topics included 5G Network Evolution & Economics, 5G Monetization, Virtualization & Cloud Native, Telco & AI, 6G, and more. With the recent launch of TIP's OpenRAN 5GNR the gathering was an opportunity to highlight the project group's goal of building a disaggregated, cost-effective, and flexible 5G New Radio solution and invite participation from the community.
Also of great relevance in the transition to 5G networks, we showcased our DCSG technology, which is the first 5G ready open cell site router and currently launching lab trials with TIM Brasil, Telefonica, and Vodafone.
TIP Global Summit
Building on the strong momentum of our regional events, we look forward to hosting the TIP community at our Global TIP Summit this November 13-14 in Amsterdam.  Our 4th annual gathering of telecom innovators offers an exciting and unique technology forum featuring solutions that span the network from end to end. Our greatest asset is our community, which represents all aspects of the telecom and broader connectivity world. We anticipate an exciting line up of telecom thought leaders who will share their insights and invite you to join us in shaping the future of our industry. With a worldwide community and trials & deployments in the pipeline, we look forward to engaging conversations and exciting TIP technology updates. We hope you will join us! Visit the TIP Summit '19 website for the latest information.