by Jay Parikh, Global Head of Engineering and Infrastructure – Facebook
Facebook Contributions at the TIP Summit
Facebook's mission is to make the world more open and connected whether developing technology that can help connect the unconnected or creating more immersive experiences that require better connections. With video and VR consumption on the rise, larger, better networks are needed. This is an incredibly large challenge, and in the coming years we'll all need to work together to understand the specific connectivity challenges in each market and develop new technologies and processes to address those challenges.
Today at the first TIP Summit, we talked about some of the new technologies we've been building and some new programs in TIP that will help us all learn from each other and move faster.
People and Process
In response to interest from the TIP community in this area, we launched the People and Process project group within TIP. The goal of this group is to share cultural and process transformation practices that can materially improve operators' key metrics. To help get things started, Facebook has collected some of our learnings about how we've organized and how we run our infrastructure team and are sharing this with members of this project group.
The initial whitepapers and resources that we are contributing are:
Open Collaboration: Facebook's Open Culture in Action
Cultural Transformation: The Journey from Operations to Production Engineering
Culture of Innovation: How Facebook Drives Rapid Reinvention
Continuous Deployment: Release Engineering Culture and Tools
Members of this new group include Accenture, Agilitrix, Bell Canada, Deloitte, Hewlett Packard Enterprise, NBN, SK Telecom, Tata Communications, Telefonica, and Telstra. We are excited about the initial set of partners who are engaged with the People and Process group, and about continuing to contribute to this community.
Technology Contributions
Voyager
As the amount of global internet bandwidth required continues to grow, there is major emphasis on how to efficiently deploy fiber both within and between urban and rural areas. At Facebook, we believe that a key to efficiency is enabling open and unbundled solutions. To that end, our networking team has previously developed a series of projects aimed at breaking apart the hardware and software components of the data center network stack to open up more flexibility and accelerate innovation, as we previously did with our racks, servers, storage, and motherboards in the data center.
Today we announced Voyager, a networking solution for Open Packet DWDM networks — and what we believe is the industry's first "white box" transponder and routing solution. Facebook will open up the design to the TIP community via the Backhaul: Open Optical Packet Transport project group. We have been working with partners to successfully test in the market and are excited about the ecosystem that has already come together around Voyager as part of TIP.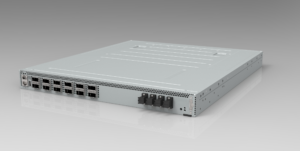 Equinix has successfully tested the Voyager solution and Lumentum's open line system over 140km of production fiber. MTN also shared the results of their successful test of Voyager over their production fiber network in South Africa.
Facebook, Acacia Communications, Broadcom, Celestica, Lumentum, and Snaproute are delivering a complete disaggregated hardware and software optical networking platform that is expected to significantly advance the industry.
ADVA Optical Networking is providing commercial support for Voyager, including all of the essential services and software support needed to make it a complete network solution that is ready for deployment.
Coriant is extending its networking software to enable engineering support for Voyager, providing routing and switching as well as DWDM transmission capabilities. The combination of DWDM and packet switching/routing opens up the potential for more open and more programmable network architectures.
OpenCellular
We announced OpenCellular in July with the goal of inspiring the industry to build open source and cost-effective wireless access solutions to improve connectivity in remote areas of the world. Since then, we are working with operators to test a small number of 2G units. As we look toward future solutions, we are open sourcing the OpenCellular files including schematic, layout, CAD files, and software as part of TIP Access: OpenCellular project group to help accelerate creation of an open new ecosystem where new ideas can be tested. It's early, but we are excited about the engagement so far within the OpenCellular TIP project group.
Innovation and Collaboration
Those are a few things we're working on from an engineering standpoint, but the spirit of the TIP Summit is also in supporting the community and understanding that innovation can come from anywhere. That's why we will be supporting the upcoming TIP Ecosystem Acceleration Centers by providing technical and market expertise to help identify and support relevant start-ups who will bring new ideas to this space. We are very excited to support this initiative and that the first Acceleration Center, sponsored by SKT, will open in Seoul in early 2017. You can read more about the Acceleration Centers here.
We have a huge opportunity to move the industry forward to solve the connectivity challenges we're all facing, and we're going to have to work together if we want to make the most of that opportunity. I look forward to the continued progress and collaboration from this community.