Axel Clauberg, TIP Chairman and Vice President, Technology Innovation, Deutsche Telekom AG
Accelerating the Future of Telecom Tech
Posted on October 16, 2018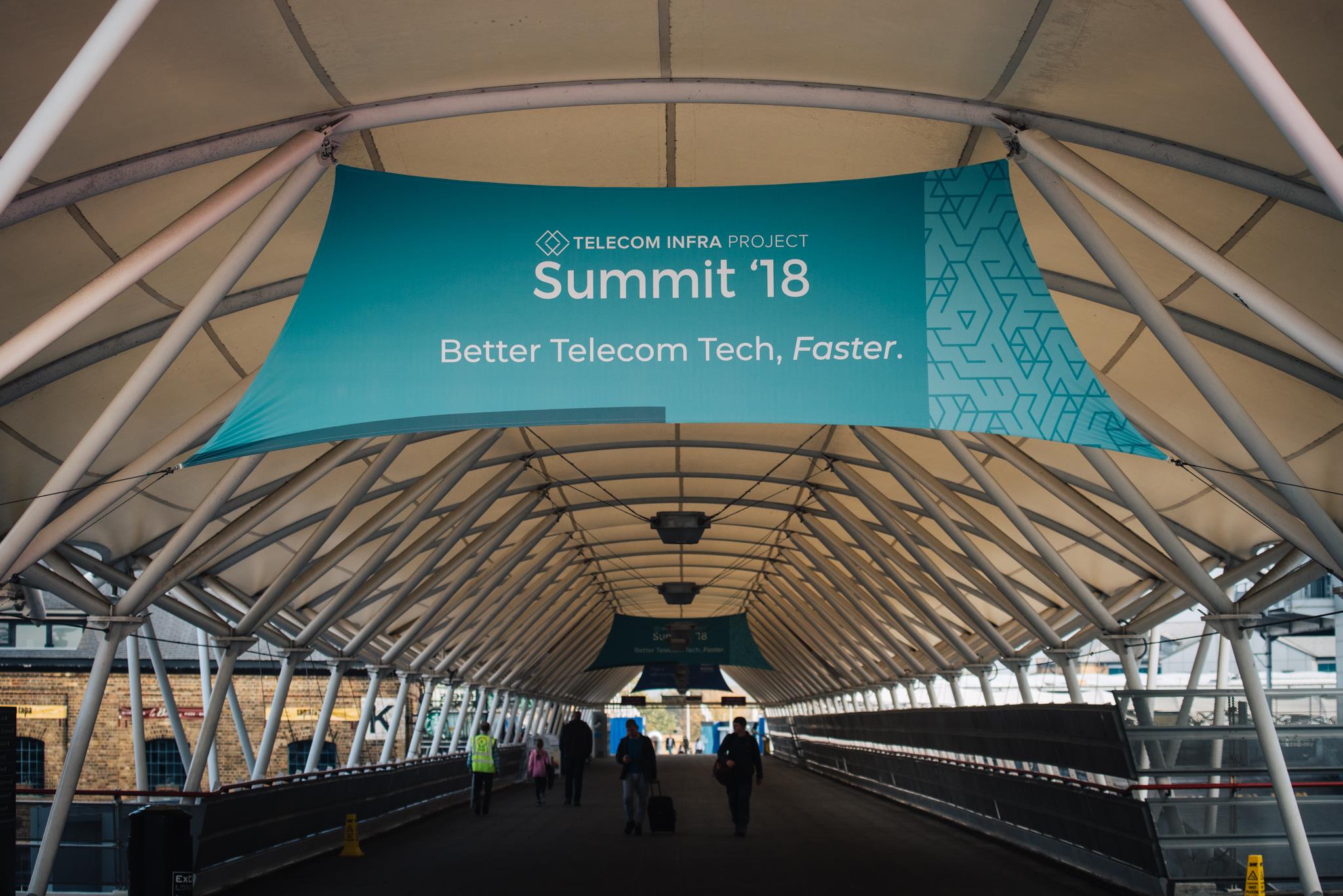 Today, the Telecom Infra Project (TIP) community gathered in London for our third-annual TIP Summit. In just two years since the first TIP Summit in Menlo Park, we've expanded to encompass numerous project groups that touch nearly every aspect of telecom infrastructure.
In the past year alone, the TIP community has brought many TIP technologies closer to maturity. Five TIP Project Groups — mmWave Networks, Open Optical Packet Transport, OpenCellular, OpenRAN and vRAN Fronthaul — all have technologies in trials with operators around the world.
In addition to these trials, three leading operators — Deutsche Telekom, Telefónica and Vodafone — have demonstrated the potential for flexible tech to improve network speeds, capacity, and efficiency by announcing that they have started request for information (RFI) processes to investigate how they can adopt TIP technologies, which are supported by a growing ecosystem of vendors and manufacturers.
As TIP Summit kicks off today, we wanted to take the opportunity to thank the entire community and highlight some of our most significant TIP Project Group developments and discuss our vision for the future of TIP.
Focusing on Radio Access Network efficiency
TIP has several project groups focused on designing a more efficient Radio Access Network (RAN) for different use cases. These project groups include:
OpenRAN – migrating to a software-centric, general purpose processor hardware RAN;
vRAN Fronthaul – enabling RAN virtualization where fiber is unavailable;
CrowdCell – extending indoor 4G coverage and enabling radio programmability; and
OpenCellular – building a rural open-source wireless RAN solution.
Today, we launched a website to capture the work TIP is doing across RAN technologies. While these project groups are pursuing a range of different solutions, their work is complementary and informs our thinking about end-to-end RAN solutions. Here are some of the most significant milestones from our RAN-focused project groups this year:
OpenRAN RFI: Back in June, Vodafone and Telefónica announced RFIs to investigate and explore the existing market opportunities for RAN technologies built to be software-centric on commoditized hardware. Since then, Vodafone and Telefonica have contributed the joint specification to the OpenRAN Project Group and, today, they are announcing the vendors they've selected as the leading candidates to produce interoperable RAN solutions. The recognized vendors with the most compliant end-to-end platforms: Altiostar, Mavenir, and Parallel Wireless. Next stages involve deployments in the field, with trials of OpenRAN platforms with Facebook alongside Vodafone in Turkey and Telefónica in Latin America.
vRAN Fronthaul trials: The vRAN Fronthaul project group is now actively driven by more than 10 operators, including Vodafone, CableLabs, BT, Telecom Italia (TIM), Orange, Bharti Airtel and Reliance Jio. The lead operators, CableLabs, BT, TIM and Airtel are all testing a range of vRAN solutions in our TIP Community Labs, including G.Fast (BT), ethernet (TIM) microwave (Airtel) and DOCSIS (CableLabs).
Crowdcell project group RFI: In August, Vodafone and Telefónica released a second set of RFIs, this time for CrowdCell technology to boost indoor 4G coverage. Today, they released the results of their RFI processes, selecting Lime Microsystems and Alpha Networks for providing an e2e Crowdcell platform. Through these RFIs the operators have created a consolidated view on the state of the open ecosystem for Crowdcell platforms, including key vendors, integrators, and innovators.
OpenCellular trials: In addition to ongoing OpenCellular trials, the OpenCellular project group announced that the TIP Community Lab is using software from TIP members Nokia and Accelleran. Accelleran is combining the OpenCellular standard platform with its Carrier Grade LTE software and support services, integrating with Nokia's Kuha Community Management system. The resulting solution will be incorporated into the UK's 5G RuralFirst initiative and move from lab test to field trial deployment.

Building technologies for next-generation networks
TIP has several Project Groups working on next-generation technologies including our Millimeter Wave (mmWave), End-to-End Network Slicing, Open Optical & Packet Transport, and Edge Computing Project Groups, as well as our newest Project Group, Edge Application Developers, co-chaired by Deutsche Telekom and Intel.
mmWave RFI and trials. Our mmWave Project Group is bringing together numerous members piloting mmWave technologies in global trials and sub-groups focused on solving deployment challenges associated with mmWave frequencies.
Today, Deutsche Telekom, co-chair of the project group, announced it intends to publish an an RFI for 60 GHz Fixed Wireless technology to provide gigabit connectivity. In addition, Deutsche Telekom subsidiary Magyar Telekom contributed a case study about its trial deployment using Facebook's mmWave technology, Terragraph. The case study highlights some of the results and key learnings coming out of the trial.
Open Optical Packet Transport. The group continues to advance technologies towards commercial availability. Voyager, an industry-first open and disaggregated transport device has just become generally available from ADVA Optical, thanks to a successful collaboration between multiple technology partners. The success of the collaboration model served as a base for a new sub-group: Disaggregated Cell Site Gateways, where four tier-1 operators – Vodafone, Telefónica, Orange, and TIM Brazil – have worked together to define their technical needs for 5G cell site routers, and with the initial two partners, ADVA Optical and Edgecore Networks, announcing their commitment to produce "Odyssey-DCSG", the first implementation of technology that meets those needs.
End-to-End Network Slicing white paper and trials: The End-to-End Network Slicing Project Group is sharing a white paper "Creating a Network Slicing Ecosystem through TIP" defining various applications for network slicing in 4G and 5G networks. The Project Group, led by BT and HPE, is currently testing and evaluating 4G proof of concepts with a roadmap to extend these efforts to 5G use cases.
Edge Computing trials: The Edge Computing Project Group entered into two new trials in the BT Community Lab testing two edge computing use cases: mission critical drone control and high bandwidth content caching. The Project Group is also continuing the Telefonica lab trials with the goal of sharing learnings by the end of the year.
Welcoming Edge Application Developers project group to TIP: This group, led by Deutsche Telekom and Intel, will focus on developing public APIs and software tools that make it easy for developers to build the next generation of mobile applications on operators edge infrastructure.
Our expanding ecosystem
TIP Community Labs: The global TIP community labs family added CPqD, a leading innovation research and technology organization based in Brazil, to expand innovation reach to Latin America. The CPqD research and development program is one of largest in Latin America working with all service providers in region. As an initial TIP project, CPqD will be hosting a mmWave Terragraph trial in their community lab with Claro.
TIP Ecosystem Acceleration Centers (TEACS): Recently, TEAC Seoul (SK Telecom) and TEAC UK (BT) welcomed new waves of startups to their accelerator programs. In September, San Diego-based Airhop Communications, and Korean startups DevStack & Network Defines officially joined Wave 2 of TEAC Seoul. BT also welcomed TEAC UK Wave 2 startups Accelleran and Tethir at a pitch event at BT Tower on October 12.
Next steps
We know that working together and leveraging a diverse range of approaches from across the industry will lead to the greatest success and we have already seen enormous progress on many of our initiatives. On behalf of TIP, we are excited to collaborate on these efforts in the years ahead.
If you're interested in joining the TIP community, you can register to become a member here.