The mission of the Telecom Infra Project (TIP) is to accelerate the development and deployment of open, disaggregated, and standards-based solutions that deliver high quality connectivity the world needs, now and in the decades to come.
By coalescing the industry and aligning prioritized requirements into central technical roadmaps as the first step of the TIP end-to-end process, TIP Project Groups are leading the way into technology prioritization. In line with governments' objectives to ensure fast, secure, reliable and ubiquitous connectivity, TIP's solutions play a key role in avoiding industry fragmentation and accelerating commercial deployments.
One prime example is the work being done within the TIP OpenRAN Project Group and its recently launched Release 2, kicked off by the Technical Priorities Document published by the OpenRAN MoU Group – DT, Orange, Telefonica, TIM and Vodafone. TIP has captured feedback on the requirements document from Project Group participants across service providers and technology suppliers to create a common baseline that serves as the industry roadmap, contributing to inform vendors' future product releases.
The resulting products will progress through TIP's Test & Validation framework, to assess their level of maturity against the technical requirements. Products, solutions and blueprints will then be awarded TIP Badges & Ribbons and showcased on TIP Exchange, which can then be utilized by operators in their procurement process.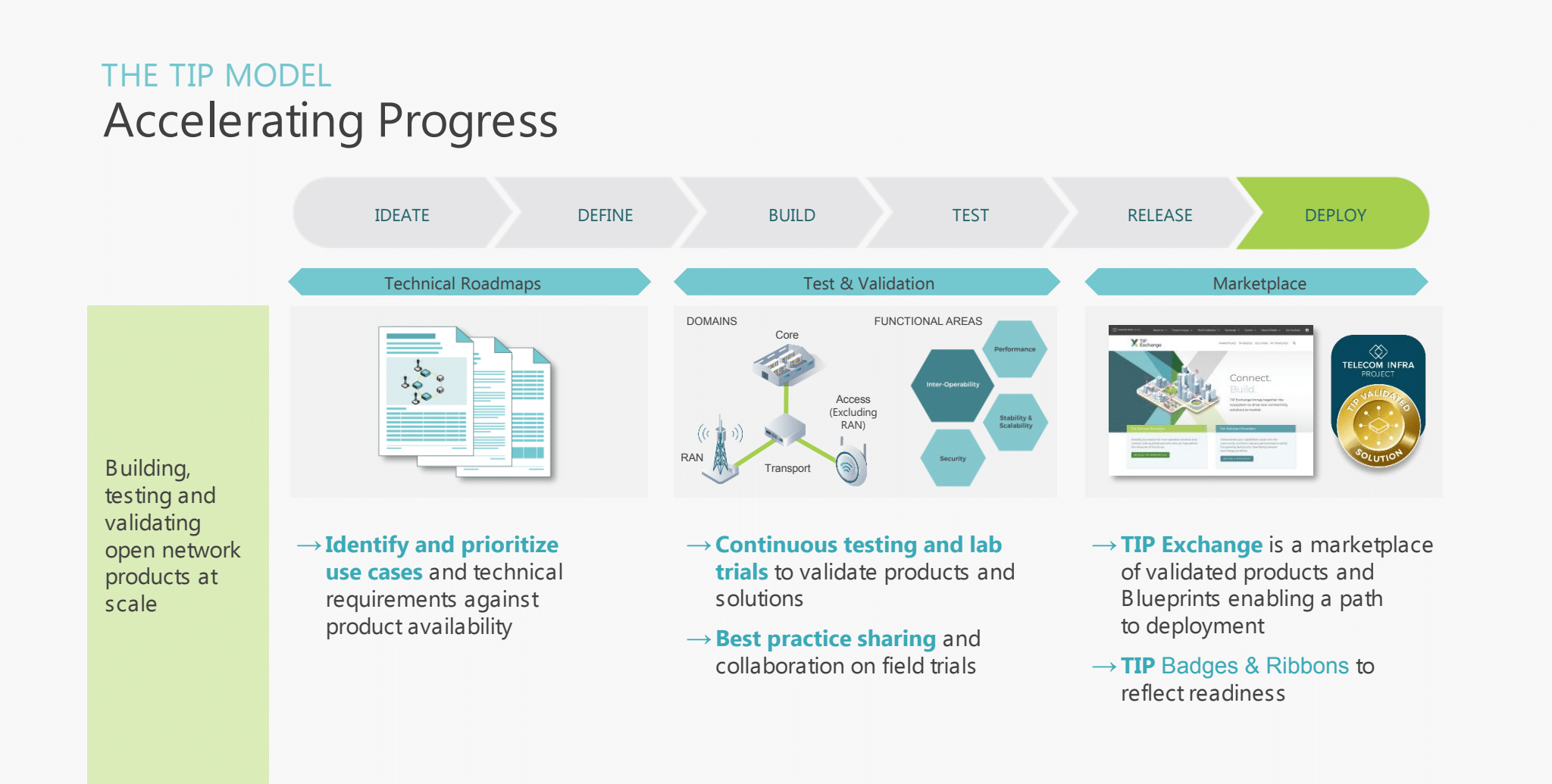 Yago Tenorio, TIP Chairman & Fellow and Network Architecture Director at Vodafone: "At TIP, we drive harmonization of the requirements of open and disaggregated systems, working with Operators to understand their needs and with Suppliers to then map these needs into a unique roadmap offering a consistent, unique and unbiased view of what the state of the art is in the industry. Thanks to Project Groups such as OpenRAN, as an Operator you will find a requirements definition that is already endorsed by the major players – and you will also have a clear and up to date view as to which suppliers are more advanced in its delivery. As a vendor, you can find here clear direction for your development priorities that will get you more customers more quickly."
Olivier Simon, Director, Radio Innovation, Orange Group: "In the current socioeconomic context, it is paramount that the ecosystem works together towards a common goal of advancing wireless connectivity worldwide, through open and disaggregated networks, in a more efficient way. The TIP community has proven to be a catalyst for that, especially in terms of paving the road to productization with centralized roadmaps and tested and validated solutions available on TIP Exchange, for operators to be able to reference when issuing their RFI/RFPs. We encourage all parties to join and contribute further to keep on building together."
Abdurazak Mudesir, SVP Technology Architecture & Innovation, Deutsche Telekom: "The TIP OpenRAN Project Group has established strong partnerships across the industry with organizations like GSMA, ONF and O-RAN ALLIANCE to bring the ecosystem together and establish a holistic approach towards building next generation RAN. This initiative is a key platform for operators across the world to join forces to welcome ecosystem partners and facilitate the development, verification, integration and testing of their disaggregated RAN components (as we are doing at the new i14y Lab in Berlin) that will feed into the efforts of other industry organizations." 
José Luis Esplá, Access Network and Devices Director at GCTIO, Telefónica: "Telefónica  believes the development of a healthy Open RAN ecosystem is essential to meet targets of 5G in the coming years. TIP is a great framework to project globally the requirements published by Open RAN MoU Group, by bringing together and aligning the industry along a clear development roadmap. Now is the time for vendors and operators around the world to join us as we harmonize Open RAN requirements in order to accelerate commercial deployments."   
Daniele Franceschini, Innovation, Standardization, IPR and Portfolio Director, TIM: "We invite other operators across the world to contribute their use cases and requirements to the TIP OpenRAN Project Group, and align on a harmonized OpenRAN roadmap to address the most important challenges and opportunities in order to transform the network in a cloud platform able to support the creation of new digital services in a programmable way. On this line we also encourage technology suppliers to participate in TIP's Test & Validation framework in order to create an open and interoperable wide ecosystem."
Manish Gangey, Head – Network Architecture and R&D, Airtel: "A varied and collaborative ecosystem is critical for the success of OpenRAN deployments. In this respect, TIP plays a key role in putting the ecosystem together, addressing all the necessary common requirements for building, testing and validating products at scale. Going to TIP Exchange for qualified solutions from different vendors when launching RFXs enables operators like ourselves to concentrate on activities that are unique to each of us."
Mohamed H Almarzooqi, Acting Chief Technology Officer, Etisalat International: "Operators around the world are coming together through regional collaborations and globally through organizations like TIP to take advantage of the clear value disaggregated and interoperable technologies can provide to the industry and our consumers. At Etisalat we support the efforts of TIP to accelerate the development of OpenRAN to bring the benefits of increased network efficiencies and diversified RAN ecosystem to help bridge the digital divide in emerging markets. The Technical Priorities Document serves as an essential tool to harmonize the industry on a global level to a common set of requirements and we encourage all industry participants to get involved."  
Amith Maharaj, MTN Group Executive: "OpenRAN can unlock the vendor landscape – by increasing competition, potentially improving costs at scale, and ultimately accelerating innovation. By being part of the forefront of the development cycle of OpenRAN, through TIP, we have the ability to make sure our network architecture fits the emerging technology, allowing us to continue to deliver an exceptional customer experience, and ultimately play our part in harnessing the power of technology to lead digital solutions for Africa's progress."